Aragon is an autonomous community in northeastern Spain. The Aragonese autonomous community consists of three provinces (from north to south): Huesca, Zaragoza, and Teruel.
Its capital is Zaragoza. The current Statute of Autonomy declares Aragon a historic nationality of Spain.
Geography
Covering an area of 47720 km2, the region's terrain ranges diversely from permanent glaciers to verdant valleys, rich pasture lands and orchards, through to the arid steppe plains of the central lowlands. Aragon is home to many rivers—most notably, the river Ebro, Spain's largest river in volume, which runs west–east across the entire region through the province of Zaragoza.
It limits to the north with France (Occitania and Nueva Aquitania), to the west with Castilla-La Mancha, Castile and León, La Rioja, Navarre and to the east with Catalonia and the Valencian Community.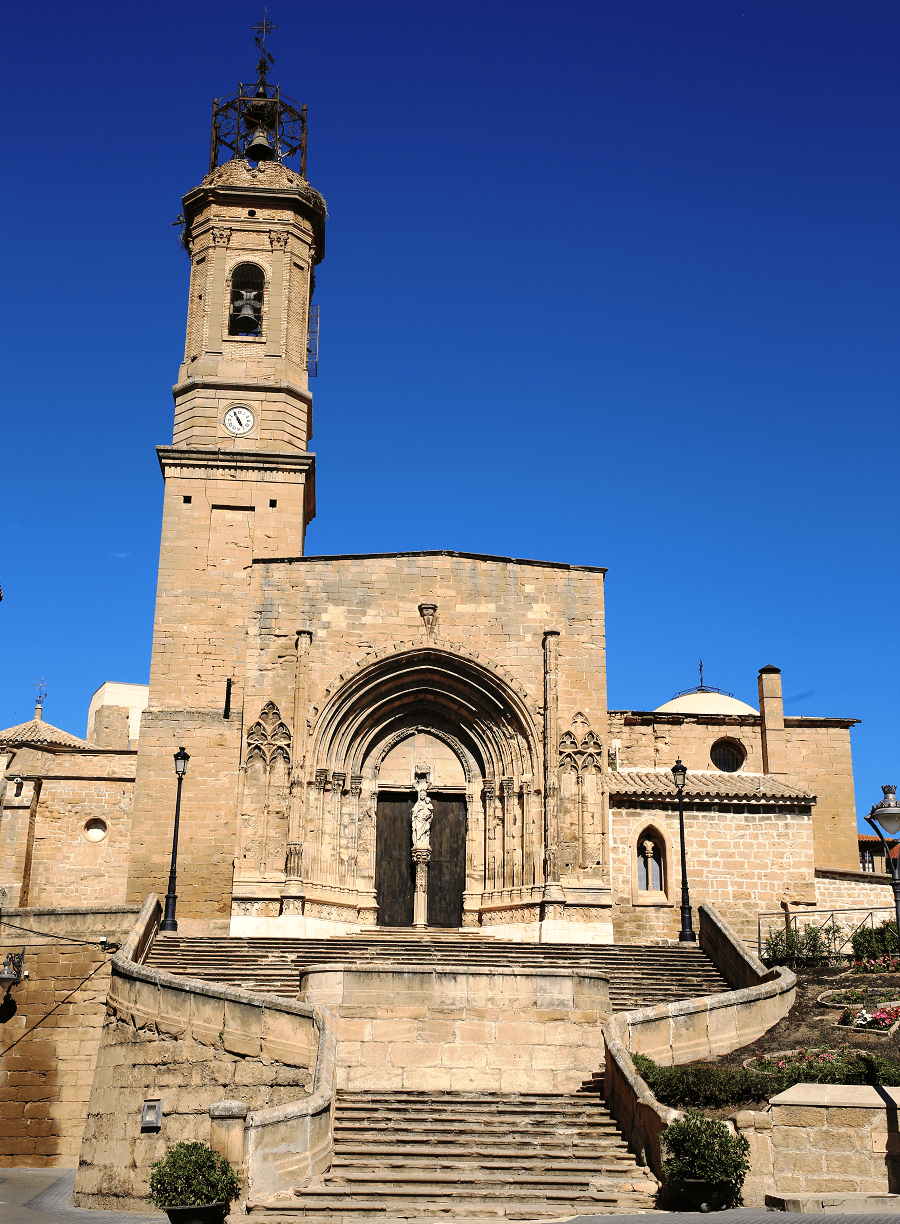 The community has two mountain ranges. The Pyrenees have the highest altitudes in the province of Huesca, with the Aneto peak as the roof of Aragon and the mountain range. El Aneto has an altitude of 3404 meters above sea level. The Iberian system borders the central plateau and its highest peak is the Moncayo, which, with 2313 meters above sea level, rises between the provinces of Zaragoza and Soria.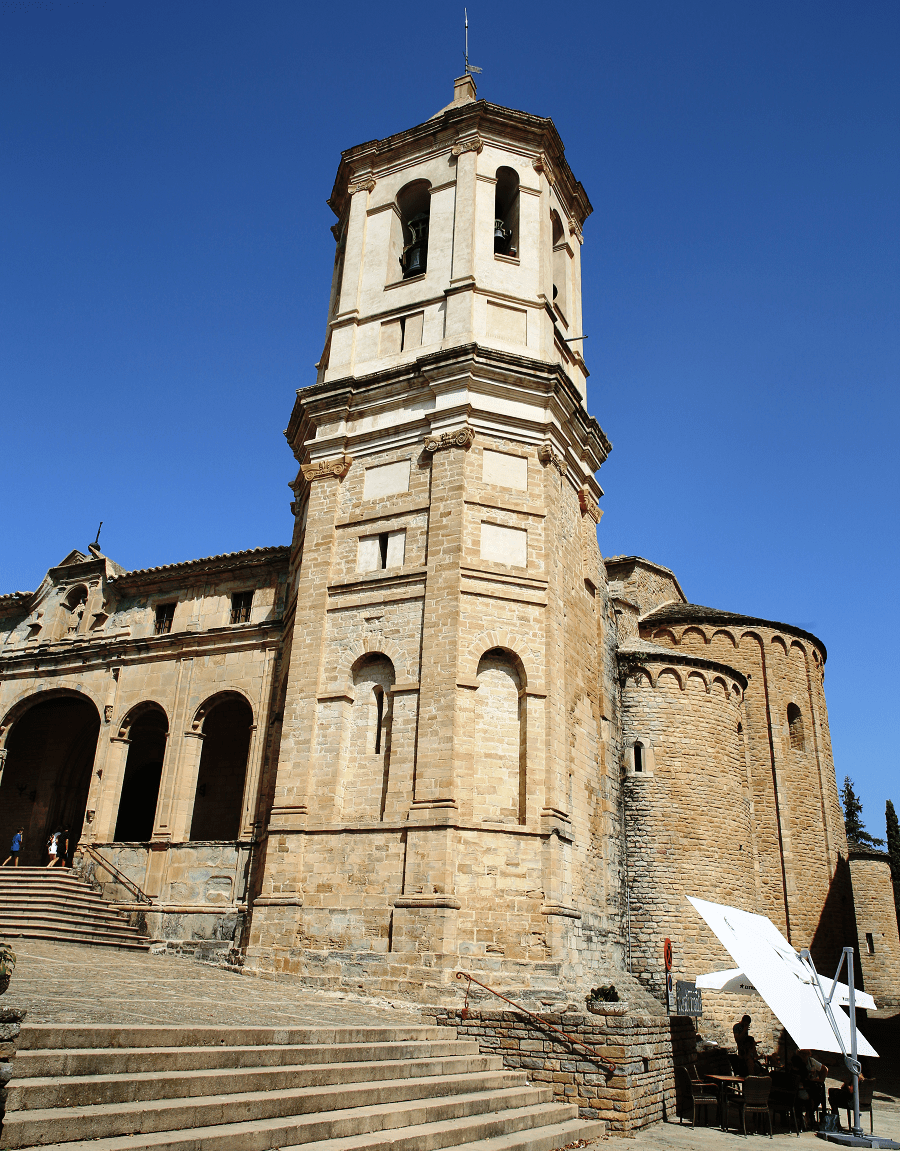 The region is home to the Ordesa y Monte Perdido National Park, located in the Pyrenean region of Sobrarbe. Created in 1918, it is the second oldest national park in Spain.
Economy
Aragon is among the richest autonomous regions in Spain, with GDP per capita above the nation's average. The Gross domestic product (GDP) of the autonomous community was about 37.0 billion euros in 2020, accounting for 3.1% of Spanish economic output. GDP per capita adjusted for purchasing power was 30,200 euros or 100% of the EU27 average in the same year. The GDP per employee was 101% of the EU average.
The traditional agriculture-based economy from the mid-20th century has been greatly transformed in the past several decades and now service and industrial sectors are the backbone of the economy in the region.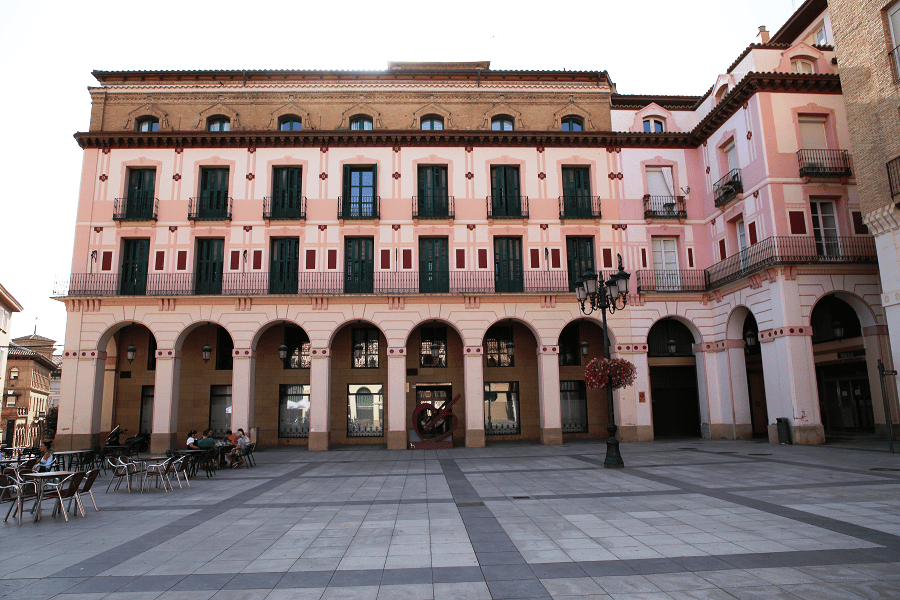 Languages
In Aragon different linguistic varieties are spoken, classified into three languages, Spanish, Aragonese and Catalan. The majority language, and the only official one, is Spanish. Aragonese Spanish is included among the northern variants of Spanish, with its own characteristics especially in the lexicon and intonation.
Tourism and main attractions
Mudéjar architecture of Aragon is an aesthetic trend in Mudéjar that has been recognized in some representative buildings as a World Heritage Site by UNESCO.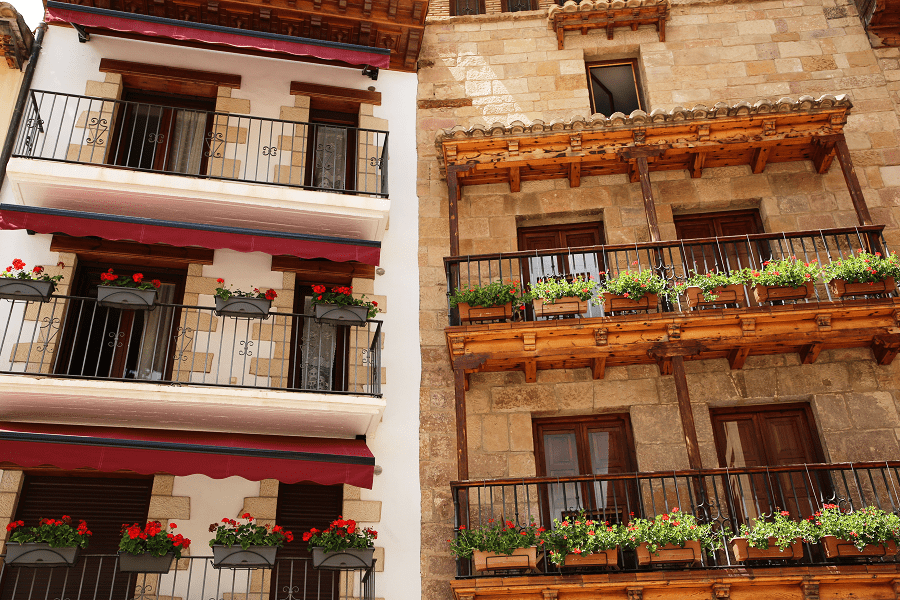 The chronology of the Aragonese Mudéjar occupies 12th to the 17th century and includes more than a hundred architectural monuments located predominantly in the valleys of the Ebro, Jalón and Jiloca.
The first manifestations of Aragonese Mudéjar have two origins: on the one hand, a palatial architecture linked to the monarchy, which amends and extends the Aljafería Palace maintaining Islamic ornamental tradition, and on the other hand, a tradition which develops Romanesque architecture using brickwork rather than masonry construction and which often displays Hispanic-rooted ornamental tracery.
Examples of the latter type of Mudéjar architecture can be seen in churches in Daroca, which were started in stone and finished off in the 13th century with Mudéjar brick panels.
What to see?
Province of Zaragoza
Alhama de Aragón and its castle
Anento and its red architecture
Aragon sea – black bass fishing
Calatayud and its fortified enclosure
Fuendetodos – the birthplace of Francisco de Goya
Yesa reservoir and its touristic activities
Piedra monastery and its park with waterfalls
Sos del Rey Católico – a Historic-Artistic Site
Tarazona was declared a Historic-Artistic Site in 1965
Uncastillo – a Historic-Artistic complex
Province of Teruel
Albarracín and its architecture
Alcañiz – the capital of the Lower Aragon historical region
Cantavieja has been declared a historical-artistic site since 1981
Cretas and its parish Mannerist church
Linares de Mora and its castle
Mirambel and its historic center
Mora de Rubielos and its castle
Rubielos de Mora and its attractions
Teruel and its Mudejar heritage
Villarroya de los Pinares and its attractions
Province of Huesca
Agüero and Mallos rock formations
Aínsa – a Historic-Artistic Site
Alquézar and its collegiate castle-church of Santa María la Mayor
Canfranc International railway station – Titanic of the Mountains
Castle of Loarre – a National Monument
Ésera river and Linsoles reservoir
Graus was declared a historical-artistic site in 1975
Huesca – the door of the Pyrenees
Jaca – former capital of Aragon
Roda de Isábena and its Cathedral of San Vicente
Royal Monastery of San Juan de la Peña
San Pedro de Siresa – a Romanesque monastery
Santa Cruz de la Serós and its First Romanesque churches
Ski resorts
Cerler with 77 km of slopes, including the longest in Spain (9 km)
Candanchú is one the highest ski resort in the Spanish Pyrenees
Cuisine and gastronomy
With its lush Pyrenean pastures, lamb, beef, and dairy products are, not surprisingly, predominant in Aragonese cuisine. Also of note is its ham from Teruel; olive oil from Empeltre and Arbequina; longaniza from Graus; rainbow trout and salmon, boar, truffles and wild mushrooms from the upper river valleys of the Jacetania, Gallego, Sobrarbe, and Ribagorza regions; and wines from Cariñena, Somontano, Calatayud, and Campo de Borja; and fruit, especially peaches, from its fertile lower valleys.
The region also features a unique local haggis, known as chireta, several interesting seafood dishes, including various crab pastes, which developed from an old superstition that crabs help prevent illness, and sweets such as "Adoquines del Pilar" and "Frutas de Aragón". There are also other sweets like "Tortas de alma" from Teruel and "Trenza de Almudevar" or "Castañas de Huesca" from Huesca.
Transport and how to get to?
The strategic situation of Aragon, placing it between important communities and capitals, makes it possible to see benefits in the investments of the State, although they are always insufficient and projected with little foresight, which makes them useless in a matter of years.
Airports
Aragon has several airports and aerodromes:
Zaragoza Airport, located 10 km southwest of the center of the capital. In addition, the airport has experienced an increase in passengers since the irruption of Ryanair. The destinations offered by the airport are numerous such as London, Paris, Brussels, Bucharest, Malaga, Seville, the Canary Islands, Palma de Mallorca, or Milan and with route expansion plans. The companies that operate at the airport are: Ryanair, Vueling, Air Nostrum, Air Europa and Wizzair.
In addition to the growth of passengers, special mention is made of goods transported by plane. In a few years it has become the benchmark in Spain in logistics, becoming the third largest Spanish airport, with approximately 30,000 tons transported per year. Zaragoza airport is one of the most important hubs in the world, where transport by plane, train and road meet in the same area. It has the largest logistics platform in Europe (PLAZA), together with exclusive railway branches that reach the airport itself.
Huesca-Pirineos Airport, located 10 km from the capital of Alto Aragón. Previously it had destinations to Lisbon, A Coruña, Madrid and Valencia. Currently, due to the lack of users, the airport has only one commercial flight to Menorca in the summer season.
Teruel Airport is located next to the town of Caudé, 11 km from Teruel. Currently the airport is managed and operated by the Teruel Airport Consortium, commercially known as the Teruel Airport Platform, PLATA. Its main function is aeronautical industrial, housing a center for the parking, maintenance and recycling and dismantling of airplanes. It has several permanent clients such as a subsidiary of the multinational company Airbus, flight school, 112 medicalized helicopter service, etc.
Roads
In total there are about 10,700 km approx. with which Aragón has being the owner of almost half the DGA ( Diputación General de Aragón) itself. The State owns about 2,200 km, while about 3,000 km belong to the different councils.
The State has a large number of highways, highways and national roads in Aragon, due to the crossroads situation in which Aragon is located.
Distance by car from Zaragoza to the main cities of Spain:
From Madrid 3 hr 5 min (320 km) via A-2
From Barcelona 3 hr 13 min (310 km) via AP-2
From Valencia 3 hr 16 min (309 km) via A-23
From Murcia 5 hr 18 min (545 km) via A-23
From Seville 7 hr 58 min (847 km) via A-5 and A-2
From Merida 6 hr 6 min (654 km) via A-5 and A-2
From Toledo 3 hr 47 min (383 km) via A-2
From Pamplona 1 hr 54 min (178 km) via AP-68 and AP-15
From Santiago de Compostela 7 hr 45 min (783 km) via AP-68
From Oviedo 5 hr 42 min (583 km) via AP-68 and A-8
From Santander 3 hr 59 min (401 km) via AP-68
From Vitoria-Gasteiz 2 hr 42 min (263 km) via AP-68
From Logroño 1 hr 44 min (170 km) via AP-68
Railways
The Aragón railway network is extensive, having sections of conventional track, while other sections are High Speed.
In 2003  the Madrid-Zaragoza-Lérida High Speed ​​Line (LAV) was inaugurated, with said line having stops in Calatayud and Zaragoza. Later, the high speed would arrive in Huesca, capital of the Hoya de Huesca region (Plana de Uesca), although with a route that prevents the development of a high speed on the trains, due to the poor design of the high speed line. In February 2008 the works were completed and the High Speed ​​Line reached the city of Barcelona.
In addition, the Zaragoza-Teruel line is being renovated so that it can become a high-capacity route and will be incorporated into the Cantabrian-Mediterranean high-speed axis. The tracks are currently being renewed to make them UIC gauge, since the electrification of the line and its doubling are not expected in the short term.
Main information
Area: 47,720 km2
Coordinates: 41°00′N 1°00′W
Population: 1 329 391
Languages: Spanish, Aragonese and Catalan
Currency: Euro
Visa: Schengen
Time: Central European UTC +1