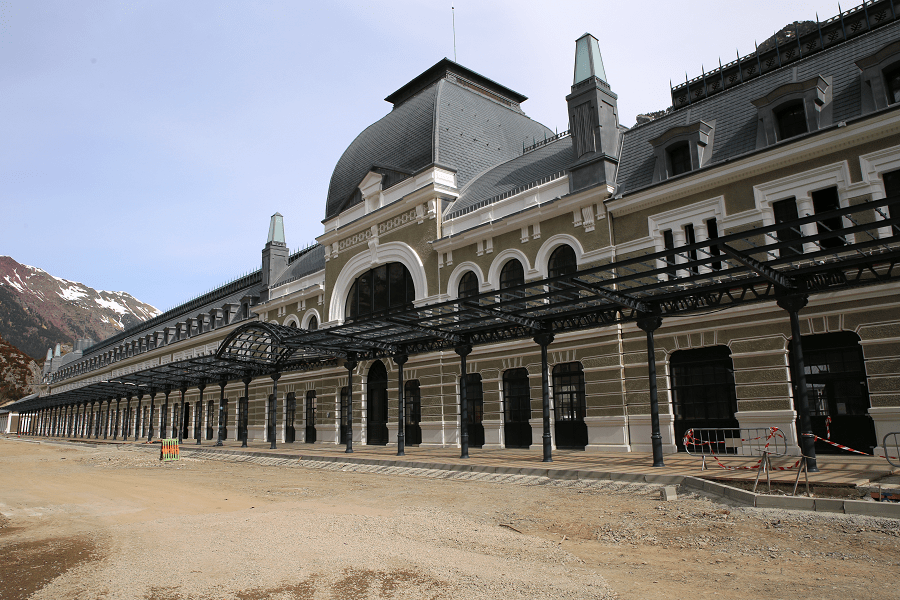 Canfranc International railway station (Spanish: Estación Internacional de Canfranc) is a former international railway station in the village of Canfranc in the Pyrenees, province of Huesca, Aragon, Spain. The Somport railway tunnel, which carried the Pau–Canfranc railway under the Pyrenees into France, is located at one end of the station.
It was inaugurated on July 18, 1928. Declared a Site of Cultural Interest, it has been listed as a monument since March 6, 2002. The station has logistics services.
It only has Media Distancia services, operated by Renfe, which connect it with Zaragoza. It also offered international connections with France, but these were suspended on March 27, 1970 when a freight train derailed on the French side causing the L'Estanguet bridge to collapse, with the consequent interruption of service between the two countries.
Its main building incorporates elaborate Beaux-Arts architecture, featuring 365 windows and 156 doors, along a length of 240 metres. Canfranc International railway station was often referred to around the time of its opening as the "Titanic of the Mountains", in part due to its large size, being the second largest station in Europe at the time of its completion.
As of 2018, architects Joaquín Magrazó and Fernando Used, in conjunction with the government of Aragon and the Barceló Hotel Group, were preparing designs to transform the station building into a hotel.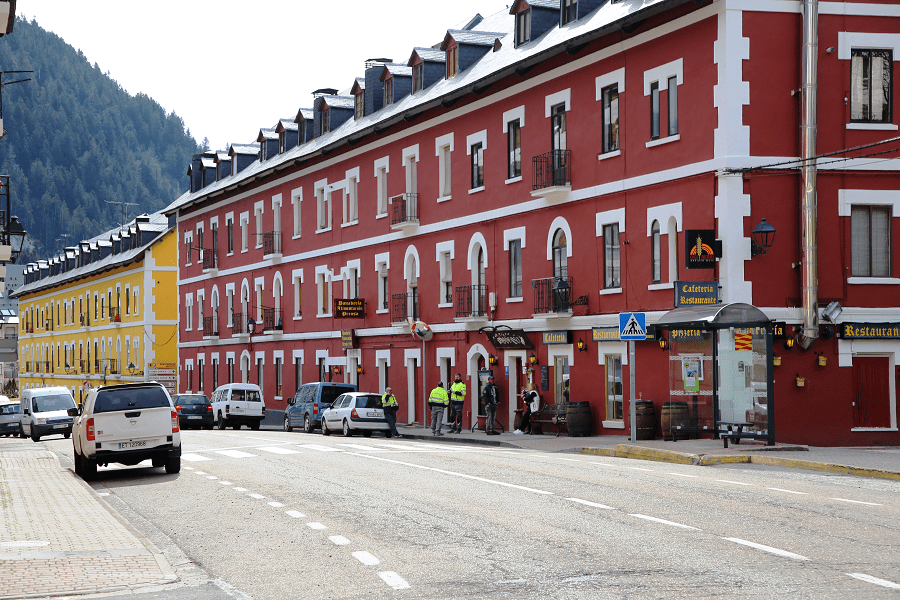 A new station building was built behind the existing one, with its entry via the hotel vestibule. In 2020 the exterior of the old station was renovated and the interior was reinforced.
The tracks around the old station were removed and the area will be turned into roads and parks, a 200-seat conference centre, a railway museum, shops, and a pilgrim refuge, as Canfranc is on one of the routes of Camino de Santiago to Santiago de Compostela.
How to get to?
From Huesca 1 hr 9 min (92.5 km) via A-23
From Zaragoza 1 hr 48 min (160 km) via A-23
From Madrid 4 hr 35 min (475 km) via A-2