Fuendetodos is a town and a municipality in a community of Aragon, province of Zaragoza, Spain. The town is associated with the Spanish painter Francisco de Goya, who was born in Fuendetodos in 1746.
Tourism and main attractions
The museum of the great Spanish painter was built in the early 18th century. A few meters away is the Engraving Museum, opened in 1989, which displays Goya's graphic work including a permanent collection of his work from the series Los Desastres, Los Caprichos, Los Disparates, and La Tauromaquia as well as materials related to printmaking techniques. Its three floors are decorated with furniture and objects that will take you back to 18th century. Goya's birth house attracts every year roughly 20,000 visitors to Fuendetodos.
Opening period: all year round (closed on Monday)
Price: 3 € (Birth house + museums)
Car park: free
Phone: 976 14 38 30
In Fuendetodos there are two sculptures dedicated to the painter. The first is a bronze bust of Goya on a three-foot-high base of rough, blue jasper extracted from quarries in Codo. This monument was designed in 1920 by Julio Antonio and paid for by Ignacio Zuloaga and his friends from Zaragoza. The other bust sculpture, designed by José Gonzalvo Vives, was placed in front of Goya's birthplace in 1978.
The Church of Our Lady of the Assumption was built in the 18th century, but had to be rebuilt in the 20th century after it was destroyed during the Spanish Civil War (1936–1939). The baptismal font, where Goya was baptized, is still preserved in the church. Before the war, there were paintings in the Sacristy cupboard Goya produced when he was young and the baroque altarpiece gilded by his father.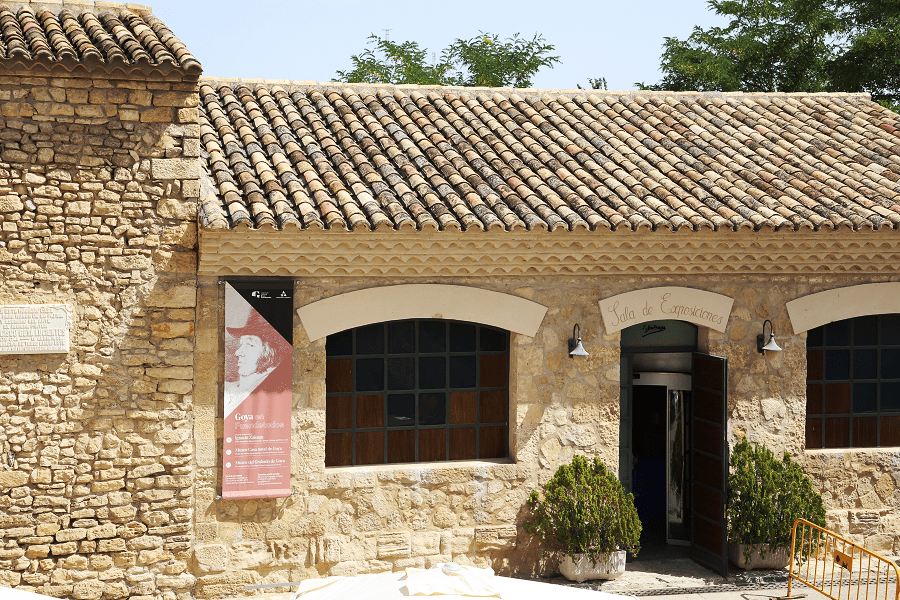 The "Old Source" or "Source of everybody" of the legend is still providing some water, but it was restored for its historical interest, since there is now a regular water supply. It has a Gothic arch door that allow visitors to see the artificial cave where the source of water comes from. Inside the cave there is a Romanic older arch.
How to get to?
From Zaragoza 42 min (44.7 km) via A-23 and A-2101
From Madrid 3 hr 21 min (314 km) via A-2
Main information
Area: 62 sq. km (municipality)
Coordinates: 41°20′29″N 0°57′34″W
Population: 145
Languages: Spanish
Currency: Euro
Visa: Schengen
Time: Central European UTC +1