Roman, Baroque, Gothic and Modern architecture. Sightseeing in Andorra
Roman, Baroque, Gothic and Modern architecture of Europe. Sightseeing in Andorra.
Churches and monuments
Being a part of the Pyrenees, Andorra was  obviously swayed  by the cultures of foreign countries. Alongside with that, in spite of its relatively small territory, this country has got a lot of authentic staff, which is evident in its architecture. Pre-Roman and Romanesque periods lasted here much longer than in other European countries, where the succession of art styles was much more dynamic. Romanesque architecture of Andorra tells us the story of 7 parroquies (provinces), keeping a part of its charming story secret. The oldest churches of Andorra, dated by the XI-XII centuries, are famous for their small sizes and simplicity. Its only decoration is a perfect harmony with nature.  You will see that yourself, getting acquainted with the landscapes of Andorra and discovering its architectural monuments.
_____________________
Look here for the full travel guide in Andorra
_____________________
The major architectural sights of Andorra (33)
1. Sant Joan de Caselles Church was built in the XI-XII centuries in the style, typical for other Andorran churches that are attributed to Romanesque period. It has got rectangular nave and wooden ceiling, semicircular apse and Lombars style bell tower (Roman Renaissance era), as well as two arcs that were added on later  — in the XVI-XVII centuries. Look for details here
2. Sant Serni de Canillo Church was built in the period from 1758 to 1768 by the architects Pere Moles and Francesc Porta from Seu d'Urgell (the city, that is located on the border between Spain and Andorra). In the result of archeological excavations, the scientists discovered the central nave of the church that was built previously in this very place. Look for details here
3. Nostra Senyora de Meritxell Church. Meritxell day (the day Our Lady of Meritxell, the Patroness of Andorra) is one of the major holidays of the Principality that is celebrated on September 8. "Meritxell" means "Midday light". Among other Andorran showplaces this complex presents a special interest due to its scales and diversity. The territory of the church encompasses several architectural monuments: an ancient church in Romanesque style, new church and a capacious lecture hall. Look for details here
4. Les Bons Historical Complex—it consists of Saint Roma Church of the XII century, moat and bypass channel. From a distance the complex reminds a fortress. Romanesque style church has got rectangular nave and Lombard style semicircular apses (the types of offsets). In the course of the time, several alterations were implemented in the architecture of the building. For instance new steps were built (XVI century). Look for details here
5. Santa Eulalia Church was built in Romanesque style, as the majority of Andorran churches. The major difference is the highest bell tower in Andorra with 33 meters of height , it was built in the XI century. The majority of the elements were alternated and modernized several times during a relatively long period—from the XVII till XX century. Look for details here
6. Cornell and St. Cerbia Church was built in the Medieval times, but it was significantly reconstructed in the period from the XVI till the XIX century. Inside the church one may find a polychrome wooden sculpture of Holy Mother, dated to the end of the XI century—the beginning of the XII. It is not that easy to find this statue as far as it is the smallest sculpture of the Principality (only 44cm of height). Look for details here
7. Sant Marti de la Cortinada Church—was built in the XII century and as the majority of Andorran churches was added on in the XVII-XVIII centuries. One of the interior sights of the church is its mural paintings, created by an Andorran artist, the citizen of La Cortinada village in the end of the XII century. Look for details here
8. Sant Climent de Pal Church. Pal is one of the villages of Andorra that managed to preserve the architectural heritage of the Principality in the best way. From 1997 the architectural objects that present historical value are under the security of the state. Look for details here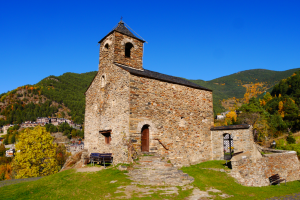 9. Sant Cristofol d'Anyos Church was built in the highest peak of Anyos city, at the small tableland; it has got the view to two parroquies at a time: Escaldes-Engordany, La Massana and its cities Syspony and Ordino. Though the church was rebuilt several times, its architectural style and a small size of the building witnesses that it dates back to the XII century. Look for details here
10. Santa Coloma Church was built in Romanesque architectural style: rectangular nave, wooden rafters and quadrangle apses. The unique peculiarity of this architectural monument is a circular Lombard style bell tower that was built in the XII century. Its shape is unique for the architecture of the Pyrenees. Look for details here
11. Sant Esteve Church is attributed to Romanesque architecture period of the XII century. It has been significantly modernized in the XX century (1940) by the project the architect Josep Puig I Cadafalch. Look for details here
12. Casa de la Vall –is the former building of Andorran Parliament, it was erased in 1580 by the noble family of Busquets. From 1702 the owner of the building changed—from then it belonged to the General Council of Andorra (that was later renamed in the Parliament). Look for details here
13. Sant Serni de Nagol Church. Local citizens say about that: "Art inside, the spirit of freedom around". The church was built at the crossroads of the valleys, where the sun shines all over the mountain hills. And this is the place where you will find the smallest church of Romanesque period, lost I the Pyrenees. This is a wonderful place, that has been known since 1055, will stay in your memory with its quietness and beauty. Look for details here
14. Canolich Church takes a special place among the showplaces of Andorra. This place is called the song of the soul. It can't but surprise that one of the most respectable chapels of Andorra is located in such arduous place in the mountains. Sharp ascent to the mountains was an inseparable protection from pilgrims for many centuries; travelers kept away  from both the church and cognominal village. Look for details here
15. Sant Pere Martir Church was built in accordance to the project of the architect Josep Danes in honor of wool dressers—as a sign of gratitude for their work that favored intensive development of the textile industry at Escaldes parroquia. The church was built in 1956 in the style of Neo-Romanticism. They say that the altar piece of the church emerged thanks to the joint efforts of the wool dressers and weavers. Look for details here
16. Sant Miguel d'Engolasters was built in classical Romanesque style in the XII century: rectangular nave, semicircular apses, triangle roof, bell tower. The stairs were added on later. The construction looks unusual because of the disproportion of the nave and 17-meter-heigh bell tower. The bell tower has got double arch windows without partitions. Look for details here
17. La Margineda Bridge is also considered to be one of the major showplaces of Andorra. It is located at the main highway that leads to the capital of Andorra through San Julia de Loria and Santa Coloma. The bridge, built in the Roman period (XV century) is in a perfect state and up to now allows crossing from one side of the Valira River to the other. Look for details here
18. Sant Antoni de la Grella Bridge – previously this bridge presented the only way to get to La Massana. It linked the banks of the Valira river in the north of the Principality. The bridge was built in the Medieval period and was reconstructed in the XX century. Look for details here
19. Sant Pere del Serrat – this church was declared as a monument by Act 9/2003 on the cultural heritage of Andorra. Constructed between 16th and 17th centuries and rebuilt in the beginning of 20th century. It has a rectangular plan and a gable roof. Over the door there is a little bell-gable with a round arched opening. Inside there is retable from the late 16th or early 17th century dedicated to Saint Peter. Look for details here
20. Sant Roma de Vila church. This little church with rectangular chancel and nave, and walled belfry has its origins in the Romanesque age. It dates from the first half of 13th centuary with its magnificant polychrome wood altar. Now it is preserved in the National Museum of Catalan Arts. Look for details here
21. Sant Marti de Nagol church. This church was declared a monument by an Act 9/2003 on the Cultural Heritage of Andorra. Designed to fit its location (one wall of the curch is a nutural rock), it is a simple building with a semi-circular apse and a bell gable. It was all erected with stones obtained from the rocks where it stands.  This church belongs to the most archaic type of Andorran Romanesque arquitecture and officialy dated from the 11th centuary. It was rebuilt in 1981. Look for details here
22. Sant Escle i Santa Victoria church in la Massana. This church was declared a Monument by Act 9/2003 on the Cultural Heritage of Andorra. Built on an old mediaeval church, this is a 17th century parish church. Further changes were carried out on the structure in the 19th and 20th centuries. Look for details here
23. Sant Julià i Sant Germà church. Only a Lombard style Romanesque bell has been preserved out of the original Romanesque church building. Inside the modern building there are 2 polychrome wood carvings, one of our Lady of Recoverance and one of our Lady Canolich, both from 12th century. There are also two altarpieces from the 17th and 18th centuries. Look for details here
24. Sant Miquel de la Mosquera church. Church from the 16th century with a very simple structure. It has an altarpiece from the end of 16th century consecrated to St. Michael the Archangel and St. Jogn the Baptist. Look for details here
25. Sant Roma dels Vilars church. Pre-Romanesque church from the 10th century made with the very rough materials. Rudimentary construction is lacking completely any kind of decoration signes. Look for details here
26. Sant Serni de Llorts church. This church was declared as a Monument by acr 9/2003 on a Cultural Heritge of Andorra. A 17th century structure  of medieval tradition, it is built on a rectangular plan with a sacristy added to the right of the east end. Look for details here
27. Sant Pere del Tarter church. This church was declared a Monument by Act 9/2003 on the cultural heritage of Andorra. A building of a medieval tradition, erected in 1527. It has a rectangular plan and apse, and a bell-gable. Look for details here
28. Santa Creu church, Canillo. A church declared a Monument by Act 9/2003 on the cultural heritage of Andorra. A church is a typical representative of Baroque architecture. Built in the lates 17th or early 18th century, it contains a retable dedicated to Christ (1739) and a wooden polychrome procession. Look for details here
29. Sant Andreu d'Arinsal church. This church was declared a monument by an Act 9/2003 on the Cultural Heritage of Andorra. Erected in the 17th century this building underwent various subsequent changes and it was restored in 1963-1964 by the Catalan architect Cesar Martinell. Look for details here
30. Sant Roma d'Erts church. This church was declared a monument by an Act 9/2003 on the Cultural Heritage of Andorra. It was erected in th 18th century, clode to the old Romanesque church. It is a very simple structure with a rectangular plan and a bell gable containing two round-arched openings. Look for details here
31. Sant Bartomeu de Soldeu church. This church was declared a Monument by an Act 9/2003 on a Cultural Heritage of Andorra. A building of a medieval tradition, it was erected between 17th and 18th centuries. Look for details here
32. Sant Andreu d'Andorra la Vella. Romanescue church with a right-angle nave and a semicircular apse. The church was reconstructed many times in the past. Look for details here
33. Sant Joan de Sispony, La Massana. This church was declared as a Monument by the Law 9/2003 of the Cultural Heritage of Andorra. Church comes from the 17th century possibly from Romanesque origin, but through the years it has been totally transformed from the very foundations. Look for details here