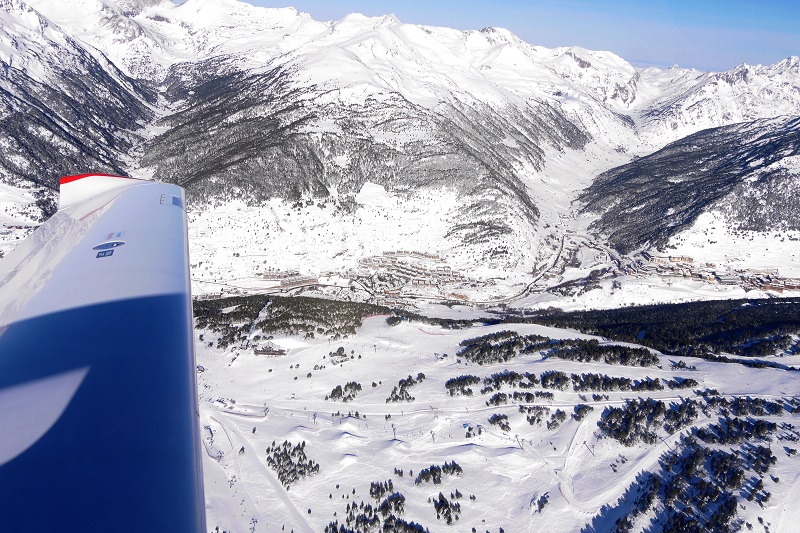 Airport Andorra. How to get to Andorra
The Principality of Andorra is located in a valley in the mid-Pyrenees and consequently has neither an airport nor a railway. The only way to enter and leave Andorra is by automotive transport. One may enter Andorra via either the border with Spain or France.
Airport. The nearest international airports are located in Barcelona (Prat) and in Toulouse (Blagnac), each about 200 km away from Andorra. Look here for the full list of the countries and cities with the cheapest regular flights available with Catalan low cost air company Vueling
The airport in La Seu d'Urgell, Spain, is located 10 km to the south of Andorra. The airport was opened for commercial flights at the beginning of 2015. Now the airport is still in a process to get a license to become an international airport.
Bus. After you landed in Barcelona ot Touloue it takes approximately 3 hours to get to Andorra from either Barcelona or Toulouse airport by bus. Look here for all routes and prices
Helicopter. There are also plans to build a heliport in Andorra for helicopter communication with Spain. The expected date of opening is 2018. At the moment you can rent a commercial helicopter transfer from Barcelona or Toulouse to Andorra (La Massana). It takes approximately 30 minutes flying time from Andorra to the airport "Prat" in Barcelona. Look here for prices
Railway. The nearest railway station to Andorra is L'Hospitalet-de-pres-D'Andorra, which is located in France, 10 km to the east of Andorra. Train service to Toulouse and Paris by TGV is available, as well as a variety of other destinations in France and beyond by regular train. The nearest train station in Spain is located in Lleida, about 2 hours from Andorra, where high speed direct train services to Madrid are available by RENFE, as well as regular services to various Spanish cities. Look here for details
Road system. The total length of roads in Andorra is about 280 km. Two main roads go out from the capital Andorra la Vella: CG1 leads to the border with Spain and CG2 leads to the border with France via the tunnel Envalira near Pas de la Casa. In winter the major roads are quickly cleared of snow and are completely passable; however, the road from Andorra to France (RN-20-22) is sometimes closed because of avalanche risks. When there a prediction of high snowfall, it is preferable to enter or leave Andorra through Spanish border. Look here for the best road links with Spain
Taxi service. All taxi companies in Andorra: Asociación de Taxis de Andorra( +376 863 000), Taxi Express (+376 812 345), Més Taxi (+376 828 000), Taxi Ferran (+376 678 078), Taxis Silvestre (+376 605 050). Taxi tariffs and parkings can be found here
Car rent. The best option to get from Barcelona to Andorra and for traveling around Andorra is to rent a car. That will ensure your freedom of mobility and will allow avoiding the problems related to wait for a taxi. One may rent a car either in Spain or France (at the airport or at a rental agency) or in Andorra, but that will cost a bit more. Look here for details
How to reach Andorra by car (no tolls) from:
Barcelona – A2, L311, C1412a, C14, N260, N145
Lleida – C13, C26, C14, N260, N145
From Toulouse – A620, A64, D820, N20, N22
From Perpignan – N116, N152, N260, N145 (through Spain)
The shortest road distances from Andorra la Vella:
To Paris – 861 km (travel time 11 hours)
To Toulouse – 186 km (travel time 3.5 hours)
To Biarritz – 407 km (travel time 7 hours)
To Nice – 619 km (travel time 7 hours)
To Marcel – 534 km (travel time 6 hours)
To Madrid – 612 km (travel time 8 hours)
To Barcelona – 198 km (travel time 3 hours)
To Lisbon – 1239 km (travel time 15 hours)
To Gibraltar – 1219 km (travel time 14 hours)
Andorra la Vella – Moscow – 3729 km (travel time 1 day 12 hours)