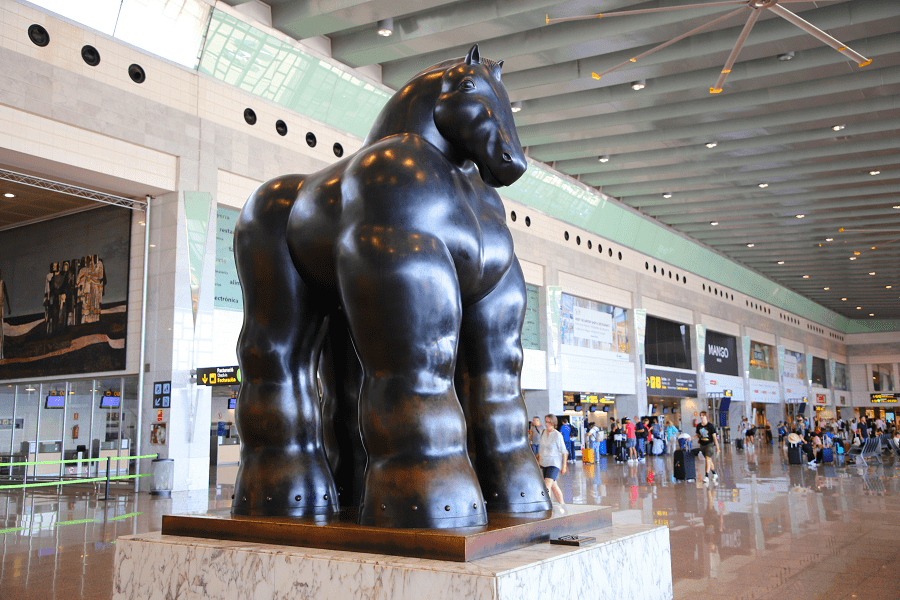 El Prat Airport or Barcelona Airport (Catalonia, Spain), officially Aeroport Josep Tarradellas Barcelona – el Prat (IATA code: BCN, ICAO code: LEBL), is the airport that serves Barcelona and Catalonia in general. It is located 12 km south-west of the Catalan capital, in the municipality of El Prat de Llobregat, at an altitude of 3.8 m above sea level and is surrounded by the natural wetlands of the Llobregat delta.
It is the largest airport in Catalonia and the seventh busiest airport in Europe. In 2008 and 2009, competition from the high-speed train on the Barcelona – Madrid route, as well as the impact of the economic crisis, reduced passenger traffic for the first time since 1993. In 2010, the number of passengers increased again to 52.7 million in 2019.
It is the most important hub for Vueling and LEVEL, it was the base of Spanair before its disbandment, and since February 2016 it has been the main business of Air Europa, Ryanair and EasyJet. The airport serves mainly various destinations in Europe and North Africa, but also offers several intercontinental flights to North America, South America, Russia and Asia.
In February 2014, Barcelona Airport became the first airport in Spain to host a daily Emirates-operated Airbus A380 flight to Dubai International Airport, marking a milestone in the airport's history.
The airport has 3 runways.
It has 2 terminals: T1 and T2, and these are 268 check-in counters and 64 boarding gates. Airport flights are only permitted for instrument flight, VFR (visual flight) flights are prohibited, with the exception of flights for medical, emergency and government services.
The airport is the subject of a political debate between the Generalitat de Catalunya and the Spanish government on management and control issues, involving AENA (airport manager) and several airlines, mainly Iberia and Vueling (main users). Part of the controversy stems from the profits that the airport generates, which are used for investment and maintenance at other airports in the AENA network, as well as for public investment in other economic areas.
Analysis of recent years shows that with over 44 million passengers in 2016 and an increase of about 3 million passengers a year, it will reach the 55 million capacity limit in 2023 or 2025, necessitating the expansion of the first Terminal, as envisaged in the Barcelona Plan 1999 year.
Another cheaper option would be to connect to AVE and regional flights at Girona-Costa Brava Airport and, to a lesser extent, Reus to reroute low-cost traffic there.
All internal flights
Cities
Airport name
Airlines
Terminals
A Coruña
Aeroport de la Corunya
 Vueling
1
Alicante
Aeroport d'Alacant-Elx
 Vueling
1
Almeria
Aeroport d'Almeria
 Vueling
1
Astúrias
Aeroport d'Astúries
 Vueling
1
Badajoz
Aeroport de Badajoz
 Air Nostrum
1
Bilbao
Aeroport de Bilbao
 Vueling
1
Burgos
Aeroport de Burgos
 Air Nostrum
1
Eivissa
Aeroport d'Eivissa
 Vueling /  Ryanair
1 / 2
Fuerteventura
Aeroport de Fuerteventura
 Vueling /  Ryanair
1 / 2
Gran Canària
Aeroport de Gran Canària
 Vueling /  Norwegian /  Ryanair
1 / 2 / 2
Granada
Aeroport de Granada
 Vueling
1
Jerez de la Frontera
Aeroport de Jerez de la Frontera
 Vueling /  Ryanair
1 / 2
La Palma
Aeroport de La Palma
 Vueling
1
Lanzarote
Aeroport de Lanzarote
 Vueling
1
Lleó
Aeroport de Lleó
 Air Nostrum
1
Madrid *
Aeroport de Madrid-Barajas
 Air Europa /  Iberia /  Vueling
1 / 1 / 1
Màlaga
Aeroport de Màlaga-Costa del Sol
 Vueling /  Ryanair
1 / 2
Menorca
Aeroport de Menorca
 Vueling /  Ryanair
1 / 2
Múrcia
Aeroport Internacional de Múrcia
 Vueling
1
Palma de Mallorca
Aeroport de Palma de Mallorca
 Air Europa /  Vueling /  Ryanair
1 / 1 / 2
Sant Sebastiàn
Aeroport de Sant Sebastià
 Vueling
1
Santander
Aeroport de Santander
 Vueling /  Ryanair
1 / 2
Santiago de Compostela
Aeroport de Santiago de Compostel·la
 Vueling /  Ryanair
1 / 2
Seville
Aeroport de Sevilla
 Vueling /  Ryanair
1 / 2
Tenerife
Aeroport de Tenerife Nord
 Vueling /  Norwegian /  Ryanair
1 / 2 / 2
Aeroport de Tenerife Sud
 Vueling /  Ryanair
1 / 2
València
Aeroport de València
 Vueling
1
Valladolid
Aeroport de Valladolid
 Vueling /  Ryanair
1 / 2
Vigo
Aeroport de Vigo
 Vueling
1
How to get to?
There are 7 ways to get from Barcelona Airport (BCN) to Barcelona by subway, bus, train, taxi, car, shuttle or towncar (from KM zero, Plaça de Catalunya):
Subway: 24 min €6
Bus: from Aeroport – Terminal B to Gran Via – Comte Borrell. 27 min €1 – €6
Train: from Estación de tren El Prat Aeroport to Estación de tren Barcelona-Passeig De Gracia. 27 min €1 – €3
Taxi: 15 min €29 – €35
Drive: 15 min €2 – €5
Shuttle: 15 min €14 – €18
Towncar: 15 min €65
Barcelona full guide
Barcelona theaters and entertainment
Barcelona FC and sport infrastructure
Barcelona administrative division
See here Catalan travel guide