The Bogdan Khmelnitsky Bridge (Kyiv Pedestrian Bridge) is a pedestrian bridge across the Moskva River that connects Berezhkovskaya and Rostovskaya embankments near the Kyiv railway station (Moscow, Russia). Named after the Ukrainian hetman. It was opened on September 1, 2001, 2.5 km upstream of the Berezhkovsky and Luzhnetsky Bridges and 200 m downstream of the Borodinsky bridge.
The bridge connects two districts – Dorogomilovo (Berezhkovskaya embankment) and Khamovniki (Rostovskaya and Savvinskaya embankments).
At a distance of 230 meters from the bridge there is the Kievskaya (Arbatsko-Pokrovskaya line) metro station. Buses m17, 91, 91k, 119, 266, 320, 394, 791, t7, t34 pass near the northwestern part along Berezhkovskaya embankment; along Rostovskaya embankment – bus 216.
From the north side of the bridge, there is a view of the Borodinsky Bridge and the Smolensky Metro Bridge, the House of the Government of the Russian Federation, a residential building on Kudrinskaya Square, and partially on the Taras Shevchenko Embankment.
On the right you can see the building of the Ministry of Foreign Affairs, the hotel "Golden Ring", the House of Architects. In the immediate vicinity of the bridge there is Europe Square with a fountain complex, the hotel "Ukraine" is up to the Khodynka field. From the south side, the main building of Moscow State University is visible, partly the domes and the bell tower of the Novodevichy Convent, Sparrow Hills.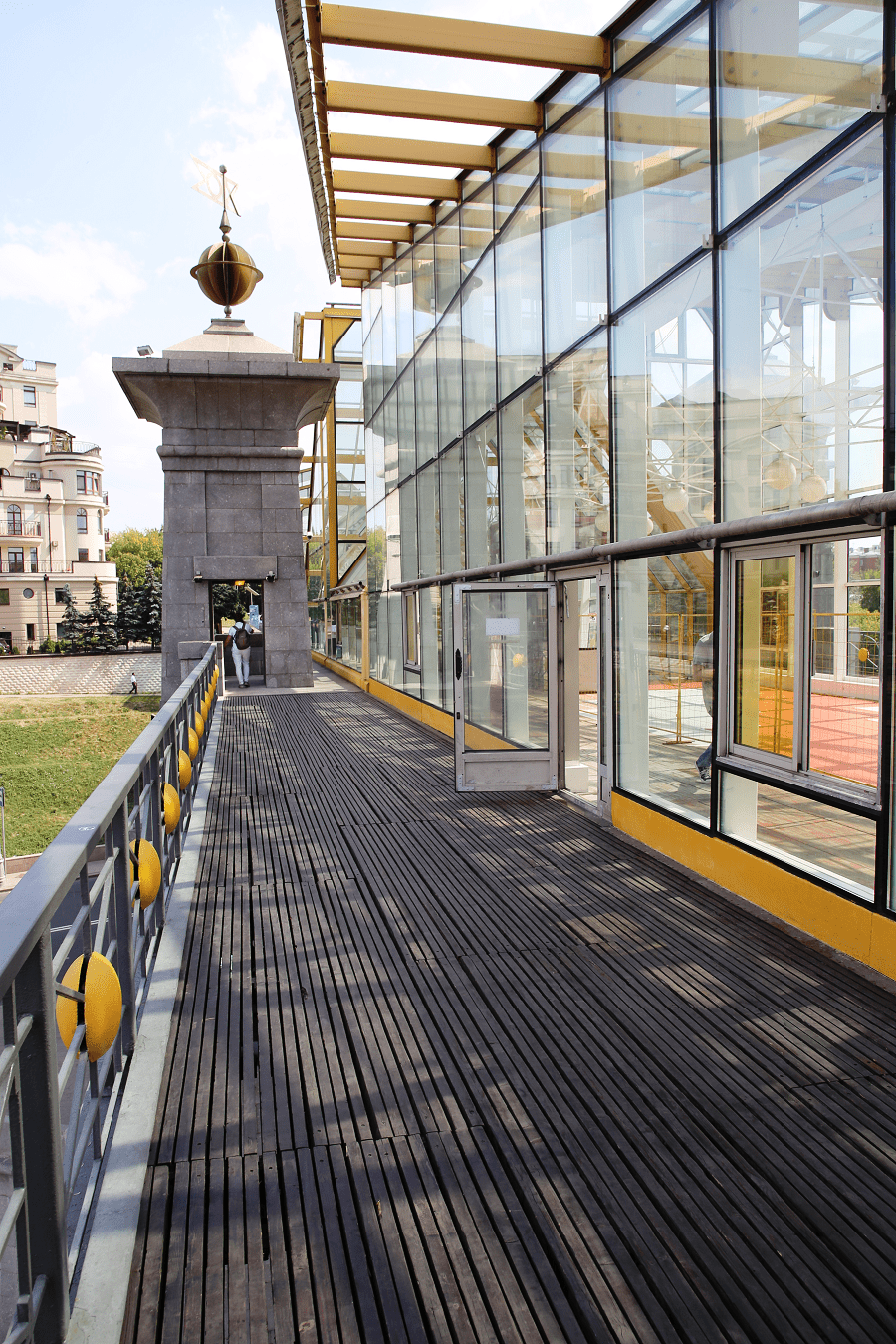 The length of the main bridge span is 135 meters, the total length of the bridge is 235 meters. The total mass of the bridge structure is 1750 tons. The main load-bearing structure of the bridge is the arch of the former Krasnoluzhsky railway bridge, the original appearance of which is completely hidden by a blue glass dome. Reinforced concrete abutments of the bridge were carried out from the banks into the river bed. Their design, as well as the architectural processing of the spans, are made in the style of Viennese Art Nouveau and imitate the outlines of the Krasnoluzhsky bridge.
Shops, kiosks and cafeterias are located under the glazing. There are balconies on the bridge – viewing platforms.
See also bridges and embankments of Moscow.