Between 1948 and 1954 architects M. V. Posokhin, A. A. Mndoyants and designer M N. Vokhomsky built the house on Kudrinskaya Square (it was called "Vysotka on Vosstaniya Square" since Kudrinskaya Square was called Vosstaniya Square from 1925 to 1992).
One of the seven Stalinist skyscrapers in Moscow.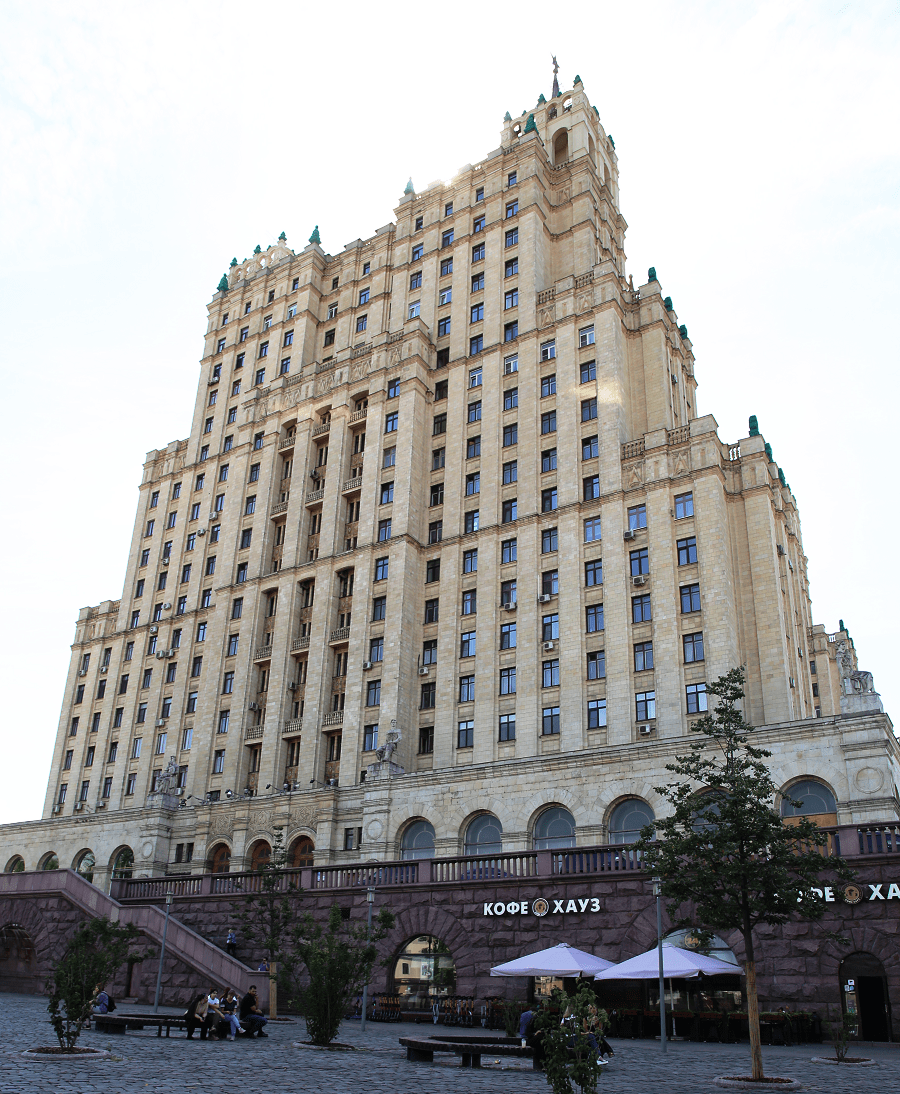 The building consists of a central (24 floors, height with a tower and a spire – 156 m) and side buildings (18 residential floors each), which make up a structurally single array, based on a common basement floor. There are over 450 apartments in the building.
The technical floors of the side buildings were subsequently modernized and turned into residential floors, which could be reached by stairs rising from the entrance or through open passages from the central tower.
The main part of the building includes three large entrances (one for each of the buildings) and many small ones that differ in layout. Small entrances are equipped with one elevator, have a small number of floors (no more than 12) and have one to four apartments per floor.
Large entrances (1st, 4th and 14th), served by three elevators each. The central elevator of the first entrance (central building) can rise to the 23rd and 24th floors. Also, all three elevators of the first entrance do not stop on the second floor.
There are four to eight apartments on each floor, the lobbies are richly decorated (mirrors, luxurious chandeliers) and can be locked, isolating the floor from the stairs and the platform in front of the elevators (in fact, the elevator zone divides each floor into two lobbies).
The elevator located in the tower, designed to serve the 24th-30th floors, was in disrepair for a long time until the owner of the residential premises on the 25th floor restored it. The tower premises on the upper floors are currently used as office space or leased to commercial structures, mainly for the placement of communications equipment.
On the first and basement floors of the building, there were originally shops and a cinema "Flame" (currently not working), and in the basement – underground garages.
Part of the basement was converted into a casino, which stopped working in 2004. Currently, a bowling alley is in its place.
The basements of the building are joined to a system of underground structures, in particular, with a bomb shelter, which extends far beyond the above-ground part of the building.
Nearest metro: Barrikadnaya, Krasnopresnenskaya.
Attractions around: Moscow Zoo, Moscow Planetarium.
See also Architecture of Moscow, Palaces and most historic buildings of Moscow.