Borodinsky Bridge is a three-span steel beam bridge across the Moskva River, connecting Smolenskaya Street with Bolshaya Dorogomilovskaya Street and Kievsky Railway Station (four kilometers west of the Kremlin in Moscow).
At the base of the modern bridge are the supports of the Borodinsky Arched Bridge, built in 1911-1912, as a monument to the Battle of Borodino and to the 100th anniversary of the Patriotic War. Rebuilt in 1952-1953 and 1999-2001 with the replacement of load-bearing spans, expansion and superstructure of supports.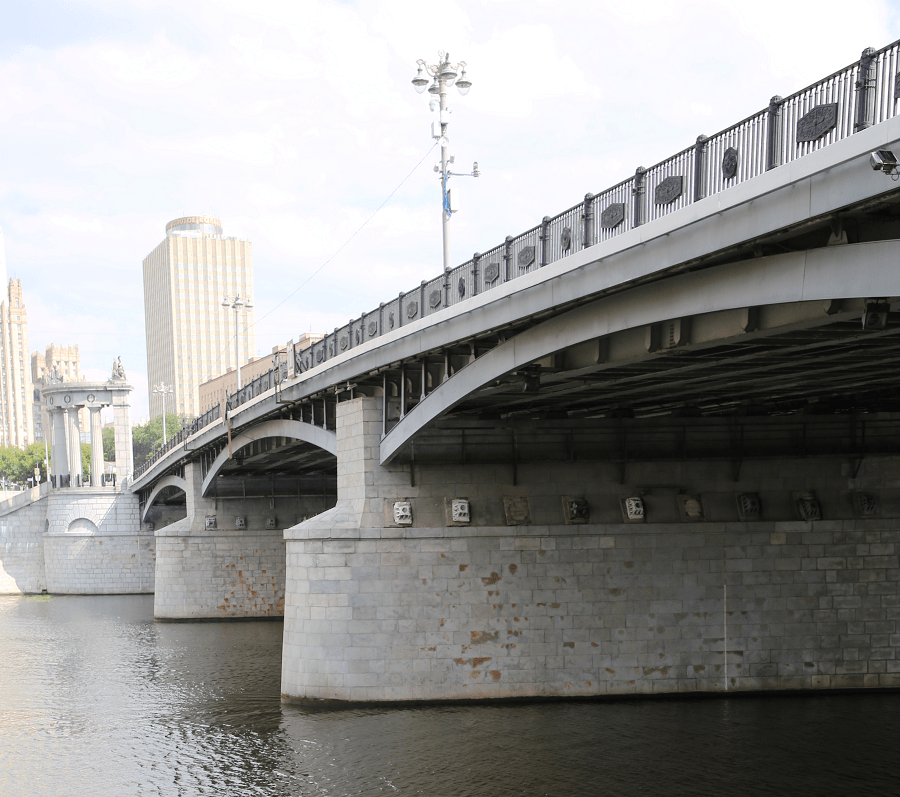 The entrances to the bridge were decorated on one side with obelisks, and on the other, with Doric colonnades rounded in plan. Each colonnade is flanked by pylons, above which are three-dimensional compositions of the attributes of military prowess, created according to the models of the sculptor A.L. Ober. The names of the heroes of the war against Napoleon were inscribed on the granite obelisks.
The bridge, with a total length of 250 m, had three steel arch spans (40.9, 45.5 and 40.9 m long). Each span consisted of 12 riveted arches with a step of 2.1 m. The road surface had a carriageway 18.5 m wide and two footpaths of 3.5 m each.
The bridge is designed for vehicles (four lanes) and pedestrians.
Main attractions and facilities around: Kiyevsky railway station, Europe Square, Savvinskaya Embankment, Rostovskaya embankment, Bogdan Khmelnitsky Bridge, Radisson Slavyanskaya hotel.
Nearest metro: Kievskaya.
See also bridges and embankments of Moscow.