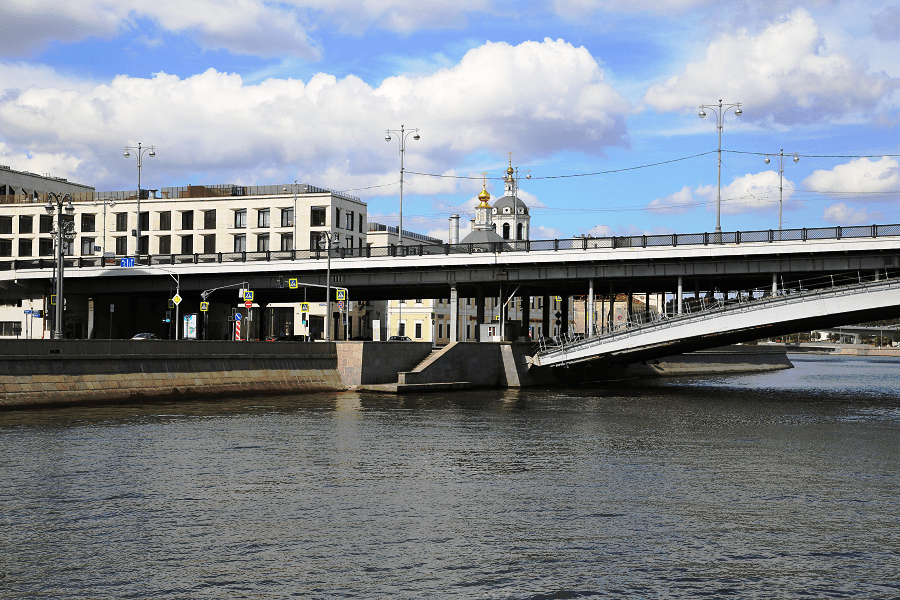 The Bolshoy Ustinsky Bridge is a bridge in Moscow at the intersection of the Moscow River with the Boulevard Ring, at the confluence of the Yauza River. It connects Yauzsky Boulevard with Sadovnichesky Proyezd, which crosses the Vodootvodny Canal along the Kommissariatsky Bridge. Built in 1938 (engineer V. M. Vakhurkin, architects G. P. Golts and D. M. Sobolev) near the arch bridge of the same name, built in 1881.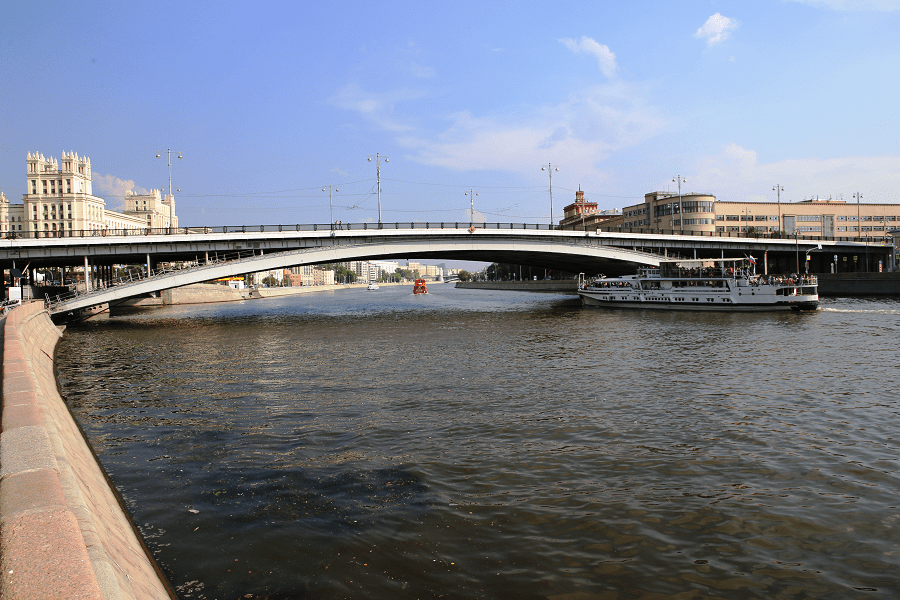 A feature of the Bolshoy Ustinsky Bridge is the absence of visible (aerial) coastal abutments. The load is taken by two underground abutments – flat foundations measuring 31.2 × 40 m. Taking into account the foundations of the coastal spans, which are 52.0 m from the arches, and the spacer plates connecting them, the total size of each of the two bases is 58.3 × 40.0 m.
In the main span there are six riveted arches made of SDS steel, with a section of 2.1 × 1.0 m. The weight of the arches is 2235 tons, the deflection arrow is 8.95 m with a span length of 134.0 m and the carriageway is continued over the embankments in the form of a continuous structure. The superstructure is an orthotropic steel plate with channel ribs.
In 1997-1999 the bridge was reconstructed according to the project of Giprotransmost JSC (the contractor is the Italian company Todini), the work was carried out mainly under the credit line of the International Bank for Reconstruction and Development. The entire superstructure has been replaced with an orthotropic slab of modern design. The bearing base of the bridge has been preserved.
Number of spans: 3
Main span: 134 m
Bridge width: 40.0 m
Nearest metro: Taganskaya, Novokuznetskaya, Kitay-Gorod.
Attractions nearby: Stalinist skyscraper on Kotelnicheskaya embankment, Novospassky Monastery, Novospassky Bridge, Krasnokholmskaya Embankment, Shlyuzovoy Bridge, Kosmodamianskaya embankment, Bolshoy Krasnokholmsky Bridge, Kotelnicheskaya embankment, Goncharnaya embankment, Krigskomissariat, Red Square, Kremlin.
See also bridges and embankments of Moscow.