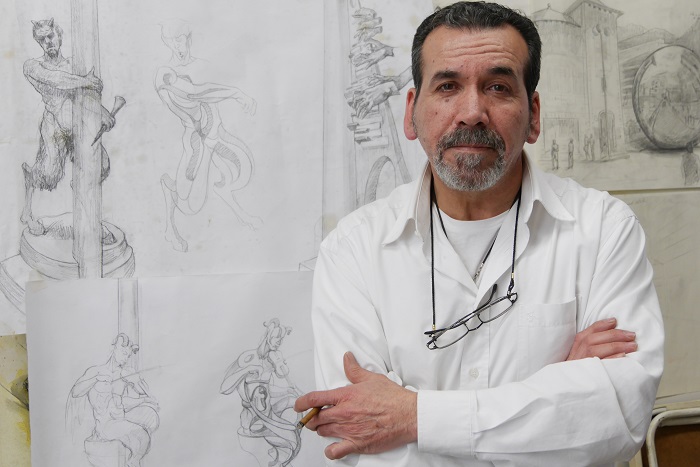 Angel Calvente
Biography
Angel Calvente was born in Spain, but considers himself to be an Andorran sculptor and painter, as he has been living in this country for a long time. He studied painting and modelling at the School of Art in Grenada, and then continued his studies at the art studio of the sculptor Joaquín Camps in Barcelona.
For the next 5 years Angel gave lessons in painting and drawing in the Comú d'Art de l'Échelle.
Angel Calvente is a member and co-founder of the Association of Andorran artists "Xarranca" and has also been a member of the jury during numerous national and international competitions of art. He represented Andorra in the International Ice Sculpture competition in Québec, Canada. He participated in the International Symposium of bronze sculptures in China. Angel has held numerous individual exhibitions in Andorra (Andorra la Vella, La Massana, Escaldes, Encamp, Ordino, Sant Julia de Loria), Spain (Lleida, Barcelona), in Canada (Quebec) and in France (Montpellier).
He is the creator of the bronze sculpture "Fils de la Terre" ( "Son of the Earth"), which can be seen in Encamp (Andorra). In 2008, he created the altar in the Baroque style with stained glass windows, paintings and decorative elements. In 2009, a gothic door (40m2) with stained glass windows and alto-relief. In 2011, a monumental bronze sculpture (5.00 m X 3.50 m X 2.10 m) for the international sculpture park in Changchun, China.
In 2012 he created the bronze sculpture "Hommage à José Rizal" ( "Tribute to José Rizal" – Spanish poet, writer, polyglot, painter and sculptor) for the central park of Andorra la Vella. In 2013 he took part in a street exhibition of sculptures (in Andorra); in 2014, in the exhibition "Comm-ART" Gallery Mama Maria (in Andorra), as well as in a collective exhibition together with José M. David Sorensen in France.
His works can be found in art lovers private collections in Andorra, the UK, Brazil, France, Spain, China, Portugal, Canada, USA and Brussels.
As Angel Calvente said himself: "My starting point is the human figure and I work in an intuitive way. The concept of the work, I find it when it is finished, but it is in the process of work when I experience the different possibilities of context.
My motivation …, besides having fun, is to convey through the value of matter, the meaning of the human condition. His mimetisms, expressions, and sensations …, his fragility, and at the same time, his power to transform the world.
I am against the concept of being an artist. I think we all have the same visions … but with the difference that we … the workers of the arts and crafts have the capacity to imagine and build them. And when they are exhibited the others can understand our point of view from another perspective. A perspective that is capable of changing the way we look at the world through feelings".
________________________
Direct contacts of Angel Calvente: +376 329 189, +376 326 562; email: [email protected]