Pals (cat. Pals) is a town and municipality of the comarca Baix Empordà (Catalonia). It borders with the municipalities of Torroella de Montgrí, Fontanilles, Palau-sator, Torrent, Regencós and Begur. The name of the town comes from the Latin "palus", which means wetland and refers to the nearby wetlands.
It is part of the Montgrí, Medes Islands and Baix Ter Natural Park. Part of Costa Brava resorts.
The vegetation of the municipality of Pals is dominated by stone pines and mainly white pines, that extend on the slopes of the Massif of Begur, to the south of the municipality.
On the other hand, the vegetation of the surroundings of the Basses d'en Coll is also remarkable. Around the freshwater lagoon, there are reed beds, while in the dunes on the beach one of the most important samples of psammophilous vegetation in Catalonia can be found.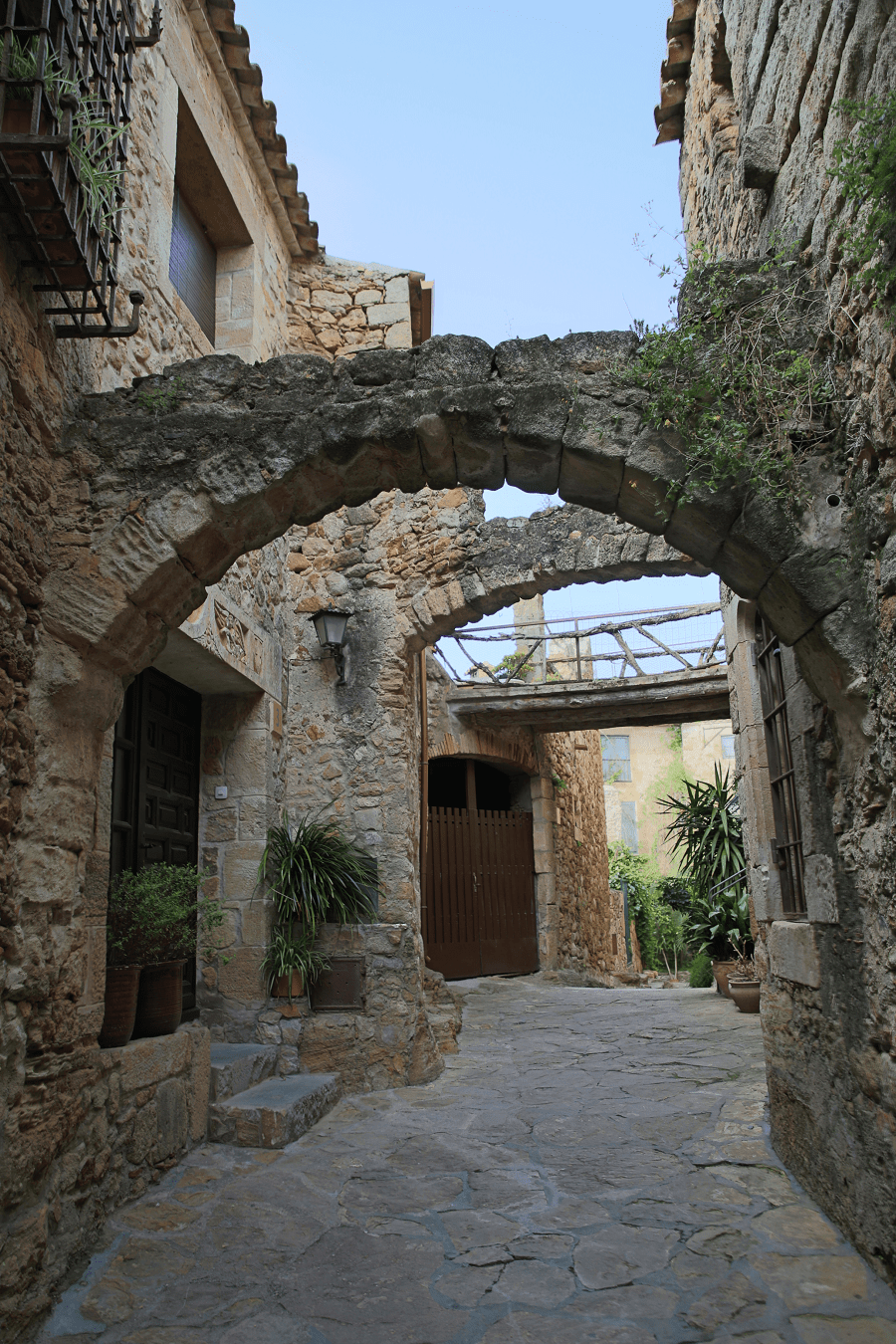 Due to its situation among wetlands and the concentration of property in a few hands, the town was considered unhealthy, oppressed and poor for centuries. Rice is one of the signs of identity of its people. Its cultivation has been documented since the 14th century. It was strongly promoted at the beginning of the 20th century by the lineage of indianos descendants of Pere Coll i Rigau (1853-1918) and his son Pere Coll i Llach, politician and businessman, friend of President Companys, who despite having militated in the Patriotic Union of Primo de Ribera, was patron of the newspaper La Humanitat and Commissar of Public Order of the Generalitat de Catalunya until the events of 6 October. As a result of this, the Arròs de Pals brand has emerged, a product adhered to the Productes de l'Empordà brand.
Until the 17th century, the territory of Pals suffered privateer attacks, which is why many old farmhouses still have merlons.
At the moment Pals is a municipality mainly dedicated to family tourism, although due to the characteristics of its strategy of urban growth, the construction is still one of the pillars of its economic activity.
In spite of everything, good part of the territory is still dedicated to agriculture, with important dryland crops and rice fields.
History
Pals is a very ancient historical monumental complex formed by the castle, the town and the walls. In spite of not having vestiges of Roman time, its name evokes Roman origin, since it comes from the Latin "Palus", that means wetlands, and the castle was called "Castellarum Montis Aspero" that in Catalan is Mont-aspre. The castle of Pals was documented for the first time in 889 with the name of Mont-Aspre castle when King Odon I of France made a donation to it. The second document, dating from the year 994, is another donation made by the counts of Barcelona, Ramon Borell and Ermessenda, giving the tower of Pals and the church of Sant Pere to the bishop of Girona. At the end of the 10th century, it was owned by the family of the knight Gausfred Vidal. In 1065 the lordship of Pals returned to the counts of Barcelona, Ramon Berenguer and Almodis. Between 1380 and 1482 various revolts of peasants, called War of the Remences, broke out that culminated in the Catalan civil war against John II. As a result of this conflict, the castle was very damaged and the monarch allowed to reuse its stones to reconstruct the church of Sant Pere and the walls of the town. Only the circular tower, now known as the Torre de les Hores, was preserved. In 1501 and in the days of King Fernando the Catholic it was organized as an independent municipality with town rights and powers to impose taxes.
Nova Història Institute
The historian Jordi Bilbeny of Arenys de Mar, founder of the Institute of New History (from cat. Nova Història), states that Christopher Columbus was actually a Catalan nobleman who set sail from Pals beach, and not from Palos de la Frontera, in his first voyage, to which the discovery of the American continent is attributed. In the town, there are various information and even a tourist route to discover the relationship of Pals with the discovery of America.
Tourism, places of interest and what to see?
Pals has a medieval historical centre with notable Romanesque tower built between the 11th and 13th centuries, known as the Torre de les Hores.
Inside the gothic quarter of the town, there are cobbled streets, semicircular arcades, facades with ogival windows and stone balconies. The city wall consists of four square towers from the 4th century. Other tourist attractions of the city include Mirador de Josep Pla (from where you can see the fields of the Empordà and the Medes Islands), Plaza Mayor, tombs on Carrer Major and the church of Sant Pere. There is also a Museum of Archeology.
On the outskirts of the village there is a residential area of Els Masos de Pals and also Playa de Pals, which are places of tourist attraction.
Main places of interest:
● Pedró old quarter
● Basses d'en Coll
● Pals beach and its continental dunes
● Special plan of Natural Interest of the Mountains of Begur
● Ca la Pruna Culture Museum
● Museum of Underwater Archeology and Pharmacy Desideri Ferrer.
● The four wall towers
● Pals Castle
● Tower Les Hores
● Church of San Pedro
● Tombs of the Carrer Major
● Illa Roja
● Molí de Pals
Culture and traditions
Pals has broad and ancient cultural tradition. Among the scientists who came from or were born in the town, stand out Mossèn Johan Pere, who was a cosmographer, jurist and expert in mercantile law that formed part of the Court of the Catholic Monarchs. In 1489, he published some Astronomical Tables in Catalan. The Pere, Pera or Peres are a noble lineage of Girona and during the 15th and 16th centuries, they were the owners of the Castle of Sant Miquel, also called Molí de Pals or Mas Tafurer.
The doctors of the Pi-Figueras lineage (derived from Jaume Pi i Figueras, 1900-1991, a disciple of doctor Manuel Corachan).
Among the social scientists stood out the geographer Joan Carandell Pericay (1893-1937), the historian of literature and member of the Institute of Catalan Studies Eduard Valentí i Fiol (1910-1971), the novelist and historian Agustí Alcoberro and Pericay (1958) and the philosopher Ramon Alcoberro and Pericay (1957).
Among the writers, the surrealist poet Ventura Ametller (1933-2008), pseudonym of the veterinarian Bonaventura Claveguera. He was a friend and confidant of Josep Pla, who left the phrase: «Pals deserves not one but one hundred visits» and dedicated to the town a series of already classical works.
The poetess Montserrat Abelló, historian and artist Núria Pompeia, essayist and publisher Salvador Pàniker, also have resided or reside in Pals habitually.
The sea resort and the the Grau beach
The present beach of Pals formerly used to be called "El Grau", which means port. The coastline that we contemplate now is not the same as in previous centuries. Where there are now rice and pine plantations, before there were wetlands, and according to the ancient maps the River Ter ended at Pals.
Geologist Joan Carandell Pericay tells us in his book El Bajo Ampurdan that "At the time of Roman domination Torella was a port, today it is more than 5 km from the sea. From the year 1300, the sea that surrounded the promontory de la Fonollera has retreated almost two kilometres also the north and north-northeast winds continued forming along the beach of Pals the dunes that today we know and admire. "
Carandell also tells us that "due to the configuration of the coast there is an abundance of sardines and all kinds of fish of the same family, which appreciate two things: the shallowness of the waters and the abundance of organic waste that creates abundant underwater vegetation. This is what happens in Grau del Ter, a nursery of very rich fishing, with plenty of slugs, sea bass, and all kinds of fish that love the mixture of fresh and saltwater."
Shopping
Shopping in Pals is not a priority on the tourist program. Only on weekends city bazaars and fairs, which traditionally take place on weekends or on some public holidays in the main square, can be of tourist interest. At the fairs, in particular, you can come across exclusive products grown in the region. Among them are some well-known wine and cheese brands in Spain.
Cuisine, food and restaurants
In the city there are more than 5 restaurants of a fairly high quality. Prices are cheaper than in Barcelona and Lleida. Mostly located within the borders of the Old Town.
Shortest distances to the main Catalan cities and resorts
From Balaguer: 2 h 41 min (256 km) via A-2 and AP-7
From Begur: 9 min (6.4 km) via GI-653 and C-31
From Berga: 1 h 53 min (170 km) via C-25
From Calafell: 2 h 1 min (198 km) via AP-7
From Cardona: 2 h 4 min (193 km) via C-25
From Cervera: 2 h 7 min (209 km) via A-2 and AP-7
From Corçà: 20 min (21.4 km) via GI-643 and C-31
From Figueres: 42 min (45.1 km) via C-31
From Girona: 45 min (44.1 km) via C-66
From Hostalric: 51 min (67.7 km) via C-31
From La Seu D'Urgell: 2 h 50 min (241 km) via C-25
From L'Arboç: 1 h 53 min (179 km) via AP-7
From L'Estartit: 18 min (14.7 km) via C-31
From Lleida (Lerida): 2 h 43 min (268 km) via A-2 and AP-7
From Lloret de Mar: 49 min (63.5 km) via C-31
From Manresa: 1 h 45 min (167 km) via C-25
From Mataró: 1 h 13 min (99.6 km) via C-32
From Montblanc: 2 h 14 min (224 km) via AP-7
From Os de Civís: 3 h 21 min (263 km) via C-25
From Osor: 1 h 8 min (91.2 km) via C-31
From Puigcerda: 2 h 33 min (218 km) via C-25
From Reus: 2 h 17 min (230 km) via AP-7
From Ripoll: 1 h 37 min (149 km) via C-25
From Sabadell: 1 h 24 min (119 km) via AP-7
From Salou: 2 h 16 min (230 km) via AP-7
From Sant Llorenç de Morunys: 2 h 32 min (200 km) via C-25
From Sitges: 1 h 52 min (166 km) via AP-7
From Solsona: 2 h 17 min (211 km) via C-25
From Sort: 3 h 42 min (291 km) via C-25
From Suria: 1 h 52 min (179 km) via C-25
From Tarragona: 2 h 10 min (219 km) via AP-7
From Tàrrega: 2 h 15 min (222 km) via A-2 and AP-7
From Talamanca: 2 h 12 min (157 km) via AP-7
From Terrasa: 1 h 29 min (133 km) via AP-7
From Tossa de Mar: 46 min (57.5 km) via GI-681 and C-31
From Torroella de Montgrí: 11 min (9.1 km) via C-31
From Tremp: 3 h 12 min (290 km) via C-25
From Valls: 2 h 8 min (210 km) via AP-7
From Verges: 22 min (19.1 km) via GI-643 and C-31
From Vic: 1 h 20 min (116 km) via C-25
From Vilanova i la Geltrú: 1 h 59 min (174 km) via AP-7
From Andorra: 3 h 15 min (260 km) via C-25
Main information
Area: 25.8 sq. km
Coordinates:41°58′18″N 3°9′0″E
Population: 2461
Languages: Spanish, Catalan
Currency: euro
Visa: Schengen
Time: Central European UTC +1
Bibliography
Jordi CORTÈS – Roser SERRA: Pals. Quaderns de la Revista de Girona, nº 136 (2008).
Joan CARANDELL PERICAY: El Bajo Ampurdán (ed. original 1940, 2ª ed. 1978).
Miquel OLIVA PRAT: La villa medieval de Pals Separata de Revista de Gerona, nº66 (1974).
Baltasar PARERA i COLL: L'arròs de Pals: del camp a la cassola (1993).
Josep PLA i CASADEVALL: El meu país, dins Obra Completa, v. 7, Edicions Destino.
Joaquim ROGLÁN: Golf, natura i paisatge: 40 anys de golf a Pals (2004).