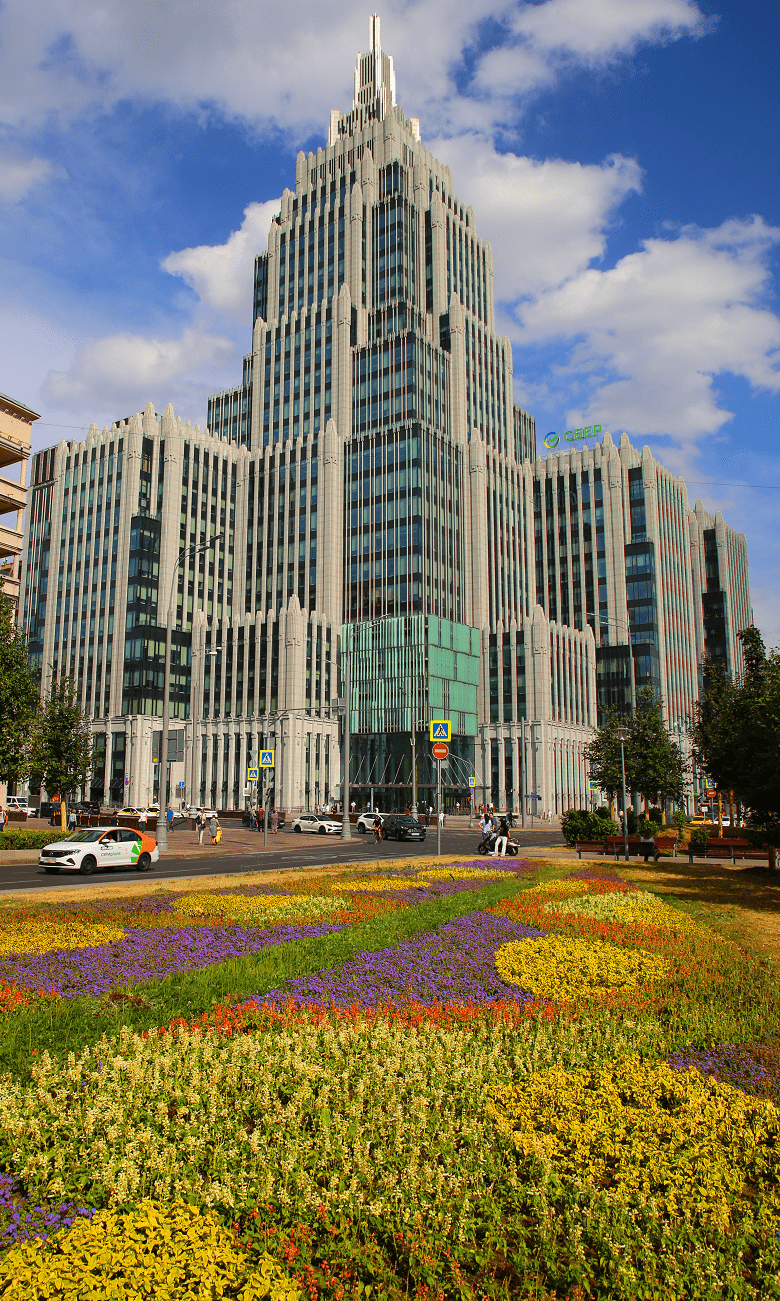 The multifunctional complex Oruzheyny is a business center located at 41 Oruzheyny Lane, Garden Ring, in the Tverskoy District of the Central Administrative District of Moscow.
After a competition, Mikhail Posokhin was chosen as the architect of the building. The style of the building inherits the tradition of Stalinist skyscrapers. This skyscraper has become another architectural dominant of the city.
Construction began in 2006. Two years later, it was frozen due to a crisis, and finishing work was completed in 2016. Since 2017, MegaFon PJSC, which owns half of the business center, has been the anchor tenant.
In Soviet times, at the intersections of the Garden Ring with outbound highways, it was planned to build high-rise buildings designed to serve as architectural dominants. Projects for a skyscraper at the intersection of the ring with Dolgorukovskaya Street (in 1924-1992 called Kalyaevskaya) were developed from the beginning of the 1970s. The proposed options included copies of Stalinist skyscrapers, a "book house," and a modern 100-story skyscraper.
Oruzheyny complex is a neo-Stalinist reinforced concrete building with a fully glazed facade, consisting of a main 28-story building and two 13-story buildings. The floors have a regular shape and shallow depth, which, together with the continuous glazing of the facade, provides good daylight. Below ground level, a 6-level parking lot can accommodate 1233 cars. Above it is a shopping area with shops, restaurants (on the 1-2 floors) and a fitness club (on the 3-4 floors), above – 120 thousand m² of office space.
The building has 38 elevators. The building is equipped with supply and exhaust ventilation and central air conditioning with the ability to select the air conditioning mode and room temperature. The total area of the complex is 183 thousand m², and the height, together with the 35-meter spire, is 165 meters, which formally allows it to be classified as a skyscraper.
Nearest metro: Mayakovskaya, Novoslobotskaya.
See also Architecture of Moscow, Palaces and most historic buildings of Moscow.