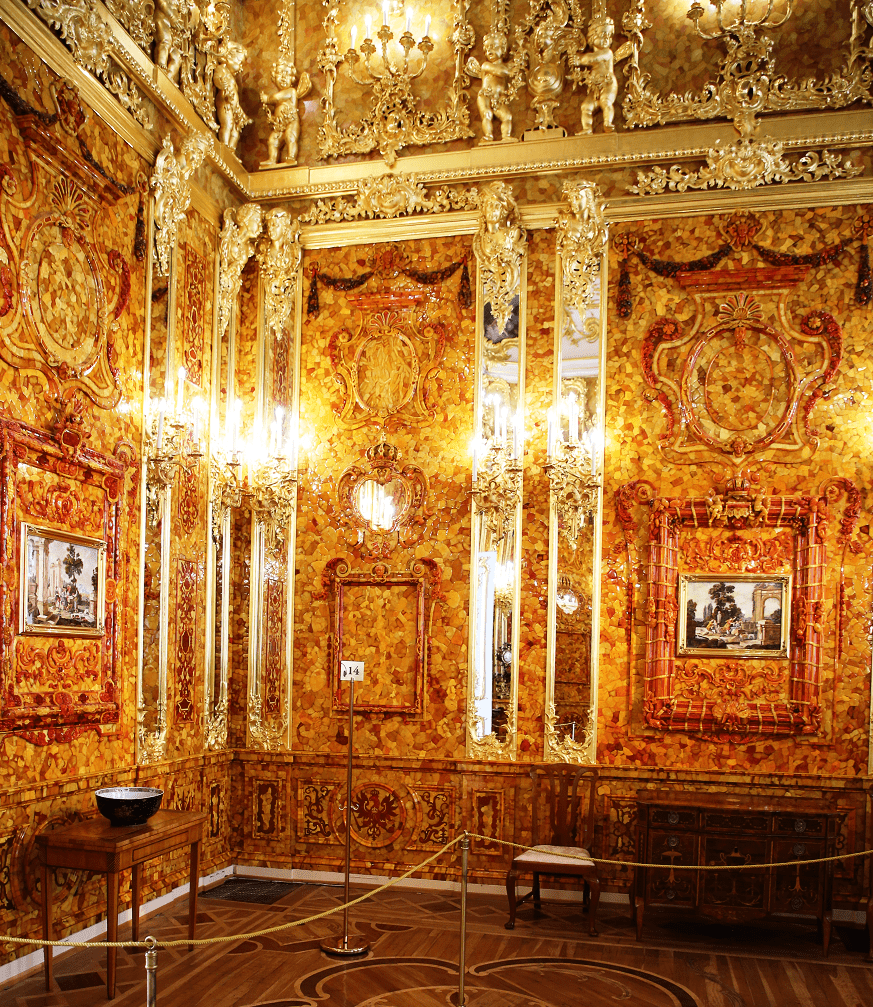 The Amber Room (originally: Amber Cabinet, "Amber Chamber") is a masterpiece of art of the 18th century, which disappeared without a trace during the Great Patriotic War. Amber was mainly used in the decoration – a large office consisted of amber panels. Created by German craftsmen for the Prussian King Frederick I, then presented to Peter I, after which it was supplemented with mirror pilasters under the direction of B. F. Rastrelli, since the dimensions of the original amber cabinet were much smaller than the room where it was exhibited in the Winter Palace.
It was considered the pearl of the summer residence of Russian emperors in Tsarskoye Selo (Great Catherine Palace), 30 km from St. Petersburg.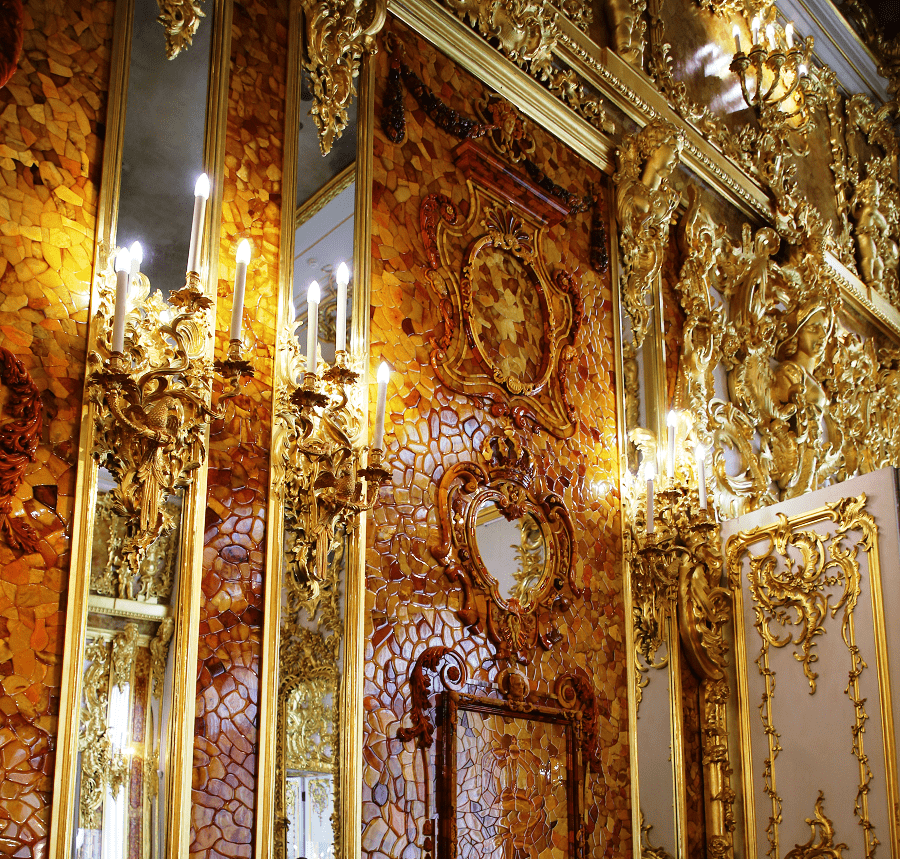 The Amber Room was looted during World War II by the Army Group North of Nazi Germany, and taken to Königsberg for reconstruction and display. Some time in early 1944, with Allied forces closing in on Germany, the room was disassembled and crated for storage in the Castle basement. Königsberg was destroyed by allied bombers in August 1944 and documentation of the room location ends there. Its eventual fate and current whereabouts, if it survives, remain a mystery.
The Amber Room is a priceless piece of art, with extraordinary architectural features such as gilding, carvings, 450 kg of amber panels, gold leaf, gemstones, and mirrors, all highlighted with candle light.
Additional architectural and design features include statues of angels and children.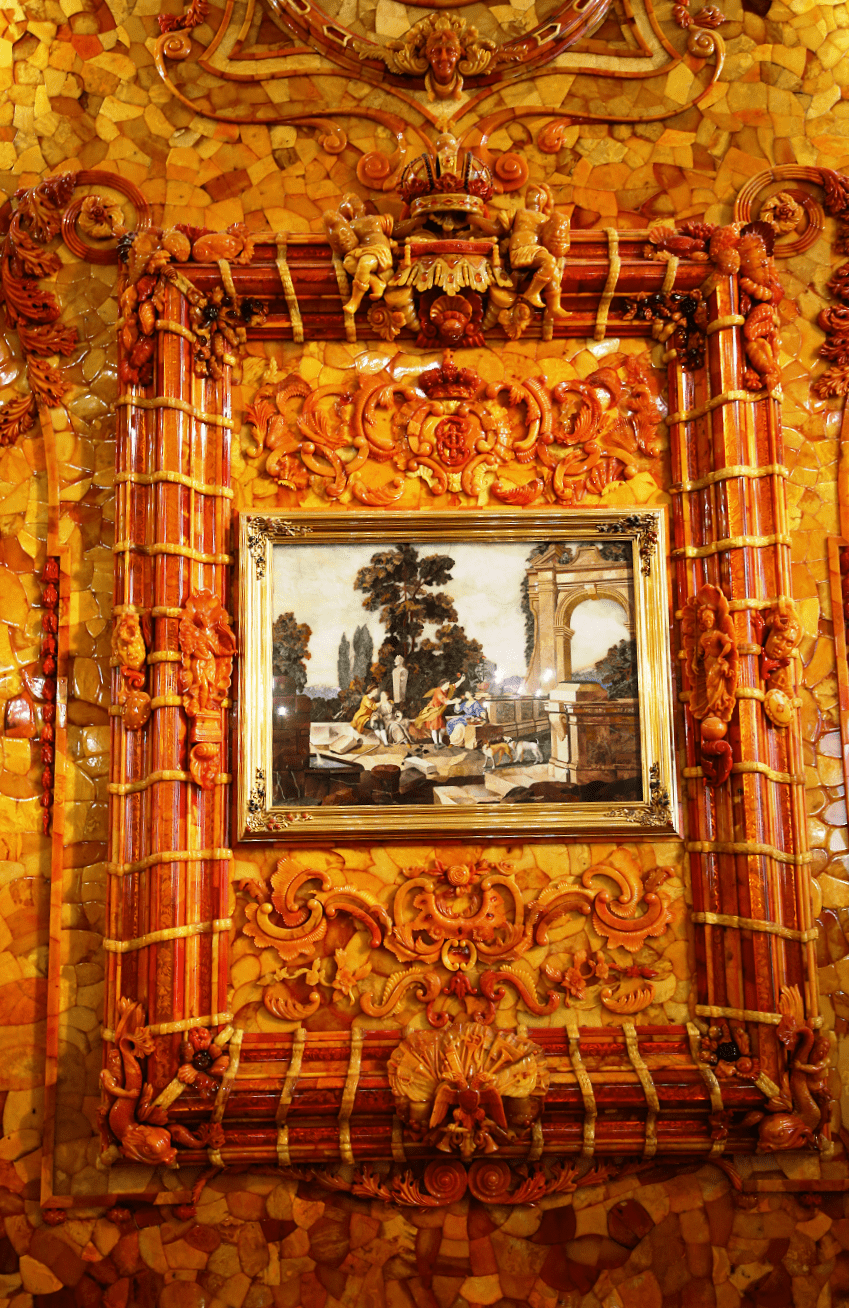 Because of its unique features and singular beauty, the original Amber Room was sometimes dubbed the "Eighth Wonder of the World". Modern estimates of the room's value range from $142 million to over $500 million.
In 1979, the Soviet government decided to construct a replica of the Amber Room at Tsarskoye Selo, a process that was to take 24 years and require 40 Russian and German experts in amber craftsmanship. Using original drawings and old black-and-white photographs, every attempt was made to duplicate the original Amber Room. This included the 350 shades of amber in the original panels and fixtures that adorned the room. A major problem was the lack of skilled workers, since amber carving was a nearly lost art form.
The financial difficulties that plagued the reconstruction project from the start were solved with the donation of US$3.5 million from the German company E.ON.
By 2003, the work of the Russian craftsmen was mostly completed. The new room was dedicated by Russian President Vladimir Putin and German Chancellor Gerhard Schröder at the 300th anniversary of the city of Saint Petersburg.
In Kleinmachnow, near Berlin, there is a miniature Amber Room, fabricated after the original.
The Berlin miniature collector Ulla Klingbeil had this copy made of original East Prussian amber.