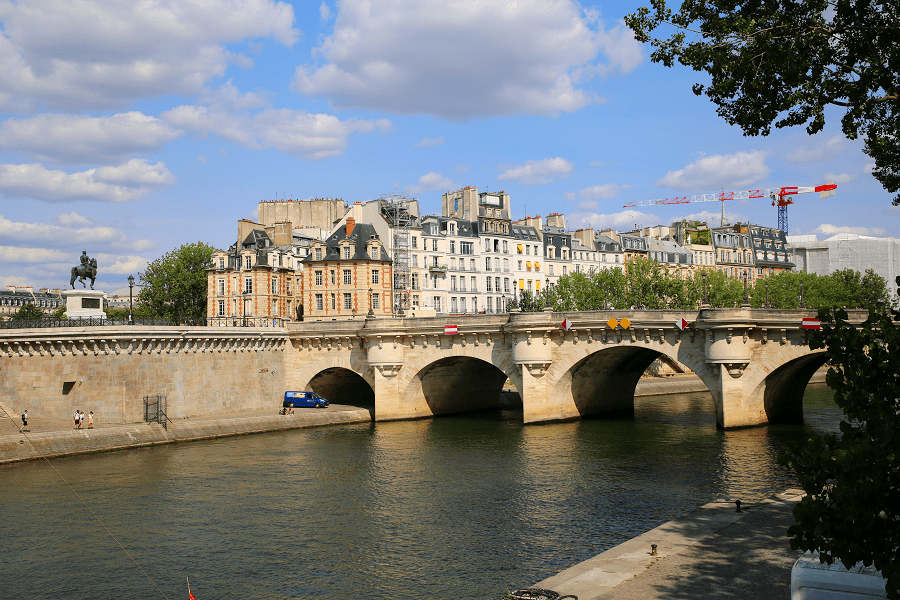 The Pont Neuf is, despite its name, currently the oldest existing bridge in Paris (France). It crosses the Seine at the western part of the Île de la Cité. It's one of the 37 bridges across the Seine river in Paris. It connects Ile de la Cité to the 1st and 6th arrondissements.
It is also the very first stone bridge in Paris to completely cross the Seine.
This monument has been classified as a historic monument since 1889. In 1991, it was listed as a UNESCO world heritage site, along with all of the banks of the Seine in Paris.
This site is served by the Pont-Neuf metro station.
The bridge is composed of two separate spans, one of five arches joining the left bank to the Île de la Cité, another of seven joining the island to the right bank. Old engraved maps of Paris show that the newly built bridge just grazed the downstream tip of the Île de la Cité; since then, the natural sandbar building of a mid-river island, aided by stone-faced embankments called quais, has extended the island. Today the tip of the island is the location of the Square du Vert-Galant, a small public park named in honour of Henry IV, nicknamed the "Green Gallant".
Characteristics
Design: Arch bridge
Material: Stone
Total length: 232 metres
Width: 22 metres
No. of spans: 7 + 5
Designer: Believed to be Baptiste Androuet du Cerceau and Guillaume Marchand maintenance engineering by Soufflot, Perronet, Lagalisserie and Résa.
Construction start: 1578
Construction end: 1607