Mundaka (Spanish: Mundaca) is a town and municipality located in the province of Biscay, in the autonomous community of Basque Country, northern Spain.
It is a popular part on the Costa Vasca (Basque Coast) of the Atlantic resorts of Spain.
Surfing
The Mundaka wave is a surfing location considered one of the best of the world.
The estuary at Mundaka has created a perfect sandbar which forms hollow waves that can be watched from the town's harbor wall. Mundaka was formerly one of the sites of the World Championship Tour of Surfing. Some great surfers have marked their legacy on Mundaka such as Andy Irons, Taj Burrow, Kelly Slater, Mark Occilupo and Joel Parkinson.
The wave of Mundaka is "perfect" for surfing in winter. During the months of winter, the possibility of surfing increases until surpassing 50%. And it is the month of January, with a 62% of surfable days, when the bar of Mundaka displays the best scene for the lovers of this sport.
Main attractions
The Hermitage of Santa Catalina is located on a small peninsula with the same name, in an area with high geostrategic value due to its good visibility and easy defense. The current temple dates from 1879, when it was rebuilt, but since the Middle Ages it has been used as a meeting place, a hospital in times of epidemics, and even as a defensive fort.
Despite the various rebuildings, the building maintains a transitional style between Gothic and Renaissance.
Currently it is one of the elements with the most tourist attraction in the municipality.
The church of Santa María is a religious temple dedicated to Santa María.Historically there are references to this parish church from the 11th century, as it is mentioned in a donation document from the year 1071. Said document is found, according to the website of the Mundaka town hall, in the Monastery of San Juan de la Peña (southwest of Jaca, Aragón), because in that year the church was added to the monastery together with the town of Mundaka.
Although the church is currently surrounded by a park with children's games, it was originally located next to the Mundaka House-Tower, but this building was destroyed in the battle in 1446, leaving its surroundings clear as it is today.
Other interesting places:
The Cross of Kurtzio: from the 17th century, located in the square that bears his name.
Mundaka Fraternity Society (casino).
Larrinaga Palace.
Old town, next to the port.
Town hall.
Located in the north end of the Biosphere Reserve of Urdaibai, the town has two exceptional viewpoints in the high part if Portuondo and the vantage point of the towne, from which you can see the sands and the mouth of the Mundaka estuary. This is the starting point of the path which goes back the up to estuary Guernica.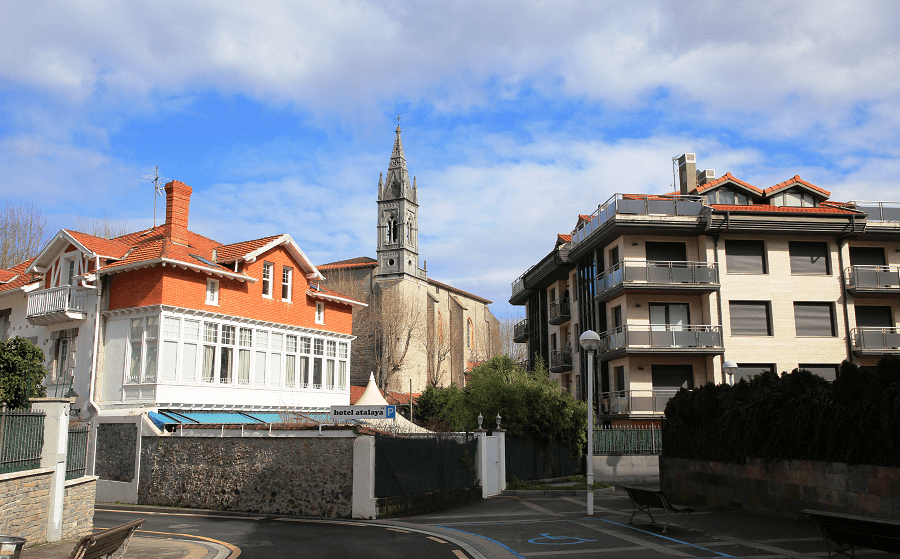 How to get to?
Mundaka is accessible from Bilbao by EuskoTren on the E4 Urdaibai line.
By car:
From Bilbao 37 min (37.3 km) via BI-631 and BI-631
From Vitoria 1 hr 19 min (79.0 km) via BI-623
From San Sebastian 1 hr 22 min (104 km) via AP-8
From Madrid 4 hr 32 min (438 km) via A-1
Main information
Area: 4 km²
Coordinates: 43°24′26″N 2°41′54″W
Population: 1862
Languages: Spanish, Basque
Currency: Euro
Visa: Schengen
Time: Central European UTC +1
See here best sea and ocean resorts of France and Spain (223 objects)