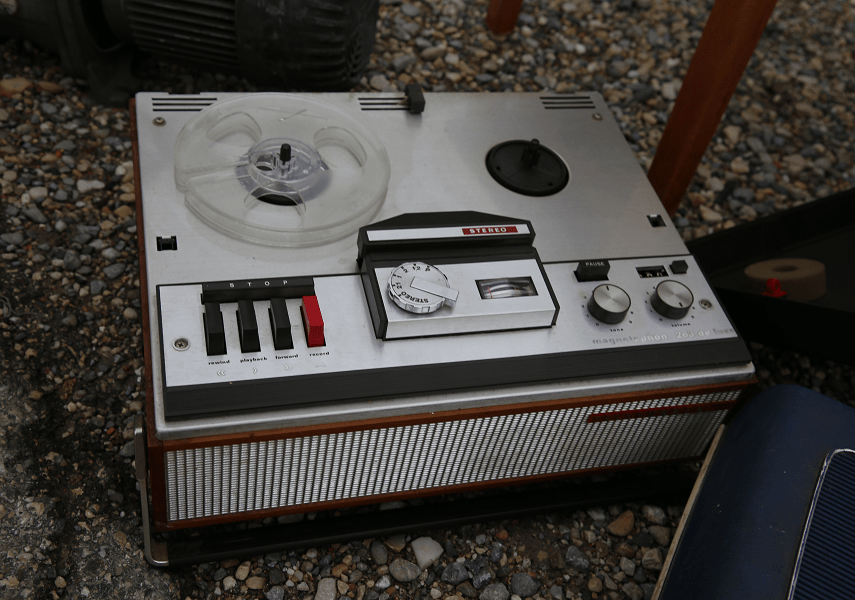 Magnetophon 203 de luxe M 203 [R-Player] by Telefunken, Germany, 1966
Telefunken was a German radio and television apparatus company, founded in Berlin in 1903, as a joint venture of Siemens & Halske and the Allgemeine Elektrizitäts-Gesellschaft (AEG) ('General electricity company').
Around the start of the 20th century, two groups of German researchers worked on the development of techniques for wireless communication. The one group at AEG, led by Adolf Slaby and Georg Graf von Arco, developed systems for the Kaiserliche Marine; the other one, under Karl Ferdinand Braun, at Siemens, for the German Army. Their main competitor was the British Marconi Company.
In 2000, Toni Roger Fishman acquired the diamond-shaped logo and the Telefunken brand name from Telefunken Licenses for use in North America. The company "Telefunken USA" was incorporated in early 2001 to provide restoration services and build exact reproductions of vintage Telefunken microphones. In 2003, Telefunken USA won a TEC Award for Studio Microphone Technology for their exact reproduction of the original Ela M 250 / 251 Microphone system. Telefunken USA has since received several TEC Awards nominations for the following microphone systems: the Telefunken USA M12 or C12 (originally developed by AKG), the R-F-T M16 MkII, and the AK47. The Historic Telefunken Ela M251 microphone system entered the MIX foundation's Hall of fame in 2006. In 2008, Telefunken USA won a second TEC Award for its new Ela M 260 microphone.
As a result of a conference held in Frankfurt in May 2009, Telefunken USA has been renamed Telefunken Elektroakustik ("Electrical Acoustics") Division of Telefunken and awarded the exclusive rights to manufacture a wide variety of professional audio products and vacuum tubes bearing the Telefunken trademark in over 27 countries. Telefunken Elektroakustik now uses the Telefunken trademark for professional audio equipment and component-based electronics, such as capacitors, transformers, vacuum tubes in Asia, Europe, North America, Oceania and South America.