Candelario is a municipality and town in the province of Salamanca, in the autonomous community of Castile and León, Spain. It is integrated into the Sierra de Béjar region.
It has been declared as a property of cultural interest, in the category of historical complex, (previously "Historical-Artistic Complex"), since 1975.
Since 2015 the city has also been a part of the network "The most beautiful villages of Spain".
Main attractions
Today, it is a good example of the adaptation of architecture to the relief, with its steep and winding streets and its small canals with crystal clear waters.
Houses with wide stone walls belong to the popular mountainside architecture, due to its traditions. One of these traditions is the preparation of the Candelario pork.
Eaves are used for protection against snow. Large galleries with wooden balconies are used for drying sausages.
Usually such houses consisted of three parts.
On the first floor there was a patio, a place where pigs were slaughtered. Sausages were cut, marinated and dried in the house.
The owners of the house lived with their families on the first floor. The top floor, the attic, was used for drying sausages.
In July 2008, the Candelario ethnographic museum, "Museo de la Casa Chacinera", opened its doors.
In addition to the museum, you can see the coffered ceiling of the parish church, in very well preserved Mudéjar style, with the Baroque and Churrigueresque altarpieces.
The hermitage of Humilladero, dedicated to the Cristo del Refugio, with a baroque altarpiece, is at the entrance of the town.
Other objects of traditional architecture, apart from the church and the hermitage, are the main façade of the town hall and the various stately homes scattered around the town.
The Cruz del Herrerito viewpoint is located a short distance away on a hill southwest of Candelario.
Gastronomy
Candelario sausages were known all over Spain and supplied the Royal House.
Other traditional dishes include hornazo, a pie with cold cuts and boiled egg or garlic soup.
You can easily find here trout, fried or marinated.
The small pastries called perrunillos and those with anise called "maimones" are perfect to end a meal.
How to get to?
From Salamanca 56 min (76.6 km) via A-66
From Valladolid 2 hr 13 min (200 km) via A-62 and A-66
From Madrid 2 hr 38 min (218 km) via N-110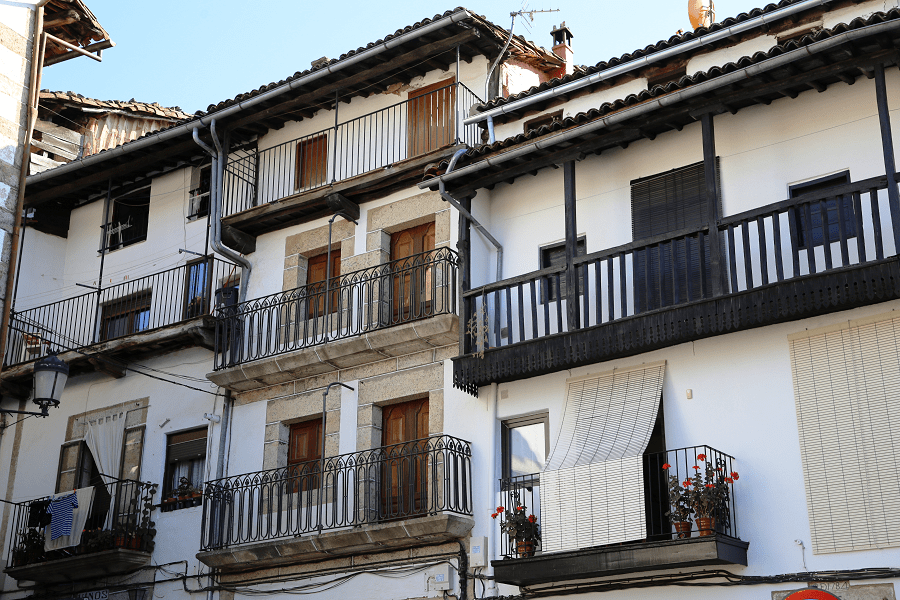 Main information
Area: 60 sq. km (municipality)
Coordinates: 40°22′05″N 5°44′40″W
Population: 860
Languages: Spanish
Currency: Euro
Visa: Schengen
Time: Central European UTC +1