Maserati MC20
The Maserati MC20 (MC being the acronym for Maserati Corse 2020, internal code M240) is a two-seater, rear-mid-engine sports car produced by Italian car manufacturer Maserati.
The debut of the MC20 was initially scheduled for May 2020, but was rescheduled along with brand redesign for September 2020 in Modena. A racing variant was also announced at the same time. The open top variant of the MC20 called the Cielo (Italian for sky) made its debut in May 2022.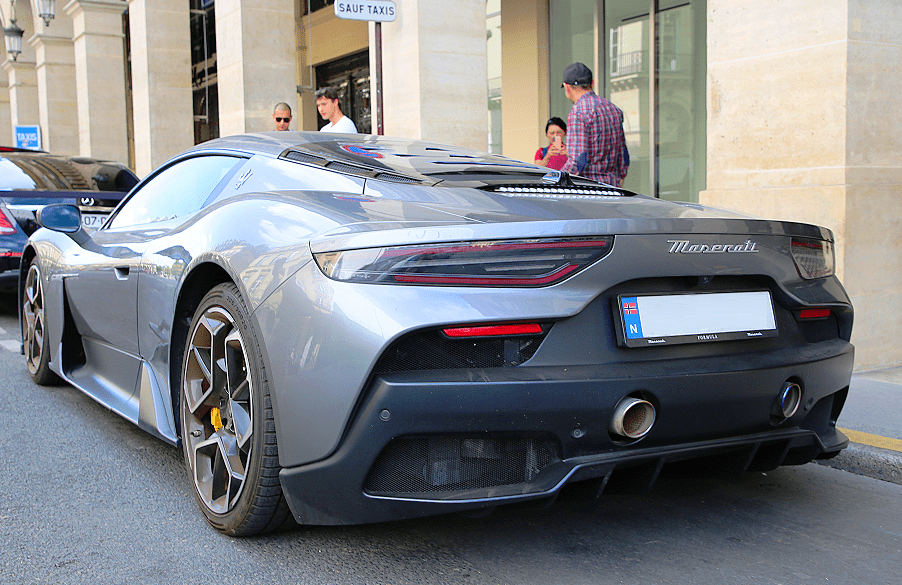 The car was developed by the Maserati Innovation Lab with an all-electric option slated to reach production in the future. The new sports car is produced at the Maserati Modena plant that is undergoing necessary modernization. The new car's logo appeared on a Maserati-sponsored Multi 70 trimaran's mainsail that was due to race in the RORC Caribbean 600.
Engine
On 1 July 2020, Maserati announced a six-cylinder engine for the MC20 called the Nettuno. The engine was described as a 90-degree, 2,992 cc (3.0 L; 182.6 cu.in) V6 with a dry sump, twin-spark and pre-chamber ignition system. It also has twin-turbochargers and fuel injectors. The 220 kg (485 lb) engine can generate a power output of 630 PS (463 kW) at 7,500 rpm and 730 N⋅m (538 lbf⋅ft) of torque from 3,000 to 5,500 rpm. The red-line of the engine is set at 8,000 rpm.
The engine's use of a passive pre-chamber is a unique quirk. Inspired by Formula 1 and combined with the use of twin-spark ignition, one inside the small cylindrical pre-chamber placed at the center of combustion chamber, and another placed in the traditional combustion chamber, designed to help combustion in low-load scenarios.
The air-fuel mixture, provided by a hybrid port and direct injection system is compressed during the compression stroke of the engine into the pre-chamber, where it is then ignited by the chamber's spark plug. The resulting explosion spreads throughout the traditional chamber, creating a faster fuel burn. The system is mainly designed with the reduction of emissions in mind, but also promises increased fuel economy.
Assembly: Modena (Italy)
Years of production: 2020—
Engine: Maserati Nettuno 90°
Engine displacement: 6 cylinders; 2992 cm³
Power: 620 HP
Max speed: 323 km/h
Fuel consumption: 13 l/100 km
Weight: 1,500 kg