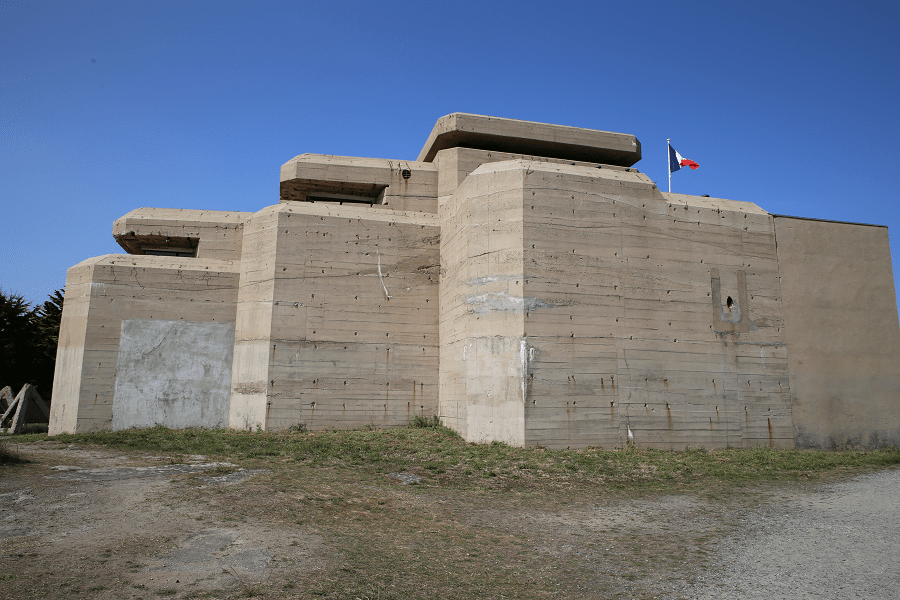 The Museum of Le Grand Blockhaus in Batz-sur-Mer, France.
The Atlantic Wall was an extensive system of coastal defences and fortifications built by Nazi Germany between 1942 and 1944, along the coast of continental Europe and Scandinavia as a defence against an anticipated Allied invasion of Nazi-occupied Europe from the United Kingdom, during World War II. The manning and operation of the Atlantic Wall was administratively overseen by the German Army, with some support from Luftwaffe ground forces. The Kriegsmarine (German Navy) maintained a separate coastal defence network, organised into a number of sea defence zones.
In order to direct the firing of the Batz-sur-Mer guns and control maritime traffic between Belle-Ile-en-Mer and Noirmoutier, Kriegsmarine started the construction of a heavy S 414 type shooting bunker during the second semester 1942.
It will be installed on the rocky promontory of the Dilane, 16 meters above sea level. Construction of the shell began on October 22, 1942 and was completed on February 8, 1943.
The first workers who put in place the metal skeleton of the bunker with 125 tons of iron were mainly North African workers stationed at Camp Africain II in Pouliguen. They are relayed by a hundred workers working for the German construction company Polansky and Zöllner, under contract with the Todt Organization. About fifty carpenters worked for several weeks to form the entire metal skeleton of the building with wood. Then the liquid concrete is poured for 27 hours! This 25-meter-long structure with a maximum height of 17 meters required 1,800 m3 of concrete, which represents 300 mixer trucks of six m3! Its interior space is 285 m2, the walls facing the outside and the ceilings everywhere are two meters thick.
Address: 12 Route du Dervin, 44740 Batz-sur-Mer, France
Tariffs
Full price – adults: 8 €
Reduced price – child 5-12 years old and veteran, disabled: € 6
Open:
Sunday
10AM–6PM
Monday
10AM–6PM
Tuesday
10AM–6PM
Wednesday
10AM–6PM
Thursday
10AM–6PM
Friday
10AM–6PM
Saturday
10AM–6PM