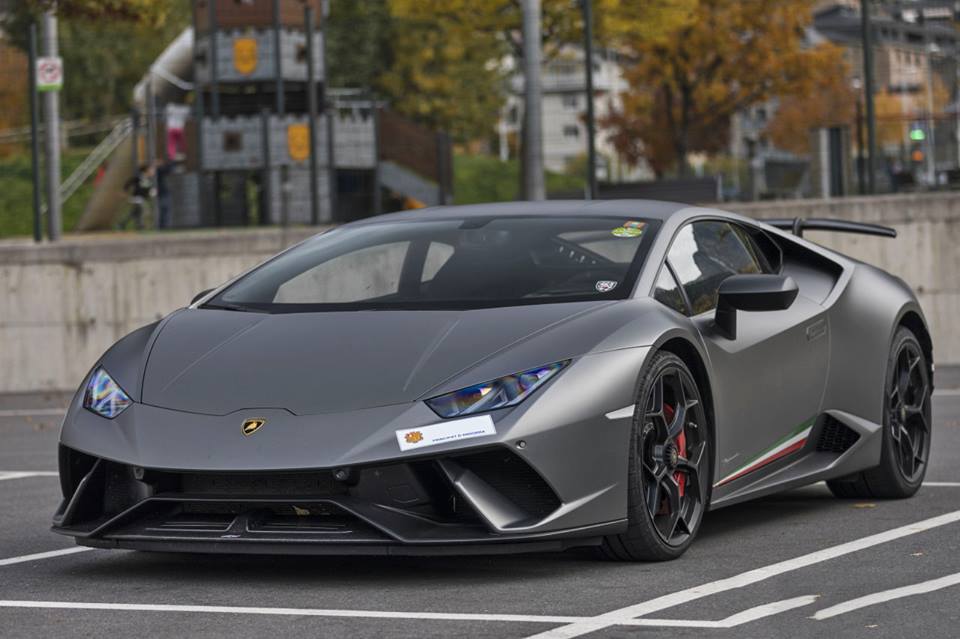 Lamborghini Huracán LP640-4 Performante: grey color
The Lamborghini Huracán is a sports car manufactured by Italian automotive manufacturer Lamborghini replacing the previous V10 offering, the Gallardo. The Huracán was revealed online in December 2013, making its worldwide debut at the 2014 Geneva Auto Show, and was released in the market in the second quarter of 2014.
Huracán LP 640-4 Performante (2017–2019)
A track oriented variant of the Huracán, called the Performante, was unveiled at the 2017 Geneva Motor Show.
The Performante underwent various exterior changes with the most noticeable being the front and rear bumpers. Carbon fibre is used for the bumpers and the side skirts. An adjustable carbon fibre rear wing has been added to increase downforce. The position of the exhaust has also been changed, and is now just a bit above the rear diffuser. The interior also underwent noticeable changes, now sporting new seats and a new digital speedometer (similar to that of the Aventador SV's speedometer).
The Performante's 5.2-litre V10 has been tuned to have a power output of 471 kW (631 hp; 640 PS) at 8,000 rpm and 601 N⋅m (443 lb⋅ft) of torque at 6,500 rpm. The weight has also decreased by 40 kg (88 lb), courtesy of the forged aluminium and forged carbon fibre body components (first used in the construction of the Sesto Elemento). All the new aero components on the car have active aerodynamic capability and help keep the car stable at high speeds. The Performante is capable of accelerating from 0–100 km/h (0–62 mph) in 2.9 seconds, 0–200 km/h (0–124 mph) in 8.9 seconds. It also has a theoretical top speed of 325 km/h (200 mph).
The car has been stiffened by 10% with new springs, roll bars, and radial axial arm bushings. The magnetorheological suspension has been reworked to give a driver a serious track experience. The Lamborghini Dynamic Steering has been re-calibrated. The Performante utilises Lamborghini's new ALA (Aerodinamica Lamborghini Attiva) system, which is said to be 80% lighter than regular sports car hydraulic systems. According to Lamborghini, ALA is also said to provide 750% more downforce than the standard Huracán. The price of the car is set at US$274,390.