Chinchón is a municipality and town in the southeast of the Community of Madrid, in the Las Vegas region (Spain). In 1974 its historic center, with a notable main square, was declared a Historic-Artistic Site.
Since 2017 Chinchón has been a part of the network "The most beautiful towns in Spain".
Main attractions
Chinchón's Plaza Mayor is an example of popular architecture. The first houses with arcades and balconies were built in the 15th century, and it was completely closed in the 17th century.
It has an irregular shape in plan with a simple and orderly structure in elevation. The buildings have three floors, with lintelled galleries and 234 wooden balconies called claros, supported by upright wooden pillars.
Church of Our Lady of the Assumption: its construction began in 1534 as a chapel attached to the Count's palace with a Gothic architecture project, by Alonso de Covarrubias, and it was finished in 1626, after a forty-eight year halt in the works.
Clock tower: this tower was part of the old parish church of Nuestra Señora de Gracia, built before the 15th century. The church itself was destroyed by napoleonic troops in 1808.
Castle of the Counts was built at the end of the 15th century, although it was destroyed during the Revolt of the Comuneros in 1520. The 3rd Count of Chinchón, Diego Fernández de Cabrera, decided to rebuild it in the second half of the 16th century.
Convent of San Agustín currently houses the Parador Nacional de Turismo of Chinchón, after having been rebuilt and restored by the architect Juan de Palazuelo in 1982 and after being donated by the Chinchón city council to the State.
The first convent of Augustinians was founded at the end of the 15th century by Andrés de Cabrera and Beatriz de Bobadilla.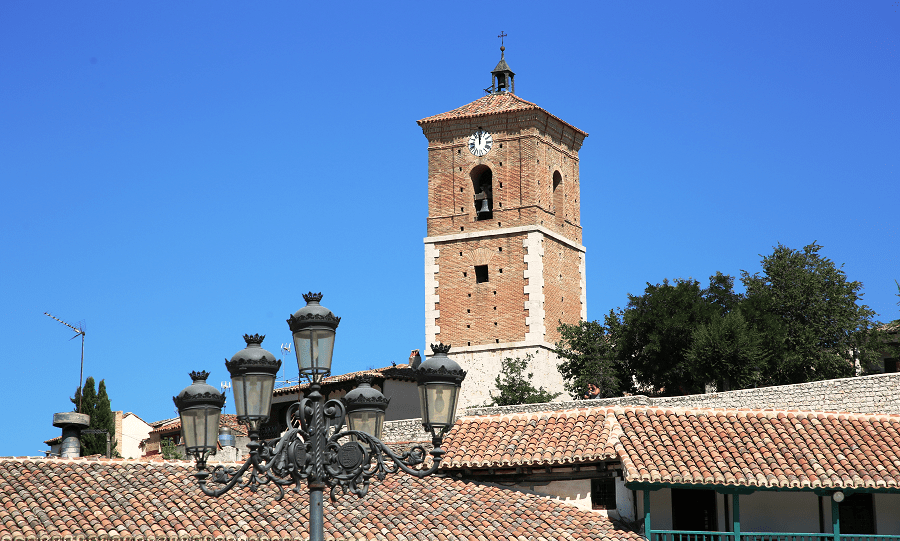 Convent of the Poor Clares was founded in 1653 by the V Count of Chinchón, Don Francisco Fausto Fernández de Cabrera. The features of Spanish Baroque architecture are well defined, following the style of Juan de Herrera.
Castillo de Casasola is a ruined 15th century castle with a triangular plan near the river Tajuña. It has a stone bridge and several towers. In the 19th century it served as a base politicians and military who were favourable to Alfonso XII of Spain. It is in Gothic style and is now privately owned.
Gastronomy
Chinchón, an aniseed alcoholic drink with a designation of origin, is famous in this town. Here it is produced and bottled.
How to get to?
From Madrid 56 min (60.9 km) via A-3
From Toledo 1 hr (72.0 km) via CM-4001
From Ciudad Real 1 hr 54 min (172 km) via A-4
Main information
Area: 115 sq. km (municipality)
Coordinates: 40°08′22″N 3°25′35″W
Population: 5 413
Languages: Spanish
Currency: Euro
Visa: Schengen
Time: Central European UTC +1