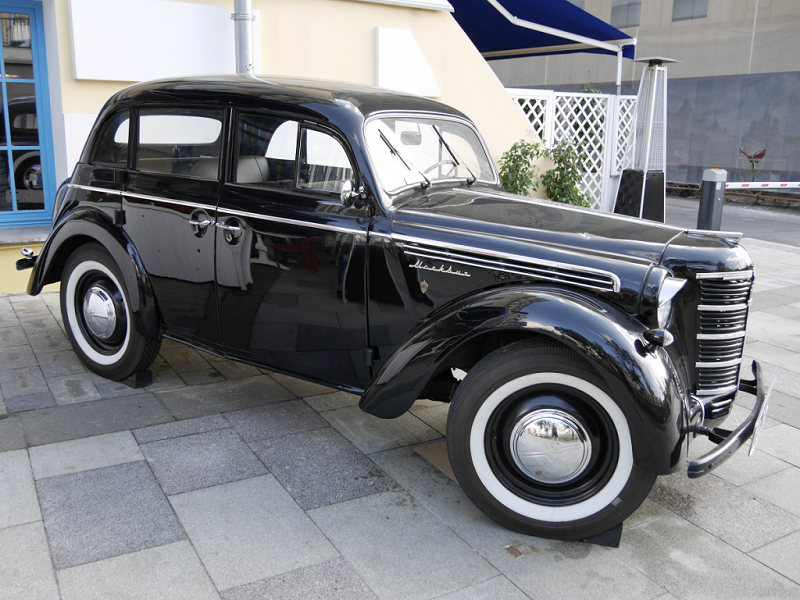 The Moskvitch 400-420 is a car that was introduced in 1947 by the Soviet manufacturer Moskvitch.
Development began in 1944, following a prewar plan to produce a domestically built car able to be used and maintained by citizens living outside major cities. The KIM factory was selected to build the car, with the prewar KIM 10-52 (not built due to the Second World War) as a basis, with production approved in May 1945 and prototypes intended to be ready in December. By the end of May, however, these plans had faltered.
It was Joseph Stalin who personally chose in June 1945 a four-door Opel Kadett to become the first mass-produced popular Soviet car, so plans and tooling of a four-door version had to be reconstructed with help of German engineers, who worked upon them in a Soviet occupation zone. The Soviet Union was not the only country to adopt the design at that time: the Kadett had impressed Louis Renault and heavily inspired his Renault Juvaquatre produced in 1937-1960.
After KIM was renamed MZMA (Moscovskiy Zavod Malolitrazhnyh Avtomobiley, Moscow Factory for Making Small Cars) in August 1945, the new car was ready for production before the end of 1946 (somewhat behind the planned June deadline): the first 400-420 was built 9 December, "400" meant a type of engine, and "420" the (saloon) body style.
With unitized construction, independent front suspension, three-speed manual transmission. and hydraulic brakes, it was powered by a 23 hp (17 kW; 23 PS) 1,074 cc (65.5 cu in) inline four (with a compression ratio of 5.6:1).
Acceleration 0–50 mph (0–80 km/h) took 55 seconds, and achieved 9 L/100 km (31 mpg‑imp; 26 mpg‑US) (the best of any Soviet car at that time).
With a wheelbase of 2,340 mm (92 in)) and ground clearance of 200 mm (7.9 in)), it measured 3,855 mm (151.8 in) long overall 1,400 mm (55 in) wide, 1,550 mm (61 in) tall.
Approved for mass production by the Soviet government on 28 April 1947, 1,501 were built the first year, with 4,808 for 1948 and 19,906 in 1949, the same year a mesh oil filter was introduced. In 1951, synchromesh was introduced on the top two gears, and the gear lever relocated to the steering column.
In 1948, a woodie van, the 400-422, with an 800 kg (1,800 lb) payload, went into production but the similar prototype 400-421 estate and a pick-up never did. The 400-420A cabriolet debuted in 1949.
The 400 went on sale in Belgium in October 1950, making it a very early Soviet automotive export product, priced at £349: below the Ford Prefect and Anglia, and well below the Morris Minor.
Motor praised its engine's quietness, the calibre of its finish, and the quality of the ride.
The 100,000th Moskvich was built in October 1952.