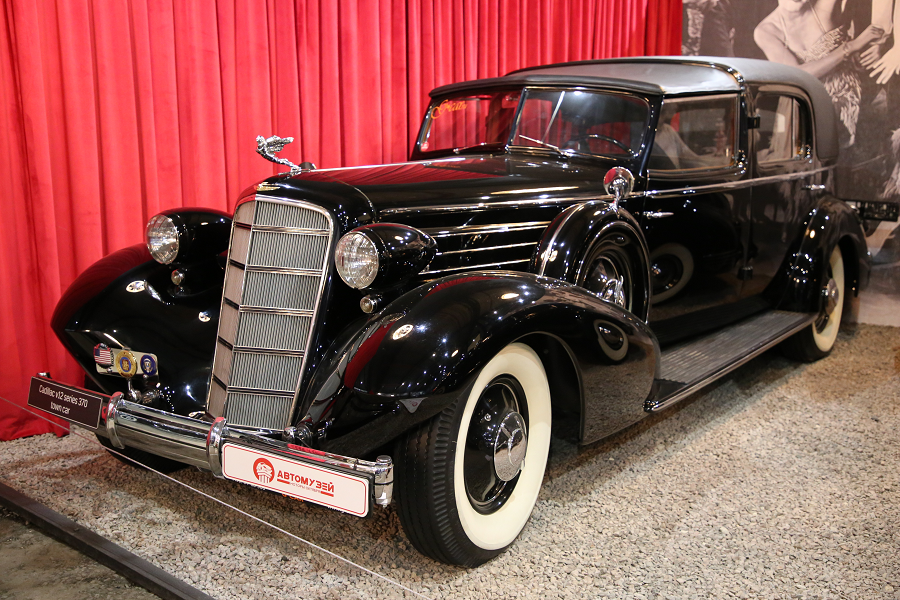 Cadillac V12 series 370 from 1935 with 150 HP. 12 cylinders, 6L, 110 km/h in Moscow
The Cadillac V-12 is an exclusive V-12 powered luxury car that was manufactured by Cadillac from the 1930 through the 1937. Below only the maker's top-of-the-line Cadillac V-16 line, these were powered by the Cadillac V12 engine, furnished with similar custom bodies, and built in relatively small numbers.
A total of 10,903 were made in the seven model years that the automobile was built, with the majority having been constructed in its inaugural year. It was Cadillac's first, and is to date, Cadillac's only standard production V-12 automobile.
Series 370 (1931–1935)
The 1931 Model 370A V-12 was introduced in October 1930. A V-12 roadster was used as the pace car at the Indianapolis 500. The Cadillac V-12 had a shorter wheelbase than the Cadillac V-16, with a choice of 140 in (3,556 mm) or 143 in (3,632 mm), compared to the V-16's 148 in (3,759 mm), but it offered a similar choice of Fisher and Fleetwood semi-custom bodies.
It was difficult to tell a Cadillac V-12 from a Cadillac V-16 unless you were close enough to read the figure "12" mounted on the headlight tie bar, but the hood was four inches (102 mm) shorter, and the headlights and horns smaller than a V-16's. More significantly, the V-12 cost about $2,000 less for each bodystyle, starting at $3,795 ($67,621 in 2021 dollars).
The Cadillac V-12 might have been lower in prestige than the Cadillac V-16, but it joined a select group of 1930s cars with multicylinder engines, namely those manufactured by Auburn, Franklin, Hispano-Suiza, Horch, Lagonda, Maybach, Packard, Pierce-Arrow, Rolls-Royce, Tatra, Voisin, Walter, Marmon and Lincoln.
Moreover, thanks to its lower price, it immediately outsold the Cadillac V-16 with 5,733 sold in the 1931 model year, versus a mere 363 for the V-16.
The appearance of the 1932 Series 370B benefited from a radiator shell that flared on the top, more flaring fenders and curved running boards. Mechanical changes included a stiffer frame, and a Cuno self-cleaning oil filter mounted at the right hand side of the clutch housing. Dual Detroit Lubricator carburetors were used in place of the Cadillac/Johnson carburetors that had been standard equipment on Cadillacs for 20 years. Largely thanks to the deepening Great Depression sales plunged to 1740 units.