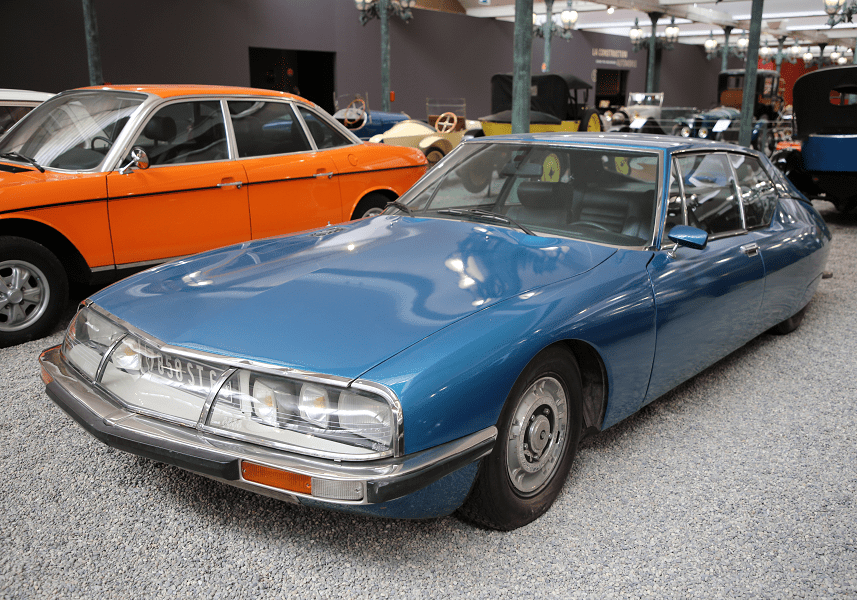 Blue Citroën coupe Type SM from 1971, six  cylinders, 2670 cc, 170 HP, 220 km/h.
The Citroën SM is a high-performance coupé produced by the French manufacturer Citroën from 1970 to 1975. The SM placed third in the 1971 European Car of the Year contest, trailing its stablemate Citroën GS, and won the 1972 Motor Trend Car of the Year award in the U.S.
In 1961, Citroën began work on 'Project S' – a sports variant of the Citroën DS. As was customary for the firm, many running concept vehicles were developed, increasingly complex and upmarket from the DS. At some stage in the 9-year project, it evolved from developing a faster variant of the 1955 DS to developing an entirely new, thoroughly engineered car – in terms of engineering effort, a replacement for the high volume DS model. Citroën purchased Maserati in 1968 with the intention of harnessing Maserati's high-performance engine technology to produce a true Gran Tourer car, combining the sophisticated Citroën suspension with a Maserati V6.
The result was the Citroën SM, first shown at the Geneva Motor Show in March 1970. It went on sale in France in September of that year. Factory produced cars were all left-hand-drive, although RHD conversions were done in the UK and Australia.