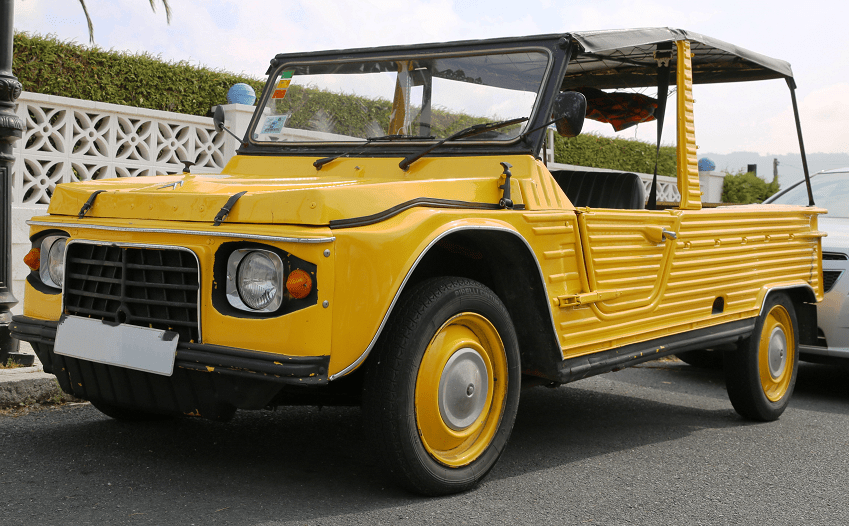 Citroën Méhari Cabriolet 2+2. Yellow version. Made in Vigo (Spain) in 1974, V2, 602 cc, 30 hp, 570 kg, 100 km/h.
The Citroën Méhari is a lightweight recreational and utility vehicle, manufactured and marketed by French carmaker Citroën over 18 years in a single generation. Built in front-wheel (1968–1988) and four-wheel drive (1980–1983) variants, it features ABS plastic bodywork with optional/removable doors and foldable, stowable, fabric convertible top.
The Méhari weighed approximately 535 kg (1,179 lb), and featured the fully independent suspension and chassis of all Citroën 'A-Series' vehicles, using the 602 cc (36.7 cu in) variant of the flat twin petrol engine shared with the 2CV6, Dyane, and Citroën Ami. The car also uses the Dyane's headlights and bezels, and 4WD units differ externally by having the spare wheel on the hood, in a molded recess.
The car is named after the fast-running dromedary camel, the méhari, which can be used for racing or transport. Citroën manufactured 144,953 Méharis between the car's French launch in May 1968 and the end of production in 1988.
The Méhari and variants were built in many additional variants (under license or not), in a host of other countries, including versions with a fiberglass instead of ABS body, and 2WD version with spare wheel on the hood.