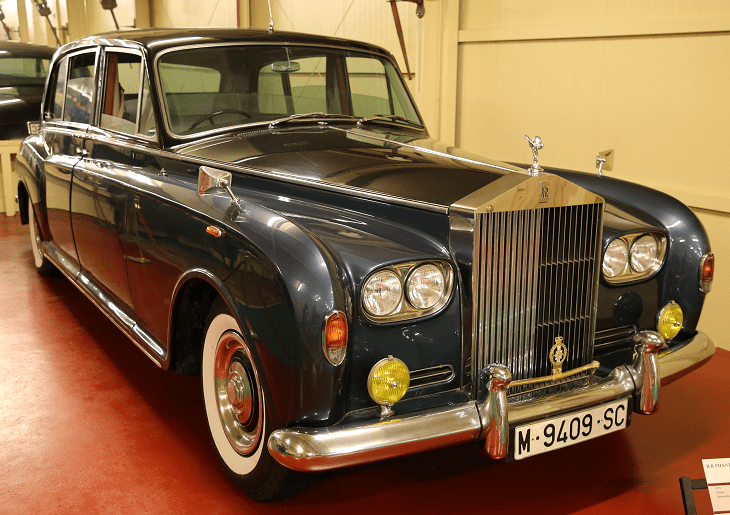 Rolls-Royce Phantom VI by H K Mulliner from 1970
The Rolls-Royce Phantom VI is a British limousine made from 1968 to 1990 by Rolls-Royce. A total of 374 Phantom VIs were made, of which fewer than 40 were manufactured in the last decade of production.
The exterior is almost identical to the facelifted Phantom V.
Most of the coachwork was created by Mulliner Park Ward, usually in limousine form, although a few landaulets were made.
The Phantom VI was the last Rolls-Royce with a separate chassis. It featured coil springs in front, leaf springs and live axle in rear, and drum brakes on all four wheels. The car was powered by a 6,230 cc (380 cu in) 90-degree V8 with a bore of 104 mm (4.1 in) and stroke of 91.5 mm (3.60 in) with twin SU carburettors, coupled to a 4-speed automatic gearbox.
In a 1979 upgrade the engine capacity was increased to 6,750 cc (412 cu in), a 3-speed automatic gearbox with torque converter was substituted, and separate front and rear air conditioning units were provided.
In 1990, the last Rolls-Royce Phantom VI chassis were built. However, as the completion of the coachwork by Mulliner Park Ward took around 18 months, the last cars were made in the period of the next two years.
Design of a Phantom VII based on the Silver Shadow's body was discussed in the 1970s, but plans were scrapped. No prototypes were built. A production Rolls-Royce Phantom VII was rolled out in 2003.
Mulliner Park Ward was a bespoke coachbuilder in Hythe Road, Willesden, London UK. Mulliner now is the personal commissioning department for Bentley. Mulliner Park Ward was a subsidiary of Rolls-Royce and made bespoke bodies in London for Rolls-Royce and Bentley motor cars. The coachbuilding business closed in 1991 but the Mulliner name is used for the personal commissioning department of the current Bentley manufacturer.