Red Porsche 718 Boxster S Cabriolet in Alicante, Spain.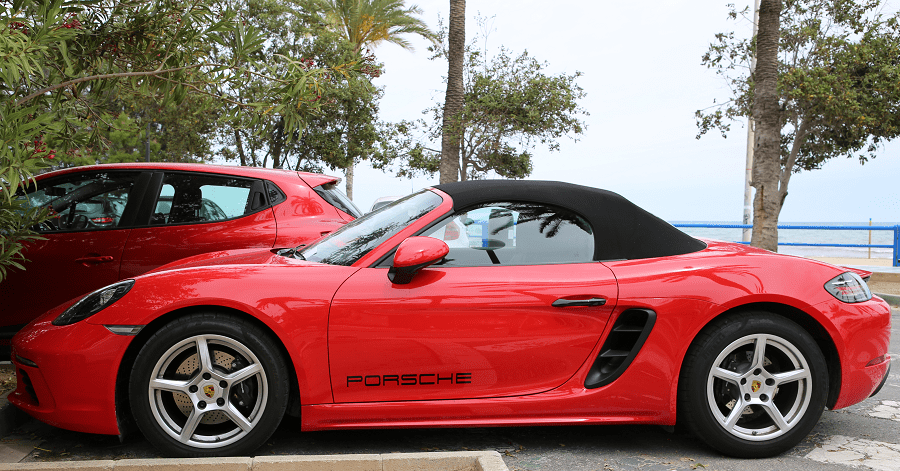 The Porsche Boxster and Cayman are mid-engine two-seater sports cars manufactured and marketed by German automobile manufacturer Porsche across four generations—as a two-door, two-seater roadster (Boxster) and a three-door, two-seater fastback coupé (Cayman).
The first generation Boxster was introduced in 1996; the second generation Boxster and the Cayman arrived in late 2005; and the third generation launched in 2012. Since the introduction of the fourth generation in 2016, the two models have been marketed as the Porsche 718 Boxster and Porsche 718 Cayman.
With the new 982-generation, the marketing designation of the Boxster and Cayman was changed to Porsche 718, a nod to Porsche's racing heritage that won the Targa Florio race in 1959 and 1960. Because the 718 Cayman / Boxster has lost two cylinders, going from a naturally aspirated flat-6 engine to a turbocharged flat-4 engine, the name is meant to evoke a racing series that was won by a light car which outmaneuvered the cars with more powerful engines.
The timeline of the 718 release started in 2016, with first model availability scheduled for June. The 718 base models featured two new horizontally-opposed flat-4 turbocharged engines of 2.0-litre and 2.5-litre displacements with increased torque and horsepower along with lower fuel consumption. The S model's turbocharger utilises Variable Turbine Geometry (VTG) technology. The Boxster S could accelerate from 0–97 km/h (0–60 mph) in 4.1 seconds, and the Cayman S in 3.9 seconds. In October 2017, the GTS models were announced with their 2.5-litre engines upgraded to 272 kW (370 PS; 365 hp).