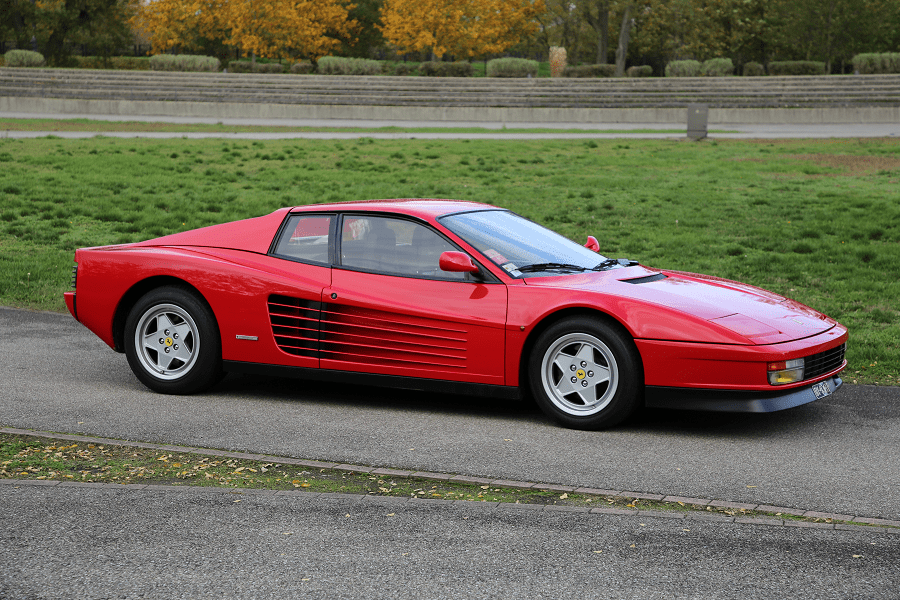 The Ferrari Testarossa (Type F110) is a 12-cylinder mid-engine sports car manufactured by Ferrari, which went into production in 1984 as the successor to the Ferrari Berlinetta Boxer.
The Pininfarina-designed car was originally produced from 1984 until 1991, with two model revisions following the end of Testarossa production called the 512 TR and F512 M, which were produced from 1992 until 1996. Including revised variations, almost 10,000 cars in total were produced, making it at the time one of the most mass-produced Ferrari models.
The Testarossa is a two-door coupé that premiered at the 1984 Paris Auto Show. All versions of the Testarossa were available with a rear-mounted, five-speed manual transmission. The rear mid-engine design (engine between the axles but behind the cabin) keeps the centre of gravity in the middle of the car, which increases stability and improves the car's cornering ability, and thus results in a standing weight distribution of 40% front: 60% rear.
The Testarossa has a naturally aspirated 4.9 L (4,943 cc) longitudinally-mounted, Tipo F113 flat-12 engine. The engine has DOHC 4 valves per cylinder (48 valves in total) and is lubricated via a dry sump system. The engine has a compression ratio of 9.20:1 These combine to provide a maximum power of 287 kW (390 PS; 385 hp) at 6,300 rpm and maximum torque of 490 N⋅m (361 lb⋅ft) at 4,500 rpm. Early U.S. versions of the car had the same engine, but had slightly less power, which stood at 283 kW (385 PS; 380 hp).
Engine
The Testarossa can accelerate from 0–100 km/h (62 mph) in 5.8 seconds and from 0–97 km/h (60 mph) in 5.2 seconds and on to 161 km/h (100 mph) in 11.4 seconds (though Motor Trend Magazine managed 5.29 seconds and 11.3 seconds, respectively). It can complete a standing (from stationary) quarter mile ~1⁄4 mi (402 m) in 13.5 seconds and a standing kilometre in 23.8 seconds. The top speed of the Testarossa is estimated at 290 km/h (180 mph).