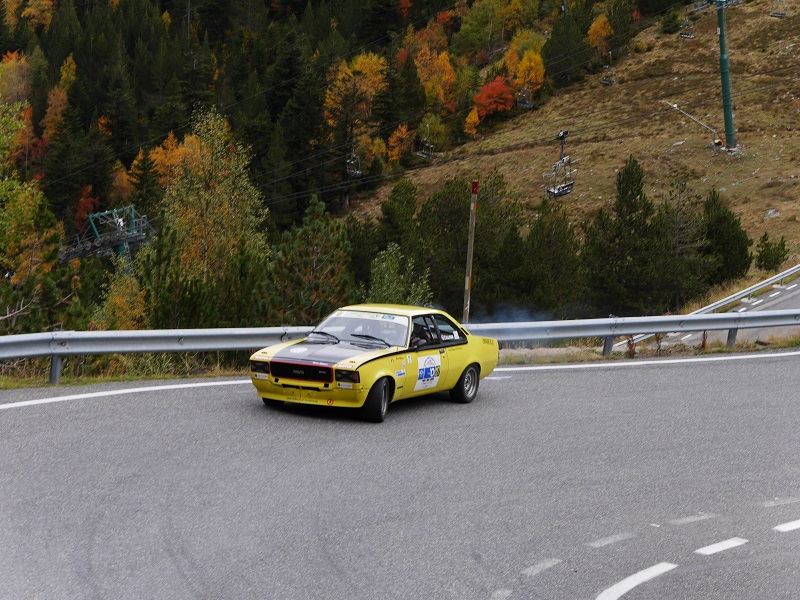 Opel Commodore B in drift
The Opel Commodore is an executive car (E-segment) produced by Opel from 1967 to 1982. It is the six-cylinder variant of the Rekord with styling differences. The Commodore nameplate was used by Opel from 1967 to 1982. However, its nameplate/lineage continued until 2020 with the Australian Holden Commodore. The last generation was sold in the United Kingdom primarily as the Vauxhall Viceroy although Opel models were also sold.
Commodore B (1972–1977)
The Commodore B was based on the Rekord D, and launched in 1972. As in the previous generation, four models were offered: 2500 S, 2500 GS, 2800 GS and 2800 GS/E, as a four-door notchback saloon and two-door hardtop/notchback coupé (although the fastback design was replaced by a more conventional three-box design). Power of the 2.5-litre engine was 115 or 130 PS (85 or 96 kW; 113 or 128 hp) depending on the specifications (25S/25H), while carburetted 2.8-liters had 130 or 142 PS (96 or 104 kW; 128 or 140 hp). The fuel injected 2.8 used in the GS/E has 160 PS (118 kW; 158 hp).
The Rekord and Commodore were also assembled as CKD kits in Belgium and Switzerland in the 1970s. These cars carried the name Ranger and differed from the originals in having different grilles and trim. These cars were exported to various countries.
In 1974, due to new regulations regarding pollutant emissions, the 2.5 L base models were dropped and the 2.8 L was detuned to 129/140/155 PS (127/138/153 hp). Commodore B production ended in 1977.
The Commodore B series was like the A series briefly used in motorsports, and the extreme "Jumbo" Commodore raced in the 1974 "interserie". It used a 6.0-litre V8 engine and had large wings which almost made it unrecognizable as an Opel. It never enjoyed much success despite its massive powerplant and impressive output.