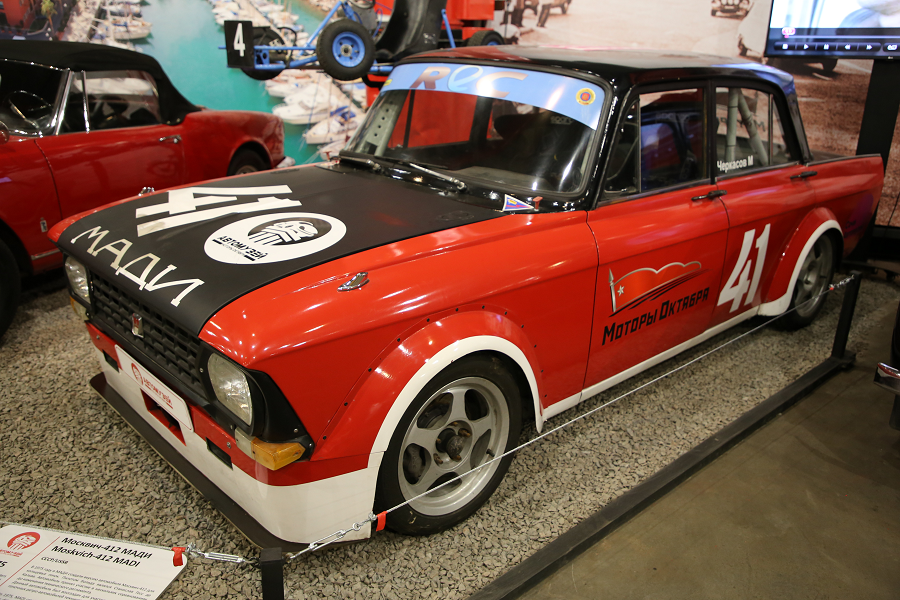 Moskvitch 412 MADI. Rally version
The Moskvitch 412 (Moskvich 412, Москвич-412, M-412) is a supermini car produced by Soviet/Russian manufacturer MZMA/AZLK in Moscow from 1967 to 1975, and by IZh in Izhevsk from 1967 to 1982 (also known as IZh-412). It was a more powerful and prestigious version of the M-408 model, offering more features for a higher price.
The Moskvitch 412 derived from the Moskvitch 408, differing in more powerful 1.5 engine. The earliest engines for the 412 were built in 1964. The Moskvitch 412 had a slanted (to a tilt of 20 degrees) inline-four engine with a block, head, and inlet manifold cast in aluminium alloy to keep the engine weight down, and a hemispherical combustion chamber.
Steel cylinder liners were replaceable to enable easy repair of the engine instead of having to replace it entirely. Since it was of an OHC design, it was taller than the OHV MZMA-408 engine it replaced, which is why it was mounted at a slant.
The UZAM-412 had a capacity of 1,478 cc (90.2 cu in) c.c. and developed 75 horsepower. Its more powerful version, the Moskvitch-412-2V, had 100 h.p. and was installed on sports cars. The 1,478 cc (90.2 cu in) UZAM-412 engine, with a light alloy block, was designed by Igor I. Okunev.