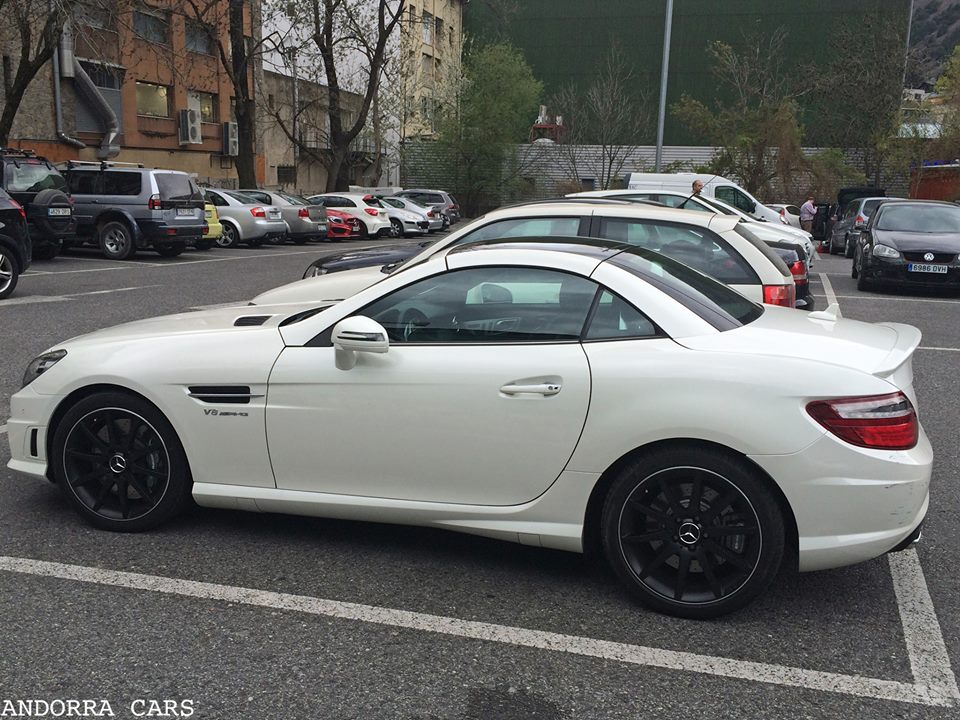 Mercedes-Benz SLK 55 AMG. White color
The Mercedes-Benz SLK-Class is a compact executive roadster, produced by Mercedes-Benz. It was released in 1996 and was built at the Mercedes plant in Bremen, Germany, until the end of production in 2020.
The former name "SLK" was derived from sportlich (sporty), leicht (lightweight), and kurz (short). With the release of the facelift R172 in 2016, the SLK-Class was renamed to SLC-Class in accordance with the revised nomenclature adopted by Mercedes. Under this scheme, roadsters use the base name "SL", followed by the model's placement in Mercedes-Benz hierarchy, the letter "C", being the roadster equivalent to the C-Class.
The second generation Mercedes-Benz SLK R171, internally designated model R171, is a two-passenger, front-engine, rear-drive, retractable hardtop roadster, unveiled at the 74th Geneva International Motor Show—and manufactured and marketed for model years 2004–2010. Currently in its third generation and manufactured at Mercedes' Bremen plant, the SLK nameplate designates Sportlich (sporty), Leicht (light), and Kurz (compact).
SLK 55 AMG
0-62 mph (100 km/h) quoted at 4.9 seconds (Car & Driver Magazine reported 0-60 mph in 4.3 seconds.)
Increased brake capacity. 345x30mm brake discs (Pre-2008-model-year cars have 6-piston front calipers with perforated and slotted rotors, and 4-piston rear calipers. Later models have a mix of brakes depending on options and market: either the original 6-piston fronts or the 4-piston fronts from the C55. Mercedes made this change not only to cut costs but also to reduce complaints about brake squeal from customers not used to high performance brakes.)
Additional engine oil cooler (behind right-hand bumper vents)
Lowered/stiffened suspension (springs, shocks, sway bars)
18-inch alloy wheels with 225/40 front and 245/35 rear tyres
AMG body kit, with distinctive gills in front bumpers
Chrome-accented fog lights
Napa leather interior
Quad exhaust
Smoked taillights and CHMSL
2008 facelift included a controller upgrade to the AMG SPEEDSHIFT 7G-TRONIC transmission, shifts 10% faster than previous model.