Lamborghini Aventador LP700-4 Roadster VS ONE horse power
Blue Lamborghini Aventador LP700-4 Roadster in the Pyrenees (Catalonia, Spain, Andorra)
Characteristics of the 2013 Lamborghini Aventador LP700-4 Roadster model car: speed 350 km / h, power 700 hp, acceleration to 100 km / h 3 sec.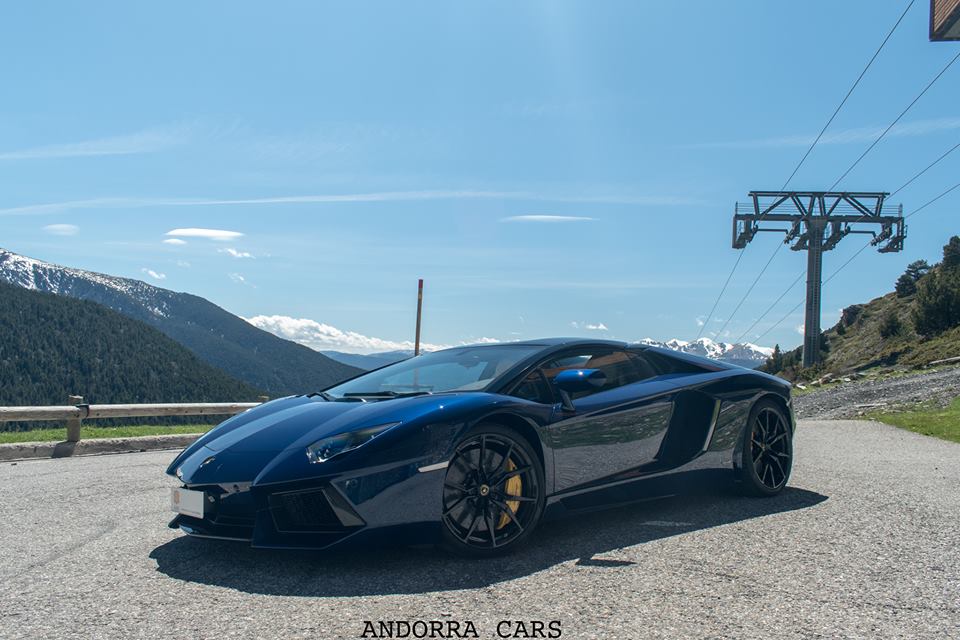 The Aventador LP 700-4 Roadster was announced for production on 27 December 2012. Equipped with the same V12 engine as the coupé version, Lamborghini claims that it can accelerate from 0–97 km/h (0–60 mph) in 2.9 seconds and will achieve a top speed of 349 km/h (217 mph).
The removable roof consists of two carbon fibre panels, weighing 6 kg (13 lb) each, which required the reinforcement of the rear pillar to compensate for the loss of structural integrity as well as to accommodate the rollover protection and ventilation systems for the engine. The panels are removable and are stored in the front luggage compartment.
The Aventador Roadster has a unique engine cover design and an attachable wind deflector to improve cabin airflow at super high speeds as well as a gloss black finish on the A-pillars, windshield header, roof panels, and rear window area. With a total weight of 1,625 kg (3,583 lb) it is only 50 kg (110 lb) heavier than the coupé (the weight of the roof, plus additional stiffening in the sills and A-pillars).