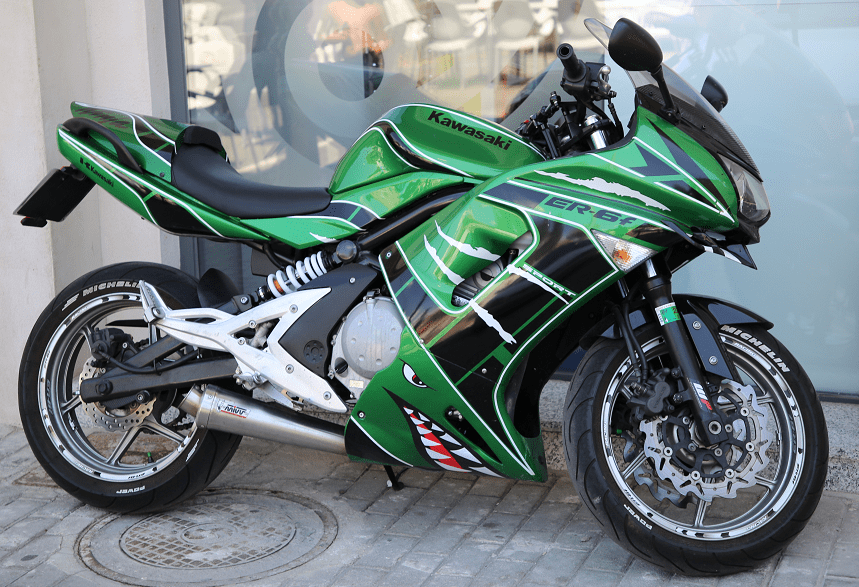 Kawasaki ER-6f. Green version in Escalona
The Kawasaki Ninja 650R, also called ER-6f or EХ-6, is a motorcycle in the Ninja series from the Japanese manufacturer Kawasaki sold since 2006. The 2012 model drops the R suffix from its name. It is a middleweight, parallel-twin engined motorcycle, designed for normal use on paved roads. They have modern styling and features, with low-seating ergonomics and a low center of gravity. The engine has a 180° crankshaft, resulting in an uneven firing interval of 0° and 540°.
The 650R and its naked sibling, the ER-6n, were introduced in 2006. The naked ER-6n was not sold in North America until the 2009 model year. The motorcycle fits above the Ninja 250R and Ninja 500R models, which already existed in Kawasaki's sportbike lineup, which includes the Ninja ZX models.
For 2009, Kawasaki released an updated Ninja 650R which includes new bodywork, mirrors, gauges, lighting, and a new tune on the same 649 cc (39.6 cu in) engine. Along with chassis and minor tweaks, an all-new bodywork design was introduced to the 2012 Ninja 650 and ER-6n along with a new 2-piece seat assembly, 20mm wider handlebars, and a new tachometer above an LCD display that shows speed, trip meters, fuel consumption, etc.
The new Ninja 650 also comes equipped with an Economical Riding Indicator which activates when the bike is consuming low amounts of fuel. For 2017 Kawasaki has updated the Ninja 650 with a new frame trellis style adding to the new lighter weight and better handling. With new sharper styling it has done away with the distinctive side mount rear shock for a more conventional one, it has also added a slipper clutch.