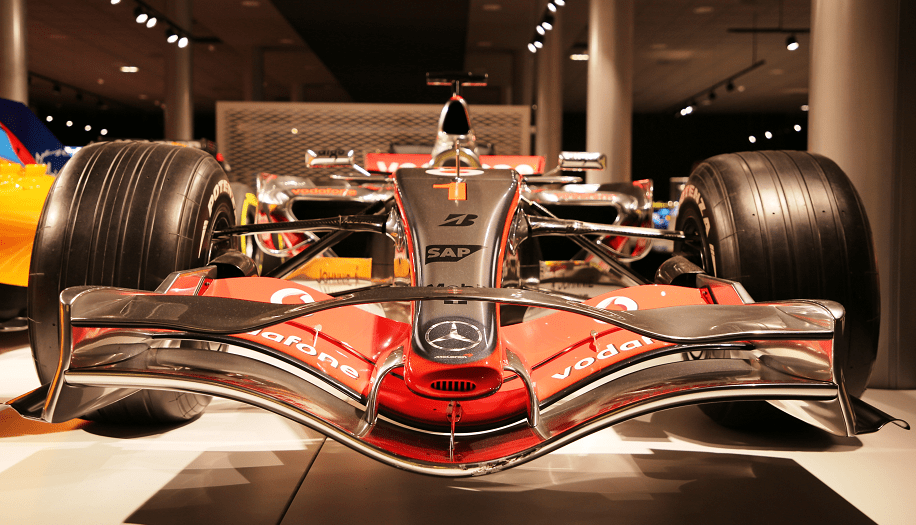 McLaren MP4-22 from Fernando Alonso museum, "Vodafone Mclaren-Mercedes" team. Made in Germany and UK for 2007 season. Mercedes-Benz FO 108T engine.
17 races: 4 victories + 12 podium.
The McLaren MP4-22 is a Formula One racing car that was constructed by the Vodafone McLaren Mercedes team to compete in the 2007 Formula One World Championship. The chassis was designed by Paddy Lowe, Neil Oatley, Pat Fry, Mike Coughlan and Simon Lacey, with Andy Cowell and Mario Illien designing the bespoke Mercedes-Benz engine. The car was revealed in testing at Circuit de Valencia in Spain on 15 January 2007, and was driven by double World Champion Fernando Alonso and debutant Lewis Hamilton.
The MP4-22 proved to be one of the most competitive cars of the season, with Alonso and Hamilton achieving four victories each. However, a fierce rivalry between the two drivers, combined with the 2007 Formula One espionage controversy, resulted in McLaren losing both championships to Scuderia Ferrari Marlboro.
Characteristics
Chassis: Moulded carbon fibre/aluminium honeycomb composite incorporating front and side-impact structures
Suspension (front): Adjustable double wish-bone arrangement
Suspension (rear): As front
Length: 4,670 mm (184 in)
Width: 1,800 mm (71 in)
Height: 950 mm (37 in)
Wheelbase: 3,100 mm (122 in)
Engine: Mercedes-Benz FO 108T 2.4 litres (146 cubic inches) V8 naturally-aspirated mid-engined and longitudinally-mounted
Transmission: McLaren Applied Technologies 7-speed + 1 reverse sequential seamless semi-automatic paddle shift with epicyclic differential and multi-plate limited-slip clutch
Battery: GS Yuasa
Power: 810 hp @ 19,000 rpm
Weight 605 kg (1,334 lb)
Fuel: Exxon/Mobil High Performance unleaded
Tyres: Bridgestone Potenza 4-line grooved slicks and treaded intermediate and wet tyres. Enkei 13″ magnesium racing wheels