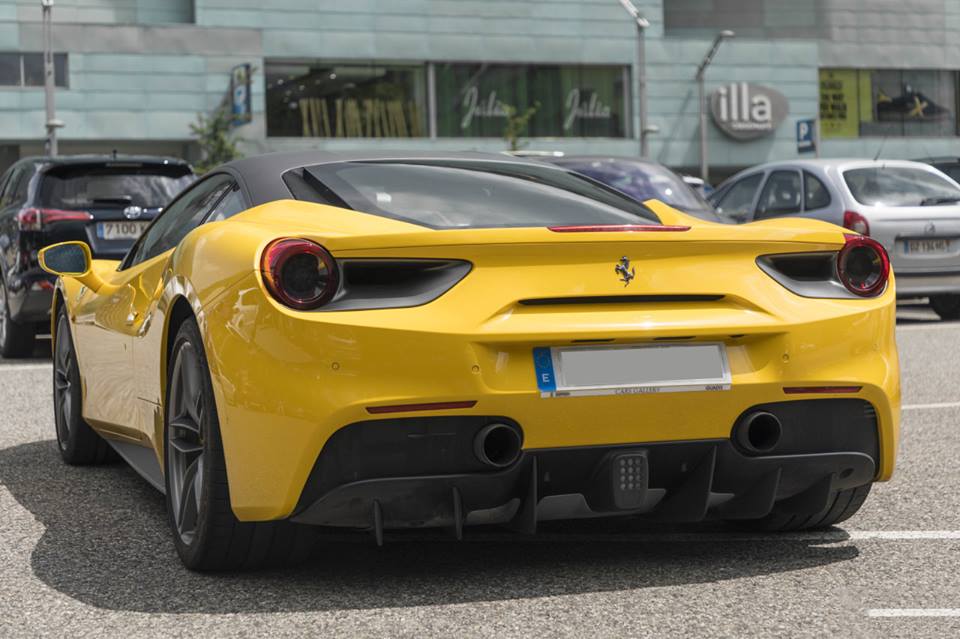 Ferrari 488 GTB: yellow body
The Ferrari 488 (Type F142M) is a mid-engine sports car produced by the Italian automobile manufacturer Ferrari. The car replaced the 458, being the first mid-engine Ferrari to use a turbocharged V8 since the F40. It was succeeded by the Ferrari F8.
The car is powered by a 3.9-litre twin-turbocharged V8 engine, smaller in displacement but generating a higher power output than the 458's naturally aspirated engine. The 488 GTB was named "The Supercar of the Year 2015" by car magazine Top Gear, as well as becoming Motor Trend's 2017 "Best Driver's Car".
Jeremy Clarkson announced the 488 Pista as his 2019 Supercar of the Year.
The 488 was succeeded by the F8 Tributo in February 2019.
Improved carbon-ceramic brakes are used on the 488, derived from technology used in the LaFerrari, constructed with new materials that reduce the time needed to achieve optimum operating temperature. Disc sizes are 398 mm at the front, and 360 mm at the rear. These advancements reportedly reduce stopping distances by 9% over the 458.
A new five-spoke alloy wheel was designed for the 488, measuring 51 cm (20 in) at front and rear respectively. Front tyres measure 245/35 and the rear tyres 305/30.
Performance
Claimed manufacturer performance for the 488 GTB is 0–100 km/h (0–62 mph) in 3 seconds, 0–200 km/h (0–124 mph) in 8.3 seconds, covering the quarter mile in 10.45 seconds and continuing to a top speed of 330 km/h (205 mph).
Engine: 3,902 cc (238 cu in) F154 CB twin-turbocharged V8
Transmission: 7-speed dual-clutch
Dimensions:
Wheelbase 2,650 mm (104.3 in)
Length 4,568 mm (179.8 in)
Width 1,952 mm (76.9 in)
Height 1,213 mm (47.8 in)
Kerb weight:
1,470 kg (3,241 lb) (kerb, GTB, official/EU-spec)
1,548 kg (3,412 lb) (kerb, GTB, US-spec)
1,500 kg (3,308 lb) (kerb, Pista)