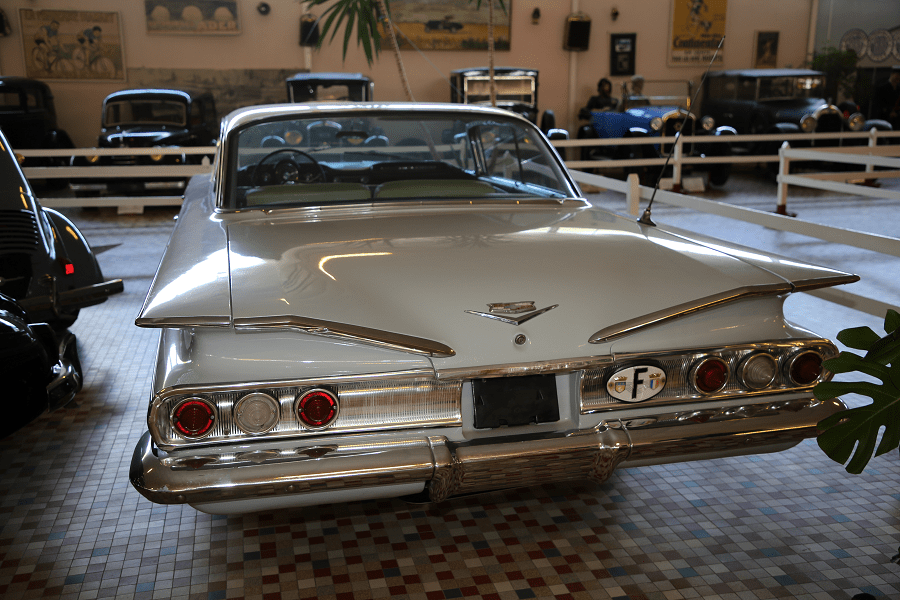 Chevrolet Impala from 1960. 
The Chevrolet Impala is a full-size car built by Chevrolet for model years 1958 to 1985, 1994 to 1996, and 2000 to 2020. The Impala was Chevrolet's popular flagship passenger car and was among the better-selling American-made automobiles in the United States.
For its debut in 1958 the Impala was distinguished from other models by its symmetrical triple taillights. The Chevrolet Caprice was introduced as a top-line Impala Sport Sedan for model year 1965, later becoming a separate series positioned above the Impala in 1966, which, in turn, remained above the Chevrolet Bel Air and the Chevrolet Biscayne. The Impala continued as Chevrolet's most popular full-sized model through the mid-1980s. Between 1994 and 1996 the Impala was revised as a 5.7-liter V8–powered version of the Chevrolet Caprice Classic sedan.
In 2000, the Impala was reintroduced again as a mainstream front-wheel drive car. As of February 2014, the 2014 Impala ranked No. 1 among Affordable Large Cars in U.S. News & World Report's rankings. When the 10th generation of the Impala was introduced for the 2014 model year the 9th generation was rebadged as the Impala Limited and sold only to fleet customers through 2016. During that time both versions were sold in the United States and Canada. The 10th-generation Impala was also sold in the Middle East and South Korea.
First generation (1958)
For 1958 GM was promoting their 50th year of production, and introduced anniversary models for each brand; Cadillac, Buick, Oldsmobile, Pontiac, and Chevrolet. The 1958 models shared a common appearance on the top models for each brand; Cadillac Eldorado Seville, Buick Limited Riviera, Oldsmobile Starfire 98, Pontiac Bonneville Catalina, and the Chevrolet Bel-Air Impala.
The Impala was introduced for the 1958 model year as top-of-the-line Bel Air 2-door hardtops and convertibles. From the windshield (A) pillar rearward the 1958 Bel Air Impala differed structurally from the lower-priced Chevrolet models. Hardtops had a slightly shorter greenhouse and longer rear deck. The wheelbase of the Impala was longer than the lower-priced models, although the overall length was identical. Interiors held a two-spoke steering wheel and color-keyed door panels with brushed aluminum trim. No other series included a convertible.
A 283 cu in (4,640 cc) engine was the standard V8, with ratings of 185 hp (138 kW), 230 hp (170 kW), and 250 hp (190 kW) with optional Rochester Ramjet fuel injection. Two versions of Chevrolet's 348 cu in (5,700 cc) V8, its first big-block, were also optional, producing 250 hp (190 kW) with a single four-barrel carburetor and 280 hp (210 kW) with three two-barrels.
In total, 55,989 Impala convertibles and 125,480 coupes were built representing 15% of Chevrolet production. The 1958 Chevrolet Bel Air Impala helped Chevrolet regain the number-one production spot in this recession year.