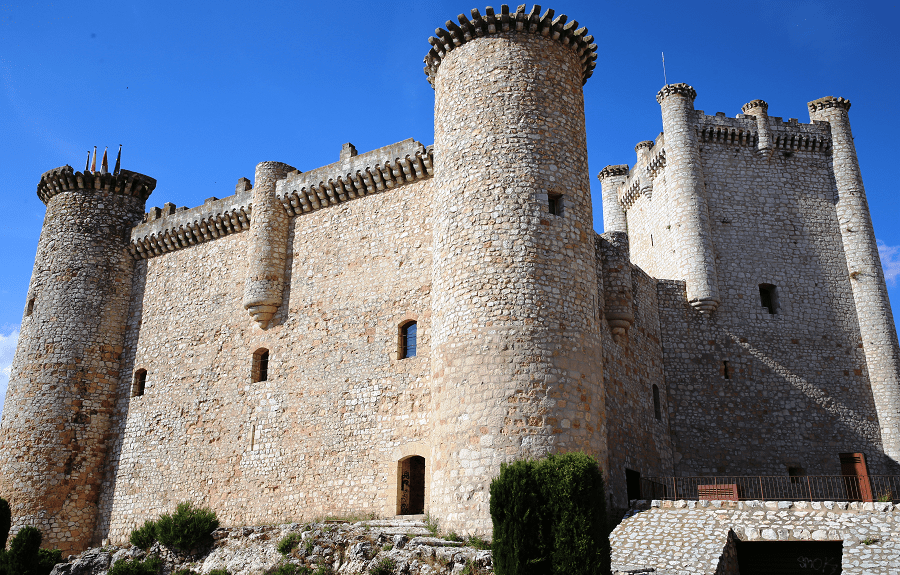 The Castle of Torija is a castle located in Torija, Guadalajara province, Castile-La Mancha, Spain. It was declared Bien de Interés Cultural in 1931. First built by the Knights Templar in the 11th century, today it serves as the headquarters of the Centro de Interpretación Turística de la Provincia de Guadalajara, the regional tourism authority.
Its foundation belongs to the Order of the Temple. It served as a defensive watchtower in medieval wars, being conquered by the Navarrese in the 15th century.
It was reconquered by the Marquis of Santillana, finally being in possession of one of the branches of the Mendoza family: the Suárez de Figueroa and Mendoza, counts of Coruña and viscounts of Torija.
During the War of Independence it was blown up by order of Juan Martín Díez, to prevent the French from occupying them.
During the civil war it also suffered extensive damage, being restored in the 1960s by the General Directorate of Fine Arts and more recently by the Diputación de Guadalajara.
In the keep there is a museum dedicated to Camilo José Cela's book Viaje a la Alcarria, and the castle is home to the Guadalajara Provincial Tourist Interpretation Center.
Address: Pl. la Villa, s/n, 19190 Torija, Guadalajara
GPS coordinates: 40°44′35″N 3°01′53″O
Working hours
Friday
10:30AM–2PM
4–7PM
Saturday
10AM–8PM
Sunday
10AM–3PM
Monday
Closed
Tuesday
10:30AM–2PM
4–7PM
Wednesday
10:30AM–2PM
4–7PM
Thursday
10:30AM–2PM
4–7PM
How to get to?
From Madrid 1 hr 7 min (84.5 km) via A-2
From Toledo 1 hr 31 min (147 km) via A-42 and A-2
From Guadalajara 17 min (20.3 km) via A-2