Cadillac Eldorado: red copy from 1973
Ninth generation (1971–1978)
The 1971 Eldorado was substantially redesigned, growing two inches in length, six in wheelbase and featuring standard fender skirts, all of which gave the car a much heavier appearance than the previous generation. The 500 cu in (8.2 L) V8 engine remained an Eldorado exclusive.
A convertible Eldorado was also offered for 1971, the first in the line since 1966. Door glass remained frameless, and the hardtop rear quarter windows were deleted, replaced by a fixed "opera window" in the widened "C" pillar. A stand-up wreath and crest hood ornament was new this year.
Inside, there was a new curved instrument panel and redesigned seats. A fiber-optic "lamp monitor" system, which displayed the functionality of the headlamps, taillamps, parking lamps, turn signals and brakelights was mounted on each front fender and the shelf below the rear window. This 126.3 in (3,208 mm) wheelbase version Eldorado would run through 1978, receiving major facelifts in 1973, 1974 and 1975. Sales in 1971 set a new record at 27,368.
Changes were minimal for 1972; the most noticeable exterior change was a new 'Eldorado' script, replacing the block 'Eldorado' lettering on the front fenders and trunk lid. Sales for 1972 increased to 40,074.
In 1973, the Eldorado was removed from the Fleetwood series and reestablished as its own series. The 1973 models received a major facelift, featuring a massive egg-crate grille, new front and rear bumpers, decklid, rear fenders and taillamps. Interiors featured new "soft pillow" door panels, with larger, sturdier pull-straps. The rear "lamp monitor" display which showed the driver the function of the turn signal, brake and taillamps, was relocated (except on the convertible) from the rear shelf, to the headliner just above the rear glass.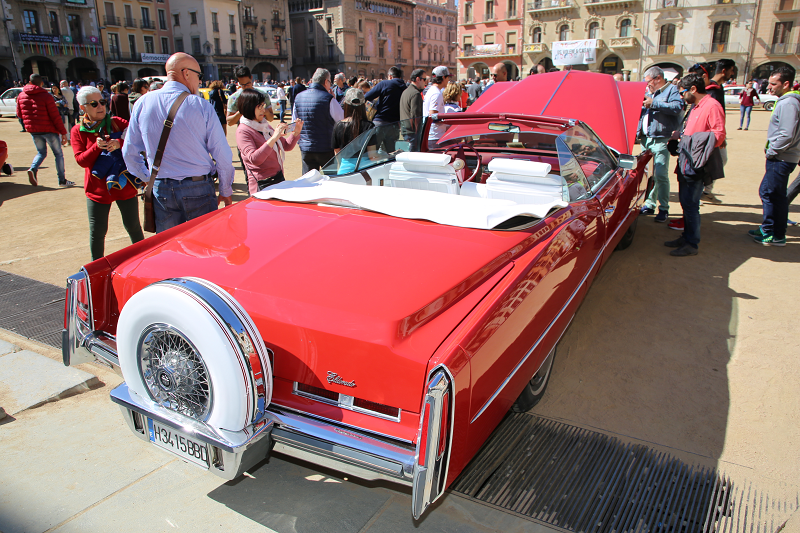 The Cadillac Eldorado was chosen as the official pace car for the Indianapolis 500 in 1973. Cadillac produced 566 of these special pace car convertibles. Thirty-three were used at the track during the race week, with the remainder distributed to U.S. Cadillac dealers one per dealership. Sales of the Eldorado coupe and convertible soared to 51,451 the highest total for the model during the 1970s and over a sixth of all Cadillac sales for 1973.
The lengthened wheelbase reduced performance relative to contemporary premium personal luxury cars, but offered comfortable seating for six adults rather than just four.