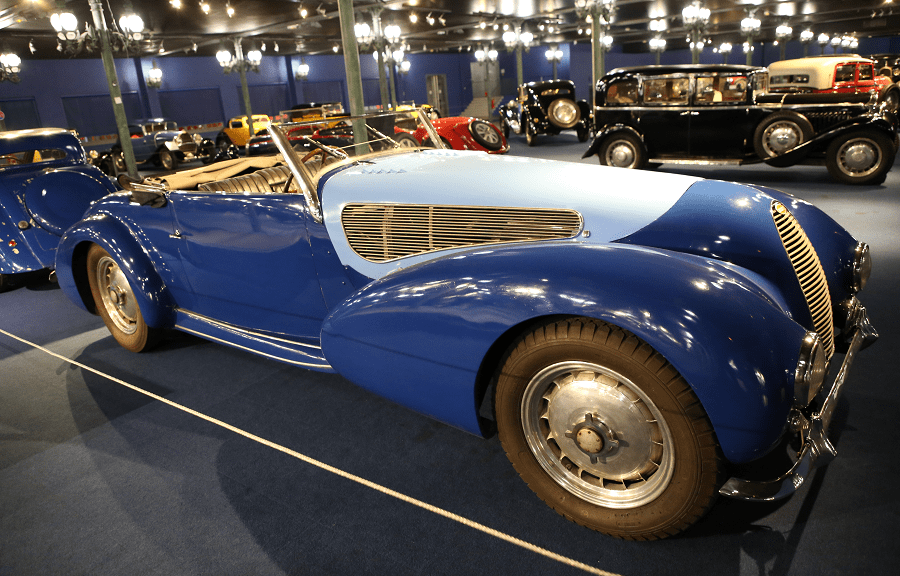 Bugatti Cabriolet Type 50T from 1936, eight cylinders, 4900 cc, 200 HP, 165 km/h. This car was bought by Pierre Michelin in 1936 and rebodied by Million & Guiet.
Million & Guiet was a coachbuilding company founded 1852 in Lyon, moved to Paris in 1857 and started building bespoke automobile coachwork around 1895. The company closed their doors in 1943.
The Type 50 was a sporting coupe version of the Type 46. It rode on a shorter wheelbase, 122 in (3099 mm), and used a smaller 5.0 L (4972 cc/303 in³).
This engine had squarer dimensions, however, at 86 by 107 mm, and twin camshafts actuated two valves per cylinder. Power output was impressive at 225 hp (167 kW). Many cars had landaulet roofs and Bugatti style two-tone paint.
Type 50T
The Type 50 Touring was a sedan version of the Type 50. It used the same 138 in (3505 mm) wheelbase as its predecessor, the Type 46, but shared the 5.0 L engine of the Type 50. The engine was tuned for torque, though, with just 200 hp (149 kW) on tap. In total, 65 Type 50 and Type 50T Bugattis were produced between 1930 and 1934.