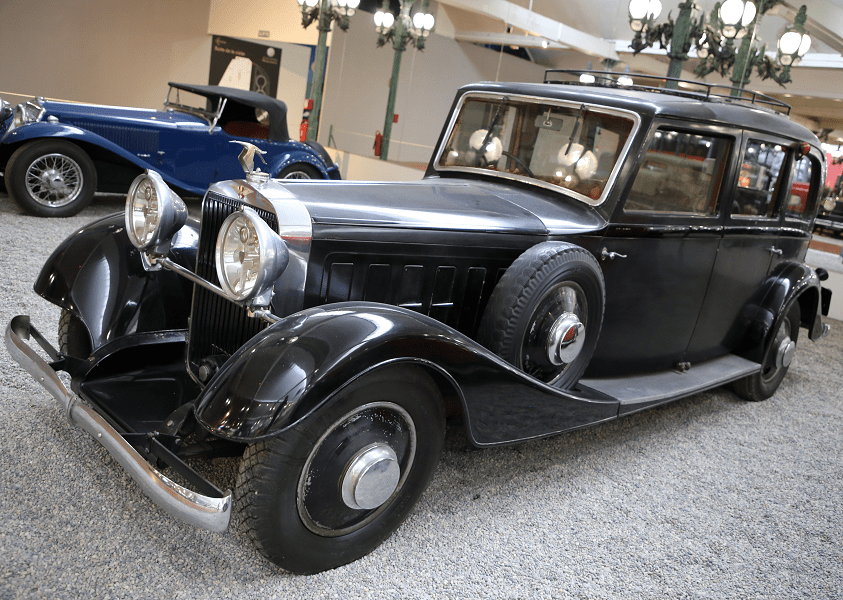 Hispano-Suiza Limousine K6 from 1935, six cylinders, 5181 cc, 120 HP, 145 km/h
The K6 is a luxury car produced from 1933 to 1937 by the Franco-Spanish car manufacturer Hispano-Suiza.
The K6 was introduced in early 1933 as a replacement for the HS26, which was quite successful at the time. Of its ancestor, the K6 roughly maintained the external dimensions, even if in any case it was possible to have a bodywork tailored to the customer and with different wheelbase measurements.
The K6 also maintained the very elegant and imposing luxury car setting. Among the bodies with which the K6 was dressed there were the coupé, the cabriolet and the limousine.
The K6 was equipped with a front longitudinal 6-cylinder in-line engine with a displacement of 5181 cm³. Distribution was two valves per cylinder. The maximum power output was 120 HP at 3200 rpm. Innovative solutions were to be found in sodium-cooled valves or tubular connecting rods.
As for the transmission, it made use of a servo-assisted single-disc clutch, with a 4-speed manual gearbox and no longer 3 as in the HS26. The traction, however, remained rear.