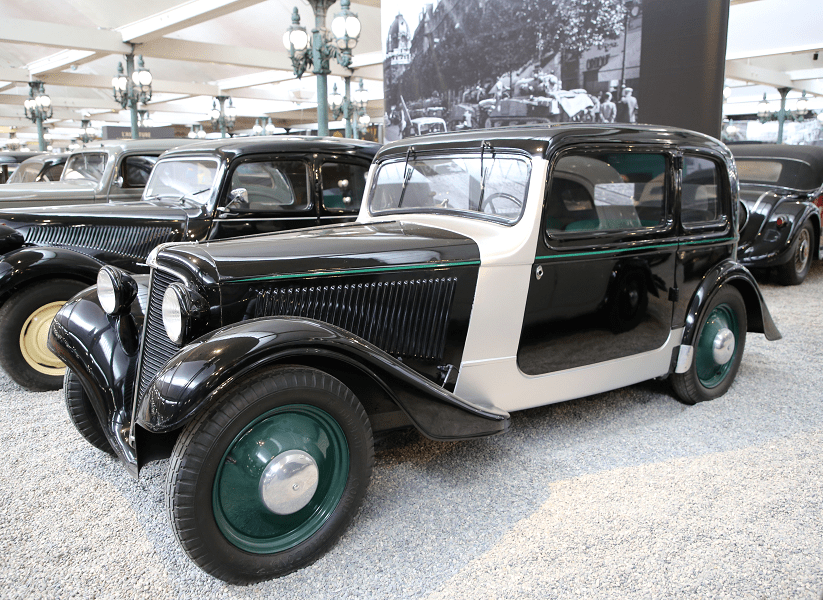 Adler Trumpf Junior Aluminium from 1936, 996 cc, 25 HP, 110 km/h
The Adler Trumpf Junior is a small family car introduced by the Frankfurt based auto-maker Adler, early in 1934. The Adler Trumpf had by now been available for two years, and the Trumpf Junior was conceived as a similar but smaller car which would broaden the range and claim a share of a growing market which DKW were creating with their F1 model, and its successors, for small inexpensive front wheel drive cars.
The Trumpf Junior's development was a shared responsibility between Hans Gustav Röhr (1895 – 1937) and his colleague and friend, Adler chief engineer Josef Dauben.
The engine
The engine was a four-cylinder four stroke 995 cc side-valve unit. Claimed maximum power was of 25 PS (18 kW; 25 hp) at 4,000 rpm. This supported a claimed top speed of 90 km/h (56 mph). Power was delivered to the front wheels via a four speed manual transmission controlled by means of a column mounted lever.
The bodies
When launched at the start of 1934 the car came with a choice between a small two door "Limousine" (sedan/saloon) with a recommended price of 2,750 Marks and small two door "Cabrio-Limousine" which was effectively a two-door sedan/saloon with a canvas foldable roof, available for only 2,650 Marks. Comparisons with the smaller engined DKW Meisterklasse F4 were unavoidable: DKW's recommended price for the DKWs was 2,500 Marks and 2,600 Marks respectively for their Limousine and Cabrio-Limousine bodied cars.
For 1935 Adler broadened the Trumpf Junior range, now offering in addition to the Limousine and Cabrio-Limousine, two and four seater cabriolets and 2 seater sports models. The range was topped off by a version of sports model with its maximum engine power raised to 25 PS (18 kW; 25 hp), priced at 4,150 Marks.
The bodies on the 1935 cars were of lightweight timber frame construction, covered by a synthetic leather skin. This followed the structural choice still used by DKW for their small front wheel drive DKW Meisterklasse F4. However, the use of synthetic leather skin which had a tendency to rot, attracted adverse comment for both manufacturers and by 1935 buyers of the Adler Trumpf Junior saloon/sedan could pay an extra 200 Marks for a timber frame car covered not by synthetic leather but by sheet steel.