The Château de La Roche is a restored castle situated in the commune of Saint-Priest-la-Roche in the Loire département of France, one hour by car from Lyon. The castle stands on an island in the lake formed by the Villerest dam.
Anchored on its rocky peak since the 13th century, the Château de la Roche is the emblematic monument of the Gorges de la Loire north of the Loire department.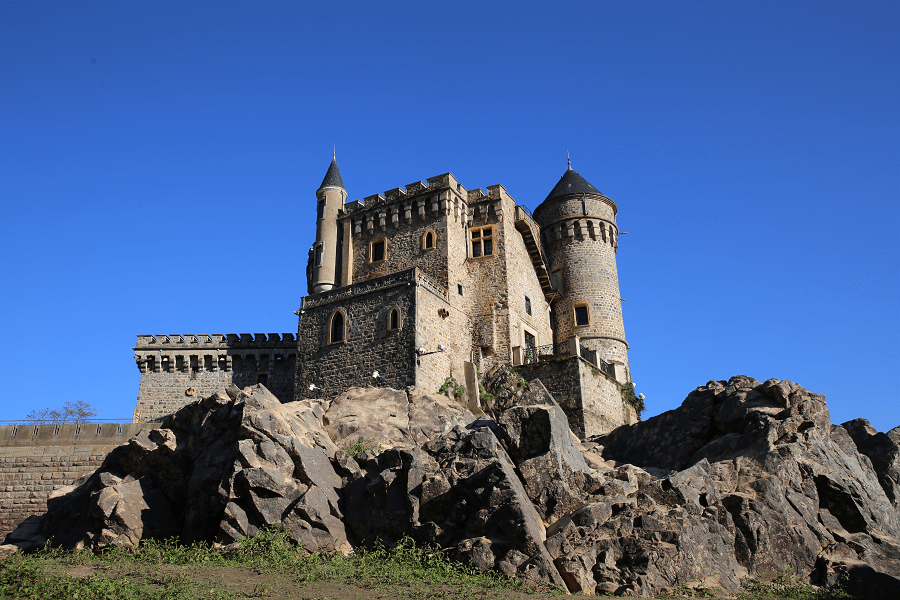 The earliest written records of the castle date from 1260. It was built on a rocky platform overlooking the Loire river from a height of 30 metres. The fortress allowed a watch to be kept and tolls to be collected for the County of Forez border. The building suffered floods from the Loire more often than attacks from enemies.
Due to its improbable position overlooking the river, the Castle has sheltered many families who have used it as a lookout post, a feudal toll point or as a summer residence. Defying the weather and the anger of the river, it is today surrounded by the waters, since the construction of the Villerest dam in 1982, and has thus become a charming romantic island.
You can also see the unique platane at the entrance to castle which, as the legend day, dates back to the beginning of the 18th century.
Recommended duration 1h 30 min
Working hours (closed in winter)
Sunday 2pm – 6pm
Monday Closed
Tuesday Closed
Wednesday Closed
Thursday Closed
Friday Closed
Saturday 2pm – 6pm
Prices
Adults: 6.50 €
Children from 6 years old, students : 5.00€
Children under 6 years old : free
Address: 123 Allée du Château a la Roche, 42590 Saint Priest la Roche
GPS coordinates: 45°53′45″N 4°06′06″E