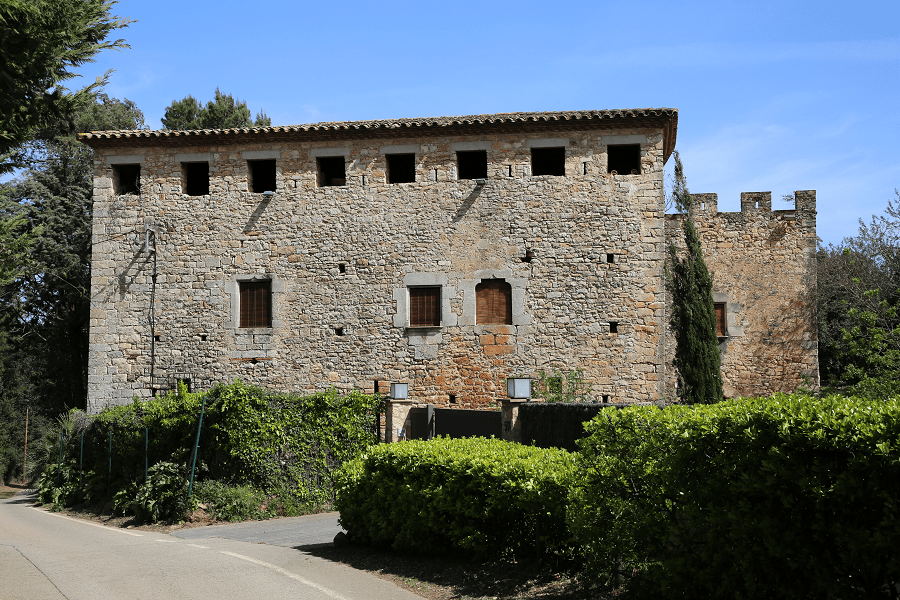 The Castle of Campdorà or Força de Campdorà (cat. El Castell de Campdorà o la Força de Campdorà) is a building in Girona, Catalonia, Spain, declared a cultural heritage of Catalonia of national interest.
Campdora is a small area in the municipality of Girona, which is located in the north-east of the city, in the highest part of the valley connecting the San Michel and Tramon mountains, to the right of the Ter River. Until 1975 when it became part of Girona, Campdora was part of the municipality of Celra.
It is a large house of medieval origin with a late crenellated annex, not far from the church of Sant Jaume de Campdora. The building has a gable roof and defensive battlements, and a lower L-shaped body has been added to it. The main building is made of polished stone. Later, several objects were added to the northern sector, imitating a medieval fortification, with materials and protective elements similar to the originals. Several loopholes have been preserved along the perimeter of the building. A round tower rises in the southeast corner of the primitive enclosure. It is likely that the remnants of the original building have been preserved in the depths.
This is a completed castle, the first news of which dates back to 1148. In the 10th century, the bishop of Girona and the lords of the castles Gostoles and Puig-Alder enjoyed lordly rights. In 1266 the castle was acquired by Ramon Renal from Girona. In 1287, it received the right to pay tithing. In 1493, Maria Sityar sold it to Jeanne Capmani from Girona. It was he who turned the old fort into a real castle.
GPS coordinates: 42 ° 00 ′ 46 ″ N, 2 ° 50 ′ 37 ″ E