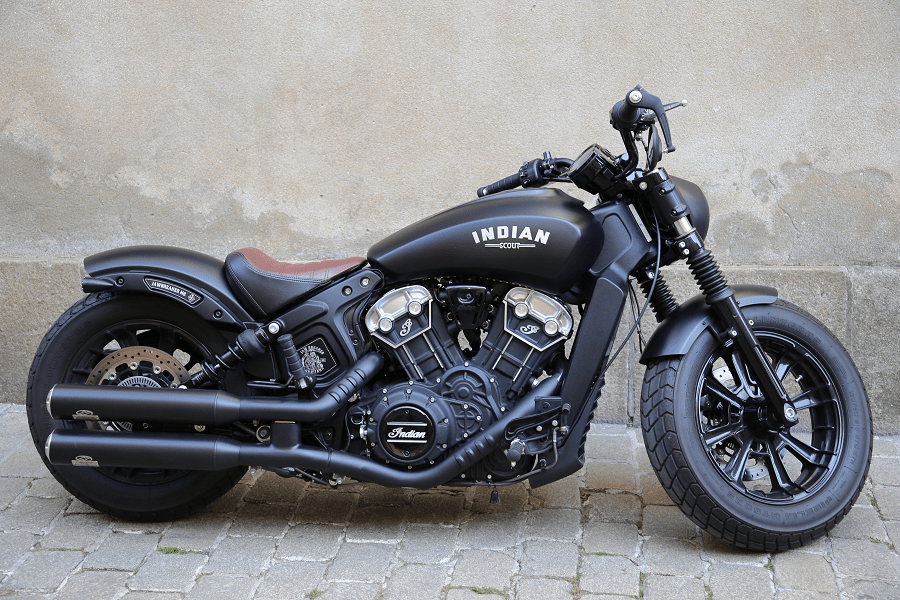 Black Indian Scout Bobber 2020 with midsize 1,133 cc liquid-cooled V-twin engine
The Indian Scout is a motorcycle built by the Indian Motocycle Company from 1920 to 1949. It rivaled the Chief as Indian's most important model. The 101 Scout, made from 1928 to 1931, has been called the best motorcycle Indian ever made.
A second line of Scouts, with heavier frames, was introduced in 1932 alongside the Standard Scout, which replaced the 101 Scout and shared its frame with the Chief and the Four. The small-displacement Scout and the Sport Scout, introduced in 1934, were continued until the end of civilian production in 1942. Military versions of both models were used by US and other Allied forces during World War II.
Between 2001 and 2003, the Indian Motorcycle Company of America, based in Gilroy, California, built a Scout model using proprietary engine and transmission parts.
In 2011, Polaris Industries bought the Indian Motorcycle Company. For the 2015 model year, under Polaris's ownership, Indian introduced a new Scout model. The 2015 Scout is a cruiser with a 1,133 cc (69.1 cu in) liquid-cooled, V-twin engine and a frame formed by multiple aluminum alloy castings bolted to each other and to the engine. The Scout came with braided brake lines and a belt instead of a chain which reduced maintenance as well as costs.
A lower cost version of the Scout was introduced in 2016 called the Scout Sixty. It is essentially identical to the Scout and uses the same frame, brakes and suspension, but has a smaller 999 cc (61.0 cu in) engine mated to a 5-speed gearbox with a blacked out design.