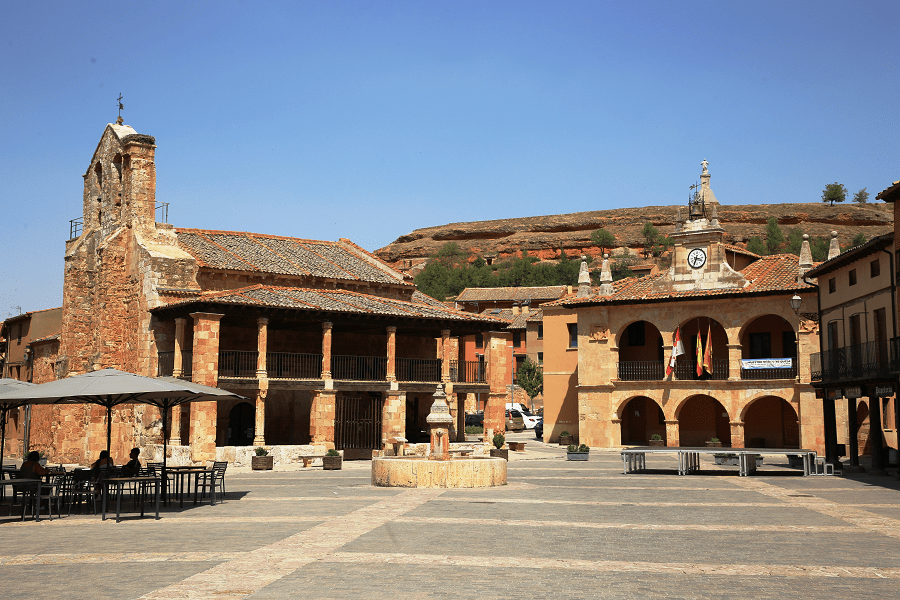 Ayllón is a town and a municipality located in the province of Segovia, Castile and León, Spain.
Since 2013 the city has been a part of the network "The most beautiful villages of Spain".
Tourism and main attractions
The first texts that describe Ayllón do so as a fortified town, with three entrance gates: Puerta de San Juan, the Arch and Puerta de Languilla, of which only the second is preserved.
In the Plaza Mayor are located the civil power – town hall – and the religious one represented in the church of Santa María of neoclassical style, which has received elements from the extinct parishes. Its floor plan is of a Latin cross and the bell tower is finished off with a belfry.
On the cover, two fluted columns support the niche with the image of the Virgin.
In the main square, in front of the Town Hall House, the Church of San Miguel is located. Romanesque in design, it consists of a nave, atrium, cylindrical apse and belfry. In the 15th century the portico on which the coat of arms of the Contreras family stands was built. In 1675 the Cabildo agreed to make a viewpoint over the arcades to be able to contemplate the bullfighting festivities that were celebrated in the Plaza Mayor.
In the center of the square there is a four-pipe fountain erected in 1892, in commemoration of the IV centenary of the discovery of America.
We also find in the town the Palacio de Vellosillo, the Palacio de Contreras with a façade of ashlar masonry boxed in with a Franciscan cord, and the windows with a lowered or quadrangular arch; or the old convent of San Francisco de Asís. Founded in 1214, the façade that remains must have been made in the 18th century. The façade is made of ashlar masonry with three semicircular arches that gave access to the vestibule of the Church. Above the main door the image of San Francisco de Asís is placed.
The convent of the Conceptionist Nuns, from the 16th century, is also preserved. The two convents are private properties without religious use.
At the top of the town is La Martina, a tower that belonged to the castle. Of Arab origin that has become the most emblematic image of the town.
To the east of the albarrana tower, some 300 m away, we can see the ruins of the church of Santiago, from the late 12th century, a simple Romanesque temple with a single nave. Only the apse walls, part of the north wall and the foundations of the belfry, built with lime and stone masonry, are remained.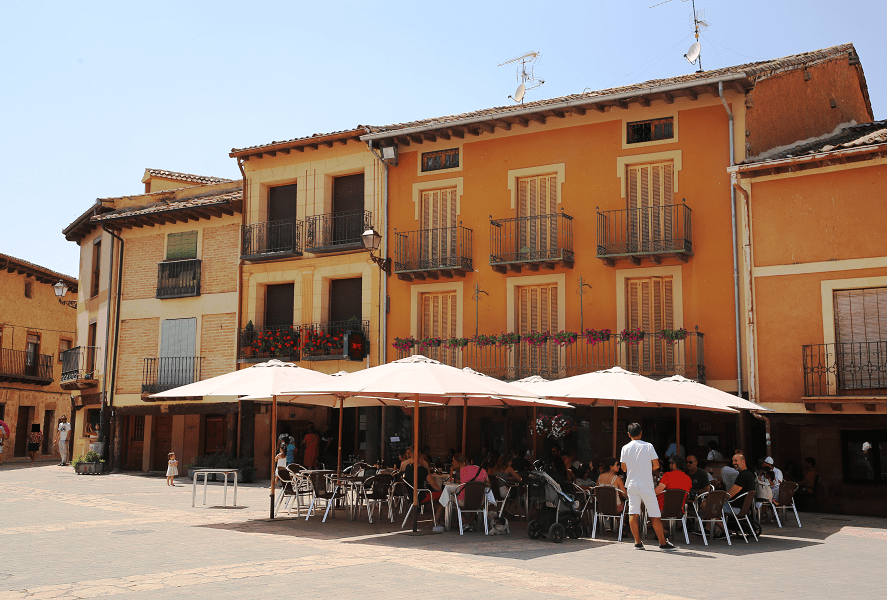 How to get to?
From Segovia 1 hr 11 min (96.8 km) via N-110
From Valladolid 1 hr 59 min (139 km) via A-11
From Madrid 1 hr 40 min (144 km) via A-1
Main information
Area: 128 sq. km (municipality)
Coordinates: 41°25′10″N 3°22′35″W
Population: 1182
Languages: Spanish
Currency: Euro
Visa: Schengen
Time: Central European UTC +1