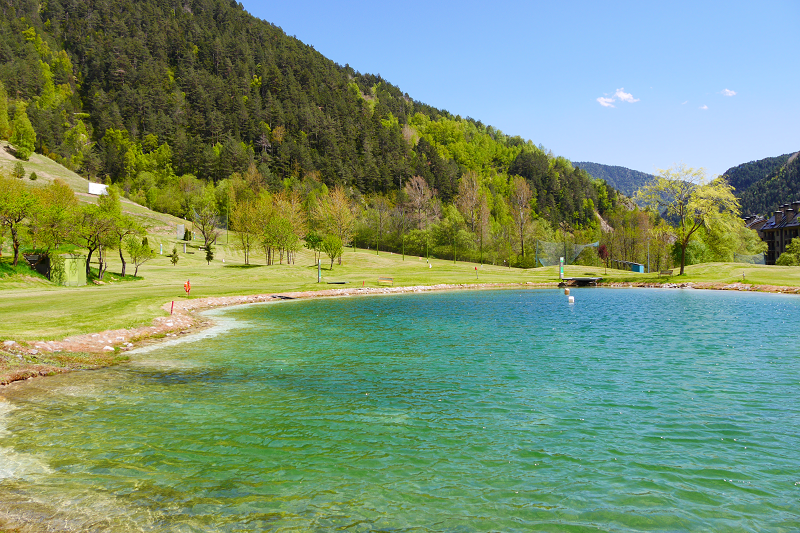 What to do in Andorra in the summertime?
golf, karting, fishing, via ferrata, family parks, cycling,
ecotourism, backpacks, horseback riding…
Golf in Andorra

There are 3 golf clubs in Andorra. Private and group classes, equipment rent and the ground for training are all at your disposal. But what is the most important is that, for example, Soldeu Golf Club is the highest ground in Europe (2250m above the sea level).  One may get to the golf club by 8-seat cable railway.
Karting in Tarter 
The noise of engines, heard from far away, will unmistakably lead you to the newly-opened Marc Gene karting with 500 meter long track. This is a unique opportunity to compete with friends. The karting was designed and constructed with the direct involvement of such famous racers and acknowledged experts of the sphere as Jordi and Marc Gene.
Summer family park in Canillo
The Family Park in Canillo is paradise for children in the summertime.  Here one may find a huge park for children, where they can slide on rolls over specially equipped tracks all year round. There is a big playground with inflatable castles and springboards and dry swimming pools filled with balls. For older visitors there are horse ridings over most picturesque places, archery, carting by non-engine vehicles, mushing, canoeing etc.
Via ferrata
Via ferrata is a type of alpinism that presupposes overcoming of  rocky parts of the route (both vertical and horizontal) by means of specially equipped metal constructions that help to manage the impediments at higher speed with less sufficient energy wastes than in case of ordinary alpinism. The route sectors are equipped with safety rope or chain that stretch all over; they are fixed to the rock by means of steel anchors. The foot rests are natural (rock) or artificial–steel bails, pins or small corrugated plates. Certain parts of the root present metal ladders.
Summer fishing in Andorra
In the period from the middle of April till the end of September Andorra becomes one of the most beautiful places of Southern Europe for professional and amateur fishing. Inseparable mountain landscapes and the heights over 2000 meters above the sea level will give the amateurs of this type of sport unforgettable impressions. The major fish of Andorran lakes and rivers are the variety of trout. It is also possible to find European catfish, carp and other species here.
Cycling
Andorra is a popular stage for manifold international bicycle races , such as Tour de France, Vuelta a España, Volta a Catalunya, World Championships and manifold gatherings of mountain bike riders (MTB). The amateurs of highway cycling may enjoy the landscapes, roads and mountain passes. Those, who prefer mountain bikes, may ascend together with their bicycles by cable lifts that function year-round and attend bicycle parks of Grandvalira and Vallnord or to ride over manifold landscapes of the country on their own.
Horseback riding
Horseback riding over fairy-tale Andorra—is an unforgettable experience. In Andorra, there are several jockey clubs and horse riding schools. The offered routes are not only mesmerizing with beauty but also have educational spirit as far as they go through historical sights of the Principality. Or your choice, there are the route of different complexity rates (with natural impediments in the form of masses of rock, for instance) and length (from one up to several days).
Backpacks
Walking is the best way to get acquainted with the landscapes of the country. During such journeys, a traveler discovers new and new secrets of nature step by step, without any hurry. Andorra offers several long-distance walking routes: far and wide of this amazing country. LDP (Long Distance track)—is 120 km of way. The route is divided into 7 parts from 12 to 20 km each; depending on the location of specially equipped night lodgings (totally there are 29 of such places). If the tourists wish, it is possible to make overnight accommodation in the open air. Andorra GRP guide and a special map (Mapa de refugis I camins de gran recorregut d'Andorra) will help to find bearings – this is all you need to get to the furthest corners of the Pyrenees.