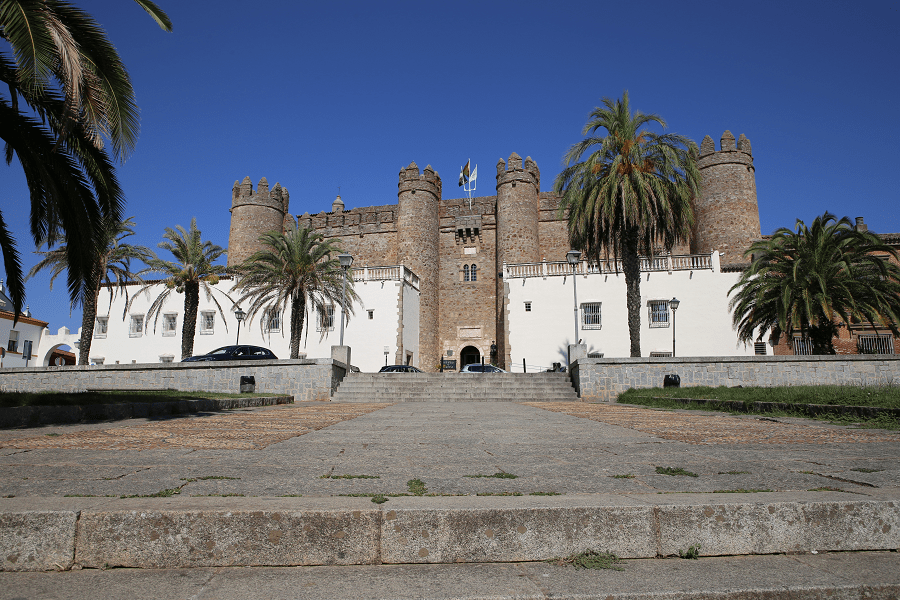 Zafra is a municipality and town in the province of Badajoz, in the autonomous community of Extremadura, Spain.
Tourism and main attractions
Plaza Grande and Plaza Chica.
Arquillo del Pan and Altarpiece of La Esperancita.
Callejita del Clavel.
Zafra City Council.
Sevilla street.
Palace of the Dukes of Feria, an alcazar-palace built in the 15th century and extended in the 16th and 17th centuries, with a magnificent central marble patio whose design was attributed to Herrera, authorship now discarded. At present, this building houses the Parador de Turismo "Duques de Feria".
Iglesia de Santa Marina (church, converted into a sociocultural center and exhibition hall) and listed in the assets of cultural interest in the province of Badajoz.
Sierra de "El Castellar".
Hermitage of Bethlehem.
Arco de Jerez and Arco del Cubo.
Iglesia de la Candelaria, colossal Gothic church with an impressive main altarpiece, a large organ and paintings by Zurbarán.
Church of the Rosary.
Convent of Santa María del Valle or Santa Clara.
Peace park.
Plaza del Alcázar or Plaza de "los Escudos".
Spain Square.
Pillars of Zafra. Three are the most interesting: the pillar of the Duke, the pillar of San Benito and the pillar of the Republic. Outside the town are the pillar of La Navas, very close to the hermitage of Belén, the Centenillo which is very close to the La Albuera reservoir, there are also several in the foothills of the Sierra del Castellar, one of them is called La Aguzadera.
Festivals
Feria Internacional Ganadera ("International Rancher's Fair"), held in the last week of September and the first week of October.
De la luna al fuego, celebrated on the second to last week of June, coinciding with the festival of Saint John
Semana Santa ("Easter"), held according to the church's calendar.
The Carnival. It includes the Festival of Fat, where a number of pig products are tasted in the plazas.
San Isidro, held at the end of the week closest to May 15.
Procession of our lady the Virgen of Belén, held on the Sunday following Resurrection Sunday.
How to get to?
From Badajoz 1 hr 1 min (74.6 km) via N-432
From Olivenza 59 min (75.8 km) via EX-105 and N-432
From Merida 40 min (63.0 km) via A-66
From Fregenal de la Sierra 33 min (39.9 km) via EX-101
From Madrid 3 hr 50 min (401 km) via Autovía del Suroeste/A-5
Main information
Area: 62 sq. km (municipality)
Coordinates: 38°25′33″N 6°24′58″W
Population: 16 810
Languages: Spanish
Currency: Euro
Visa: Schengen
Time: Central European UTC +1