Yellow Renault 5 Turbo.
The Renault 5 Turbo or R5 Turbo is a sport hatchback automobile launched by the French manufacturer Renault at the Brussels Motor Show in January 1980. The car was primarily designed for rallying, but was also sold in a street version.
A total of 4,987 (1,820 Turbo 1 and 3,167 Turbo 2) R5 Turbos were manufactured during the six-year production run.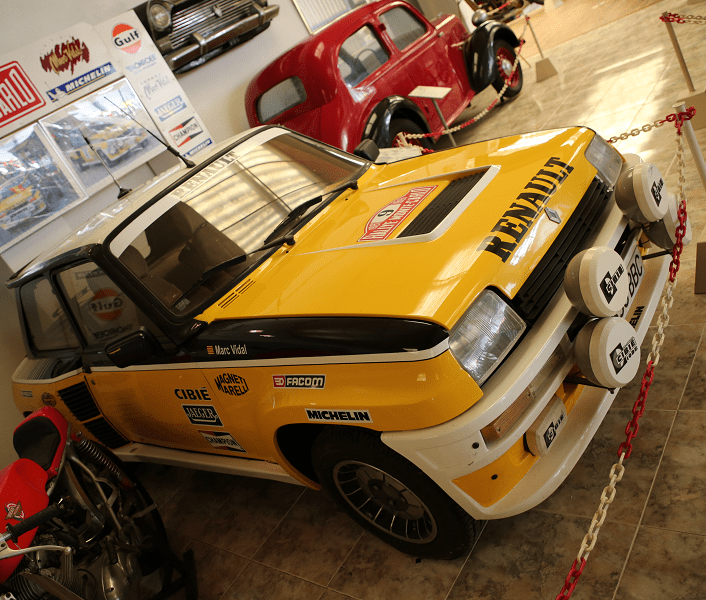 In response to Lancia's rallying success with the mid-engined Stratos, Renault's Jean Terramorsi, vice-president of production came up with the idea of creating a new sports version of the Renault 5 Alpine supermini. The distinctive new rear bodywork was styled by Marc Deschamps at Bertone, headed by Chief Designer Marcello Gandini. A Renault 5 Alpine was sent to Bertone in October 1977 to be used as a "mannequin." The car's code name was Projet 822.
Although the standard Renault 5 has a front-mounted engine, the 5 Turbo featured a mid-mounted 1,397 cc (1.4 L; 85.3 cu in) Cléon-Fonte with fuel fed by Bosch K-Jetronic fuel injection and a Garrett AiResearch T3 turbocharger OHV 2 valves per cylinder Inline-four engine placed behind the driver in mid-body in a modified Renault 5 chassis. In standard form, the engine developed 160 PS (158 hp; 118 kW) at 6000 rpm and maximum torque of 221 N⋅m (163 lb⋅ft) at 3250 rpm.
Though it used a modified body from a standard Renault 5 and was badged a Renault 5, the mechanicals were radically different. The most obvious difference was the rear-wheel drive and rear-mid engine instead of the normal version's front-wheel drive and front-mounted engine. The engineers creating the Turbo used parts from various other Renault models: the rear suspension was derived from that of the rear-engined Renault Alpine A310 V6 while the five-speed manual transmission was the unit from the Renault 30 TX, rotated through 180 degrees. At the time of its launch, it was the most powerful French production car.
The first 400 production 5 Turbos were made to comply with Group 4 homologation to allow the car to compete in international rallies, and were manufactured at the Alpine factory in Dieppe. Many parts later transferred to the Alpine A310, such as the suspension or alloy wheel set.