Yellow Alpine Renault 310 – 1600 VF
The Alpine A310 is a sports car built by French manufacturer Alpine, from 1971 to 1984.
Dieppe-based Alpine, once an independent company specialising in faster Renaults, later a Renault subsidiary, established a fine competition history with the Alpine A110 winning the 1973 Monte Carlo Rally and World Rally Championship.
The successor was the Alpine A310, initially powered by tuned 17TS/Gordini four-cylinder engine, still rear-mounted. The maximum power reaches 127 PS (93 kW; 125 hp), thanks to the use of two twin-barrel 45 DCOE Weber carburetors.
The first model of the A310, built 1971-1976, was a car with a four-cylinder engine and six headlights. Being larger, heavier, and no more powerful than its predecessor, the A310 was generally considered underpowered.
The car was first shown at the 1971 Geneva Motor Show. The prototype A310 had louvres across the rear windscreen; these were not carried over to the production model. Early models had a NACA duct mounted near the window atop the left front fender, later four-cylinder cars received two, mounted closer to the front of the car. In 1976, to help flagging sales, the lower-cost A310 SX was presented. This model has a 95 PS (70 kW; 94 hp) version of the Renault 16/17's 1647 cc inline-four and simplified equipment.
The basis of the A310 was a hefty tubular steel backbone chassis, clothed in a fiberglass shell. As for the previous A110 the entire body was molded in a single piece.
Like the ill-fated DeLorean, which used the same PRV powertrain, the engine was mounted longitudinally in the rear, driving forward to the wheels through a manual five-speed gearbox. The driving position was low and sporty, although the front wheelwells encroached on the occupants' feet, pointing them towards the centre of the car.
The A310 was labor-intensive, having been developed for small-scale artisanal production – a car took 130 hours to build from start to finish.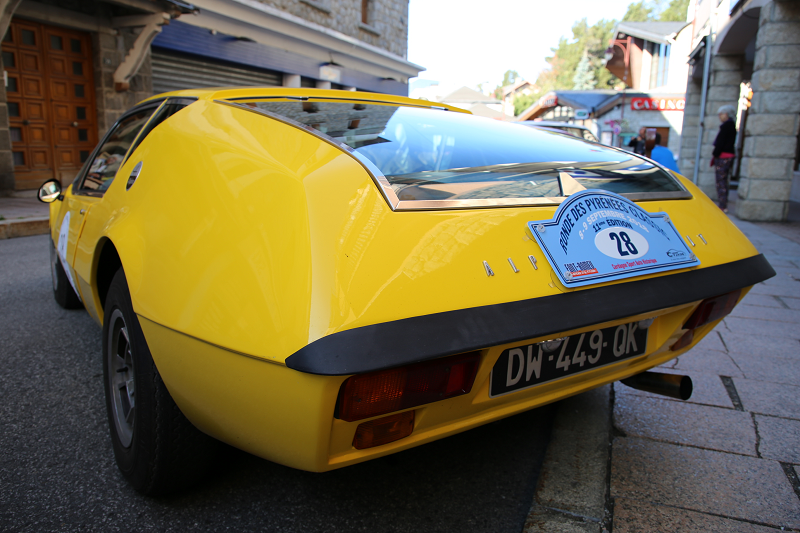 The front axle also came in for some criticism, although in 1974 the balljoint mountings were replaced by rubber/steel bushings (silent-blocs) which somewhat improved durability.
While many components of the A310 came from the Renault parts shelf as expected, others are more surprising – the steering rack is from the Peugeot 504, while the turn signals are Simca 1301 units.